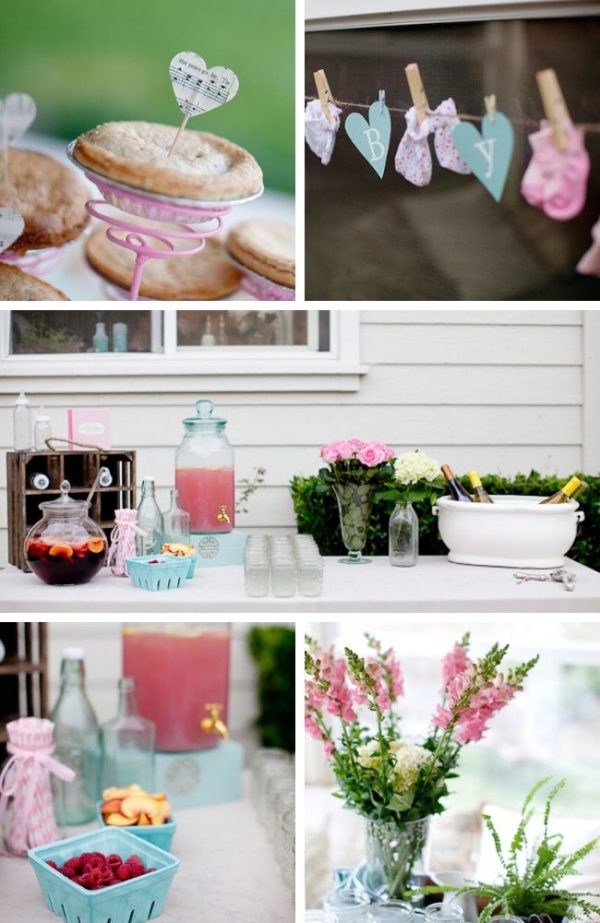 With a Pretty Pink and Aqua Backyard Baby Shower Theme, Courtney went all out to bring together a fantastic vintage vibe with the lush pink and aqua colors that go so nicely as a pair.
Right at the door's entrance this party started off with a wonderful chalkboard that invited guests in with an adorable attached pink balloon so there was no question as to where the event was located. Even the door handle had a touch of love with pink little slippers that looked wonderful.
Outside along the parameter of the house a clothesline was hung with a wide arrangement of adorable little baby things like socks and mittens, creating a detail that was very personal.
The beverage table was quite fun with a crate set up with baby bottles inside, making a decoration that was one-of-a-kind. Lined with a white cloth this table really set a sweet background for the vibrant colors of the lemonade and sangria for guests to enjoy. With a couple vases of fantastic bouquets, this table had a full and sweet feel to it.
The guest tables were a vision of white with adorable bouquets of flowers centered on each.  With a circular style, these tables allowed guests to socialize easily together.
One fantastically unique idea that really made this party stand out were the mini-pies.  They were set on wonderful, pinked tiered trays that had a springy effect, bringing a light-hearted feel to them.  Each pie had a cute little heart standing out of it that was created with sheet music, making it a very cool concept.
In an ironic twist the weather did not cooperate and the event was actually held indoors as it started raining, but you would never have guessed from how the area inside was so well detailed that the flow worked perfectly.
Credits –
PHOTOGRAPHY: Nicole Paulson Photography
EVENT DESIGN &  PLANNING: Help Me Get Hitched