Of course it's likely that your new baby girl will be treated like a princess, so there's no better way to celebrate than throwing a princess themed baby shower. Shades of pale pinks and gold will make your celebration seem like something right out a royal palace. Whether you choose princess as a general theme or you choose to focus on a specific princess, there are hundreds of ideas for a princess themed baby shower. It's time to transform your home for a royal celebration! Here are a few ideas to get you started!
Princess Cake Topper
This cake topper has just the right amount of glitter to be fit for your little princess. The topper is pictured in gold and looks elegant atop a plain white cake, however, you might choose to customize the color to fit your party. This topper is handmade from quality cardstock and glitter, so it will hold up through your entire shower if you would want to save it to remember the special day. The name can be customized for the baby that is being celebrated.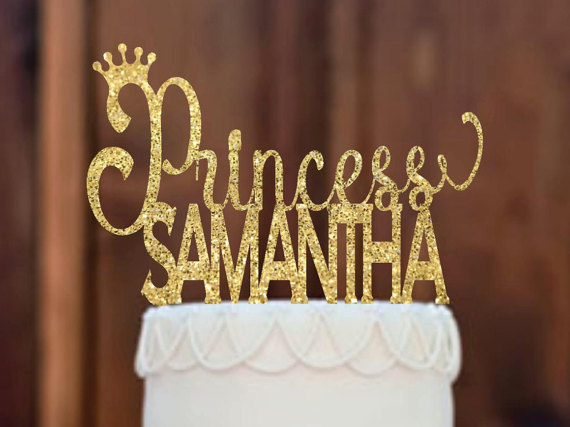 Princess Diaper Cake Centerpieces
Make your tables fit for royalty by decorating with these beautiful diaper cake centerpieces! These centerpieces are sold in sets of six, so you will have a centerpiece for every table! Each cake is made with eight high quality diapers that can be used after the party for the baby being celebrated. The diaper cakes are mostly pink and gold, however, you have the option to choose the ribbon color.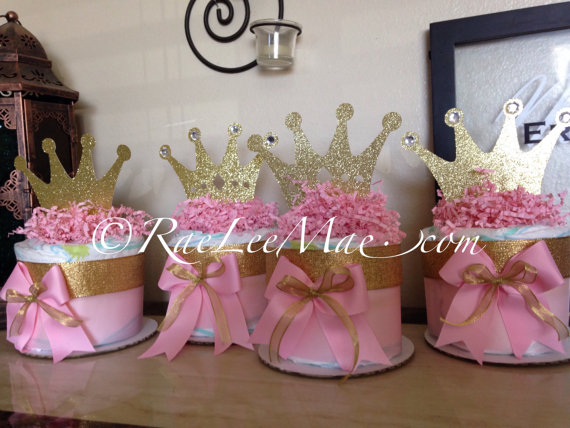 Pinwheel Backdrop
This pinwheel backdrop is sure to make your guests feel as through they have entered a royal castle! The cursive gold letters atop the fans with glitter crowns make this backdrop the perfect backdrop for pictures. While the original colors include pale pinks and gold, you can customize the colors to fit your shower. You can also customize the name with up to eleven letters.
Lip Balm Party Favors
Treat your guests like royalty with lip balm baby shower favors. Lip balm will be something that your guests will be able to use for a long time and will serve as great reminder of the special day. These beautiful tubes of lip balm are filled with organic oils and shea butter. You even get to choose from three different colors: Vanilla Ivory, Cherry Pink, or Mint Green. The labels can even be customized to fit your baby shower.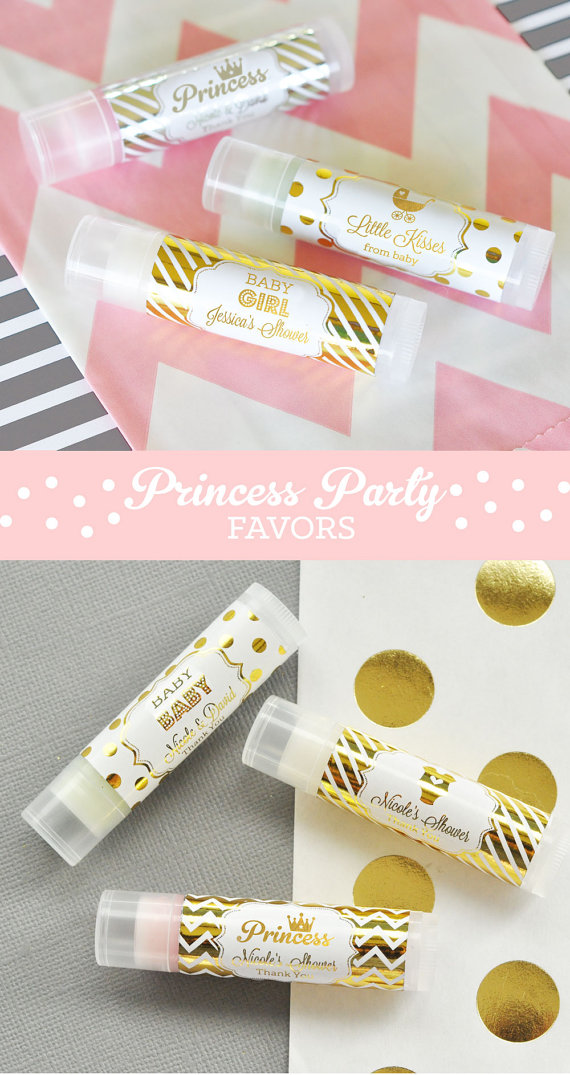 Star Shaped Soaps
Another great way to make your guests feel pampered like princesses is to send them home with these elegant star shaped soaps. Each soap is handmade and is customized with color and scent of your choice. You can even add an extra touch of royalty with some sparkles! The soaps are high quality and the glitter is safe for the skin. The gift tags can be customized for your shower.