Just imagine the relief that you feel drinking an ice cold glass of lemonade on a sweltering hot summer day. Since lemons are bright yellow, this baby shower theme is perfect for the summer time. If you are feeling the winter blues, a lemon themed baby shower might also brighten your mood during the long winter season.
A lemon themed baby shower is the perfect time to break out your favorite lemonade recipe. Don't be sour; there is a baby shower to plan! Below are a few ideas to get you started.
Lemon Baby Shower Invitations
Lemon Baby Shower Decorations
Balloons in colors of yellow and white with some paper or faux green lemon leaves would make the theme stand out! In addition to balloons, whether in a form of balloon arch behind the dessert table or hanging from ceiling, you'll also need other essentials such as banners and toppers! See below for some ideas!
Lemon Banner
Every party needs a welcome banner! This Lemon baby shower package includes an adorable lemon banner which will make the perfect addition to your baby shower!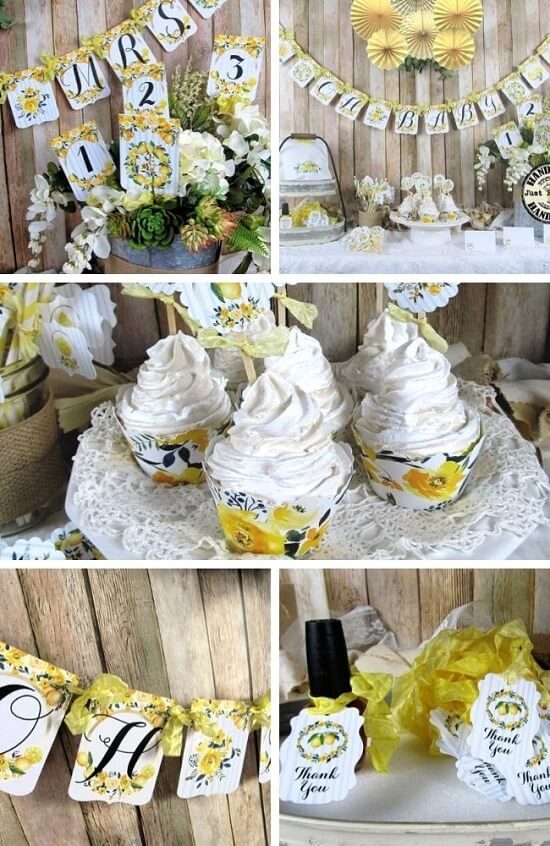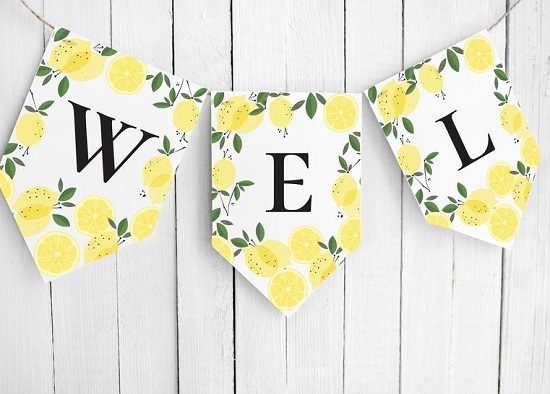 "Oh Baby" Lemon Cupcake Toppers
These cute lemon themed cupcake toppers will turn your cupcakes in adorable creations. The cupcake toppers are sold in sets of twelve and each topper measures approximately 2.5 inches.
Lemon Baby Shower Favors
Lemon Meringue Pie Soap
These Lemon Meringue pie soaps are handmade by DopeSoapSudsery, created with the most natural ingredients possible. With a scent of the delicious lemon meringue pie, your guests will absolutely enjoy this gift!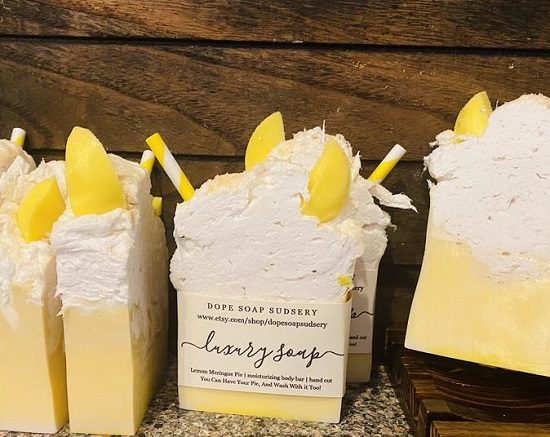 Lemon Hair ties
These adorable hair ties are great for baby shower favors. Their exclusive sweet Lemon hair ties feature custom artwork from watercolor artist Gina Tyler. They come with quality cardstocks using crisp, professional laser print
Lemon Drop Lip Balm
Treat you guests extra special with this lemon lip balm. This refreshing lip blam is made with lip softening oils such as Avocado and Jojoba, plus nourishing Coconut Oil and a hint of Castor Oil for a subtle shine.
The lip balm has a creamy and smooth texure which will provide your guests with a refreshing feeling and also provides relief from cold sores or canker sores.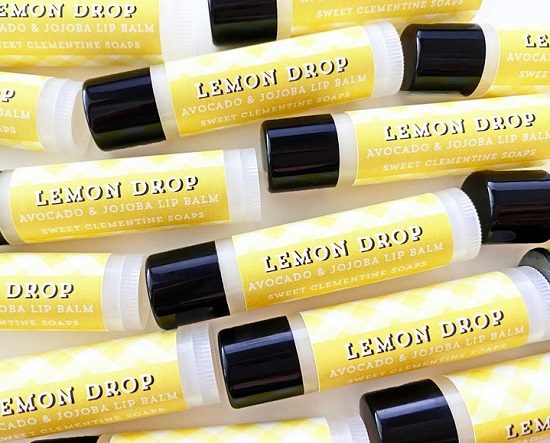 Lemon Fudge
Your guests will enjoy a unique treat of southern style fudge. This old fashioned fudge was inspired by the seller's grandmother  and is made with only fresh ingredients.
The fudge is sold in quanities of one pound and will arrive to your door double wrapped in a slab piece. You will be able to cut the fudge however you like. The fudge is lemon meringue pie flavored, so it makes the perfect addition to a lemon themed baby shower.
You can use this fudge for an easy snack tray or package the fudge and give it to your guests as party favors. If you choose to not use all of the fudge for the party, it will keep well in the fridge or the freezer.