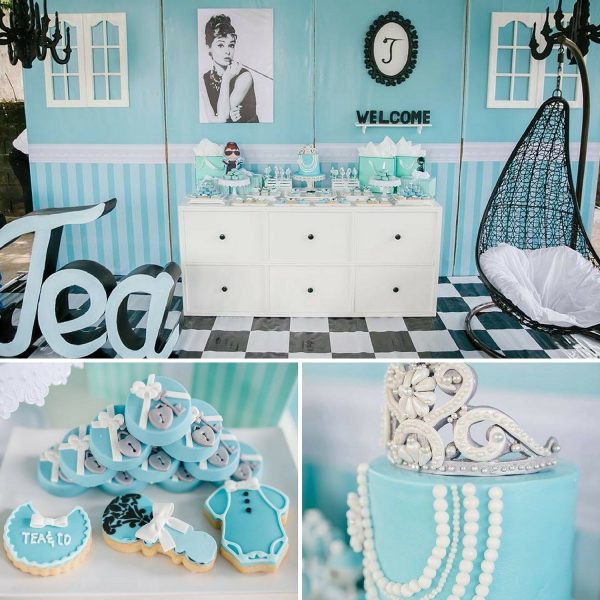 If you are searching for a way to really treat Mom-to-be like a princess, a Tiffany themed shower is definitely a fantastic option. Tiffany blue is an extremely versatile color that can easily be used to celebrate for either a boy or a girl with its elegant, soft hue. Combining it with silver creates a real royal effect, bringing glamour in that is sure to be appreciated.
Tiffany Invitations
Invitations for this type of event should exude magnificence.  Using a frilly font, and elegant artwork with some sort of crown or jewelry such as pearls creates a wonderful way to introduce the theme. You could wrap the invitation with a nice white ribbon for a nice touch. Background can be the lovely Tiffany Blue, or if you are going for breakfast at Tiffany's theme, you could incorporate some black in there. Perhaps some black and tiffany blue damask design. You can incorporate some of your favorite Audrey Hepburn's breakfast at tiffany's famous quotes into the invitation.
Tiffany Decorations
The decoration options for a Tiffany baby shower are practically endless, and many are DIY and wallet friendly, allowing you to spoil Mom-to-be on a budget! One of the latest trends that brings an amazing and full look to an event area is tying balloons to ribbons and hanging the ribbon from the ceiling, letting the balloon drape downward. Using a lot of balloons, you can create a covered and cozy atmosphere, especially utilizing a blend of colors from the Tiffany blue (or aqua) to silver, black, and white.
Tiffany themed tableware @ partycity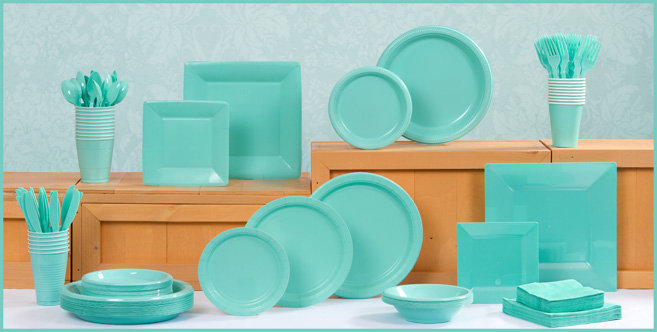 For the guest tables and snack/treat areas you can give a smooth and sophisticated look by using aqua blue tablecloths as a base for all of the accent pieces you want to add. Using vintage styled dishware really gives a royal effect, the china tea sets that have ornate detailing even. A lovely way to add to an elegant feel, would be through the flower arrangement. You can easily add rhinestones to any vase, giving an expensive and flashy look.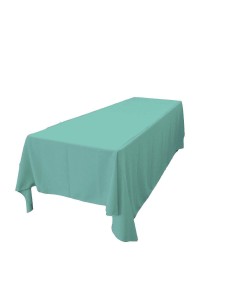 Tiffany Food and Sweets
Food at a Tiffany party should be one-of-a-kind. Creating tea party finger-foods that make guests feel royal, like cucumber sandwiches, pickle wraps, and fruit and veggie spreads.  Treats should be decadent and colored to go with the theme, creating a complete style.  Using aqua frosting on brownie-balls would be fantastic, and if you stick them on sparkly sticks, it would really add a touch of glitz. The true centerpiece munchie at a Tiffany themed baby shower should be the cake.  Using a tiered option, three-layers would make a huge statement and give you plenty of space to add tons of detailing with frosting and even adding touches like jewels. You could even top the cake with a tiara or pearls.
Tiffany Activities
There are all kinds of activities that you could have at this type of event, any that really take time to spoil Mom-to-be work great. Find an activity that you know she would enjoy, like if she enjoys crafting, you could set-up an area for everyone to make a painting on easels or a make-a-onesie station. This kind of idea can add a versatility in that the guests could be creating gifts for Mom and baby, or to take home and enjoy themselves.
Tiffany Favors
As a take-home gift, nothing says Tiffany like a tiara topped cupcake or even edible pearl white sixlets in a Tiffany blue favor box or bag.  You can add a Tiffany touch by adding a lovely white ribbon. They offer a wallet-friendly way to make every guest feel like royalty and are a fun way to remember such a wonderful event.  Making your own favor boxes or bags will give you a chance to add glam of your own, even personalized tags. Printable for a perfect Tiffany blue boxes and bags are available here for free.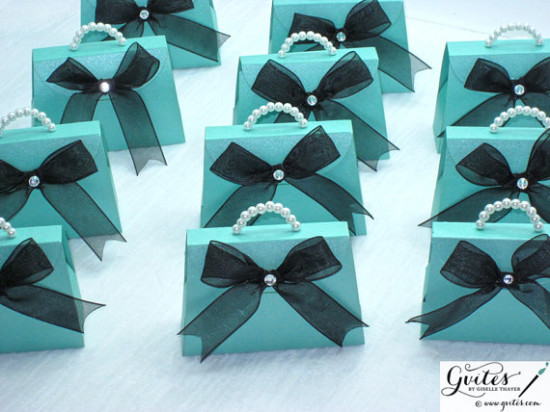 Tiffany Photo Booth Props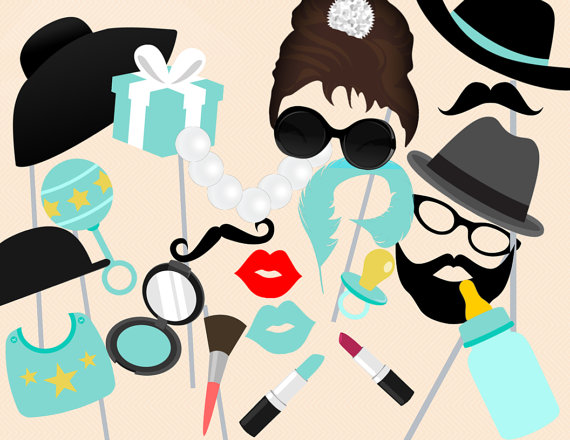 Tiffany Baby Shower Games
Tiffany Printables
Breakfast at Tiffany's Baby Shower Printable 
Use Coupon '50baby' to get 50%
Free Tiffany Party Printables
MORE INSPIRATIONS: