Gabriela Events was the mastermind behind this fantastic Royal Blue And Gold Prince Shower celebration. Setting the scene at this event, a massive and unique dessert table was placed right up front making it easily accessible for the guests. A stunning backdrop hung top to bottom with a fantastic ballroom style detailing. With a smooth blending of blue and gold colors, this event was fit for royalty.
The table design was stunning and innovative.  Massive letters in white spelling out baby to be's name made the stand for the dessert buffet while a large glass top offered a stylish and durable option for holding the treats. On each end of this lovely table, golden crowns were set with candies, advertising the royal theme in a beautiful manner.
At the center of the table, a bold layered cake featured a large, golden crown on top. It was accented on each side with a stunning bouquet of pastel flowers in elegant clear vases. Cupcake stands held cupcakes that looked quite scrumptious in golden cups. With all of the treats at different levels, it was simple to grab and go.  At the front of the table of this stunning Royal Blue and Gold Prince Shower, delightful cake pops were frosted in bold blue alongside yummy candy-coated rice Krispy treats. Floating candles offered a softening touch to this table in lovely stemmed glassware.
To the side of this lovely dessert table, another station was prepared to hold the gifts. This table was covered in a wonderful shimmering golden cloth.  Framed personalized party activity instructions added to the fun at this event with exciting things for the guests to participate in.  A classic favorite game was "Don't Say Baby," so the guests could enjoy trying not to say the main reason for the whole party!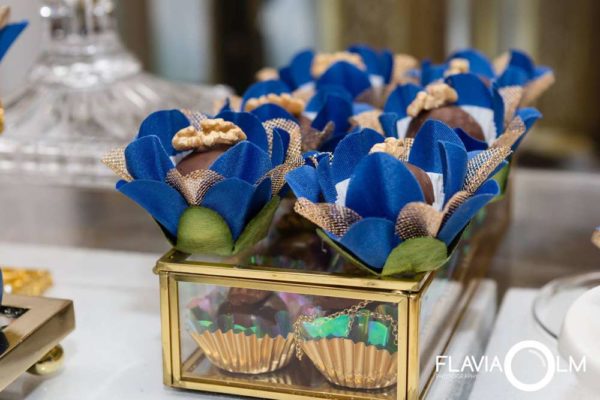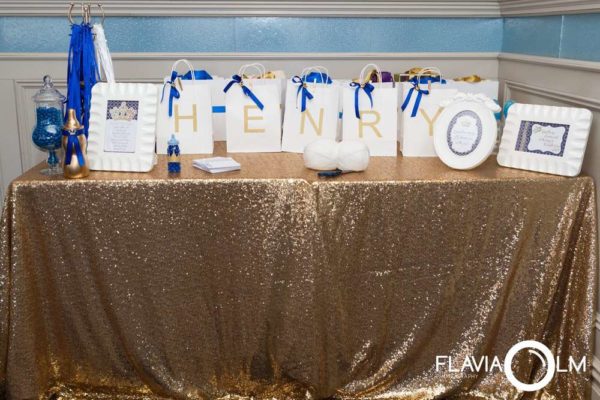 MORE INSPIRATIONS: