This delightful Royal Moroccan Prince Baby Shower was beautifully created by the talented My Little Angel Decorations. With the bold arrangement of various blues and gold as theme colors, this party was a vibrant beauty.
A backsplash of extravagant fabric was layered with shimmering blue on white, creating a depth and glamor that was certain to impress. The blue fabric was draped with the peak centered at the back of the lovely dessert area, drawing attention elegantly.
The snacking area was lavishly arrayed in animal and floral decor.  A table at the back covered in a fantastic golden cover had circles on it, giving a textured appearance.  Two adorable, tiny white stands stood on each end of the large table displaying fantastic decor.  An overflowing bundle of blue flowers in varying shades looked absolutely stunning on the little tables.  A matching miniature lampstand stood beside the flowers adding to the look perfectly.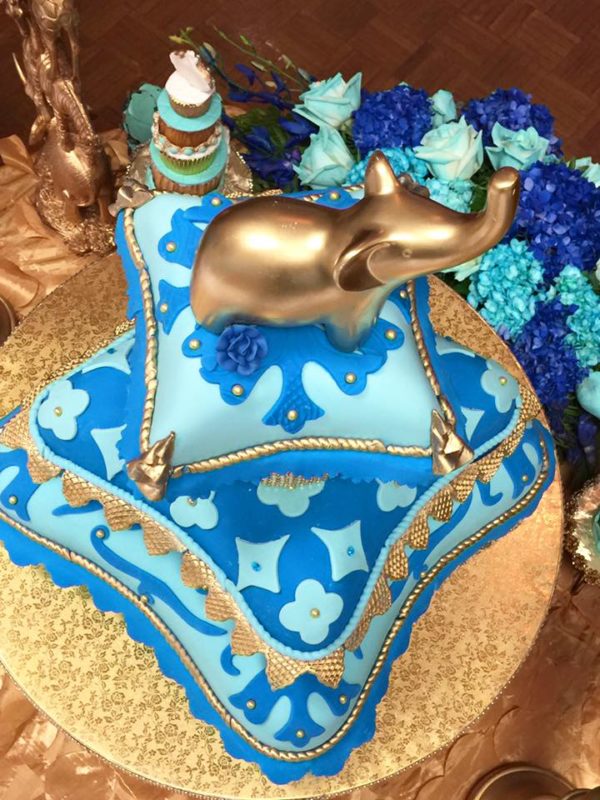 A stage in white gave that golden table elevation so it was easy to see, and directly in front of the stage was a fantastic round table with a matching golden cover, making the treat area visually magnificent. Large pillars stood on each side of this table with candelabras on them and also on the floor in front of them.  
The round table held a variety of decorations included towers of golden animals on one side and a side-by-side arrangement of them on the other side. A tall pile of pillows made a perfect centerpiece for this entire set-up.  The pillows were actually the cake, but were decorated so perfectly that it was hard to tell they were edible.  On top a golden elephant stood tall too.  The front of this table was layered in a massive arrangement of blue flowers, bringing the royal vibe to life.  This party was definitely a vision of elegance and royalty.