Tutti Fruity Colorful Party by Jesi of Dolce Designs. It's inevitable that looking at this picture the Little Richard Tutti Fruity song is bouncing through your head. Well this party has the designs that match the beat. Everyone is a sucker for a cake pop so these rainbows of color filled delights did not go unnoticed. The cutest item on the colorful Tutti Fruity party design is the centerpiece cake with the colorful Tutti Fruity sprinkles all around. The citrus designed frosted fruit slices of sugar cookies are a wonderful accent to a great blend of colors and treats. This matches the fruity theme perfectly since there are glass containers of citrus fruit masterfully placed all around the display.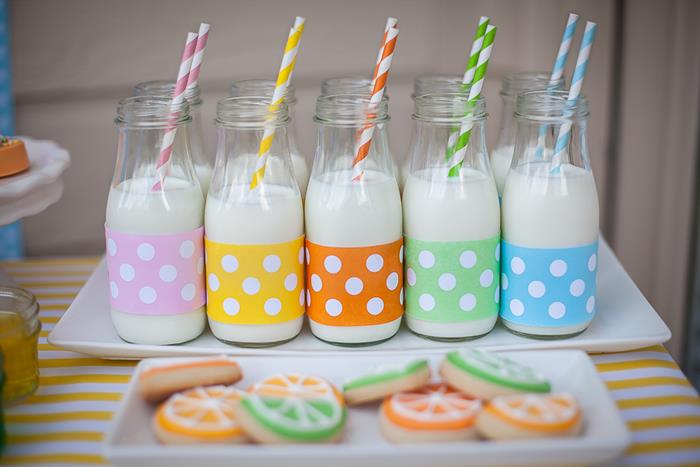 The glass jars of milk are a cute idea because there are cookies and cakes to pair with them the polka dot designed bottles paired with striped straws are a cute way to display the colors in the theme. I think it is a nice and refreshing touch to add fruit cups to the scene sense it is Tutti Fruity. The best part is seeing the sprinkles and confetti show up on both cakes and frosting tops. The glass containers of shiny gumballs are a nice accent to the theme. The most admirable part of this theme is the backsplash. The colors of Tutti Fruity in strips and polka dots are a good match for this fun pattern.
The tassel garland is fun and playful. All the colors are splashed in just the right combination. The design itself looks as it were confetti. There is no part of this arrangement that isn't a mix of color and fun. Even the happy birthday design has a bowl of colorful butter mints holding them up. From rainbow colored Oreos' to confetti-frosted cupcakes the whole table represents every fruity color imaginable.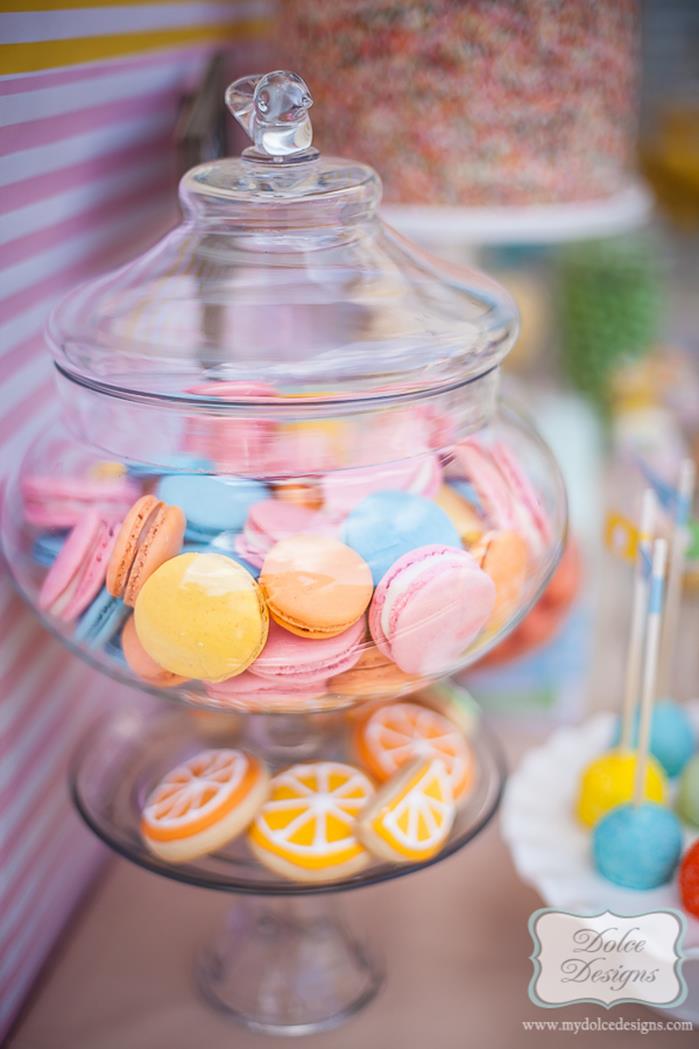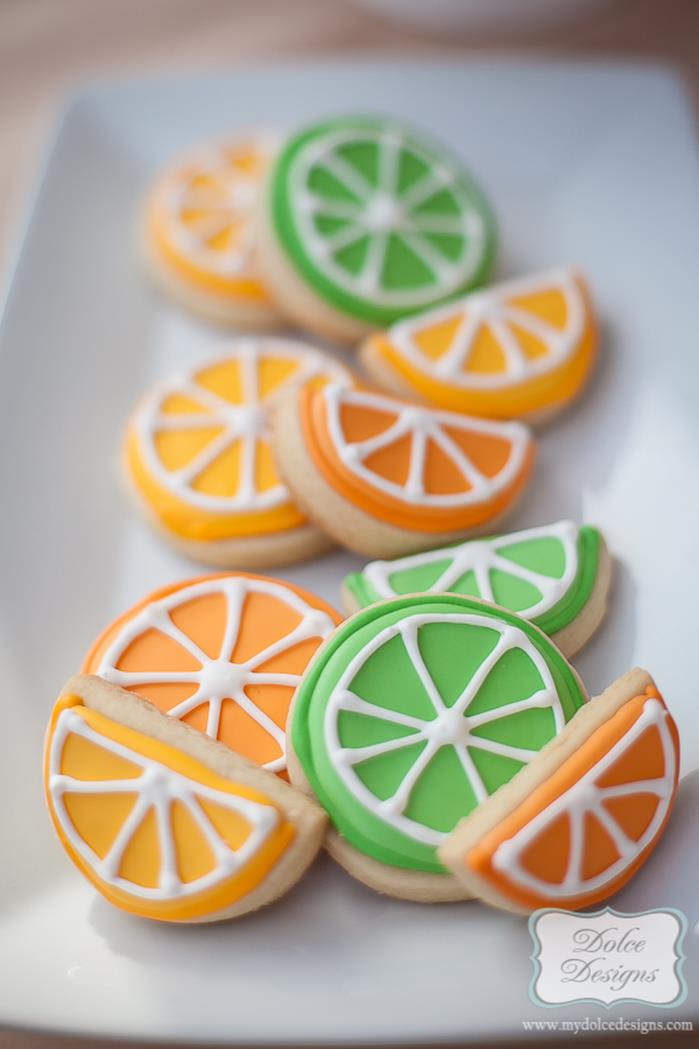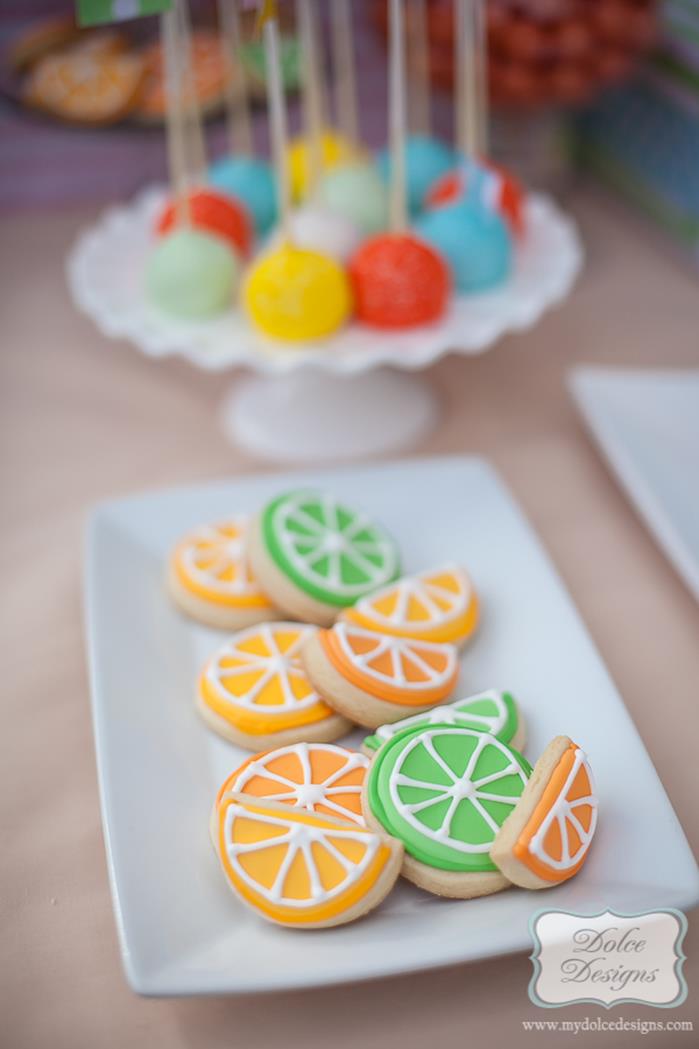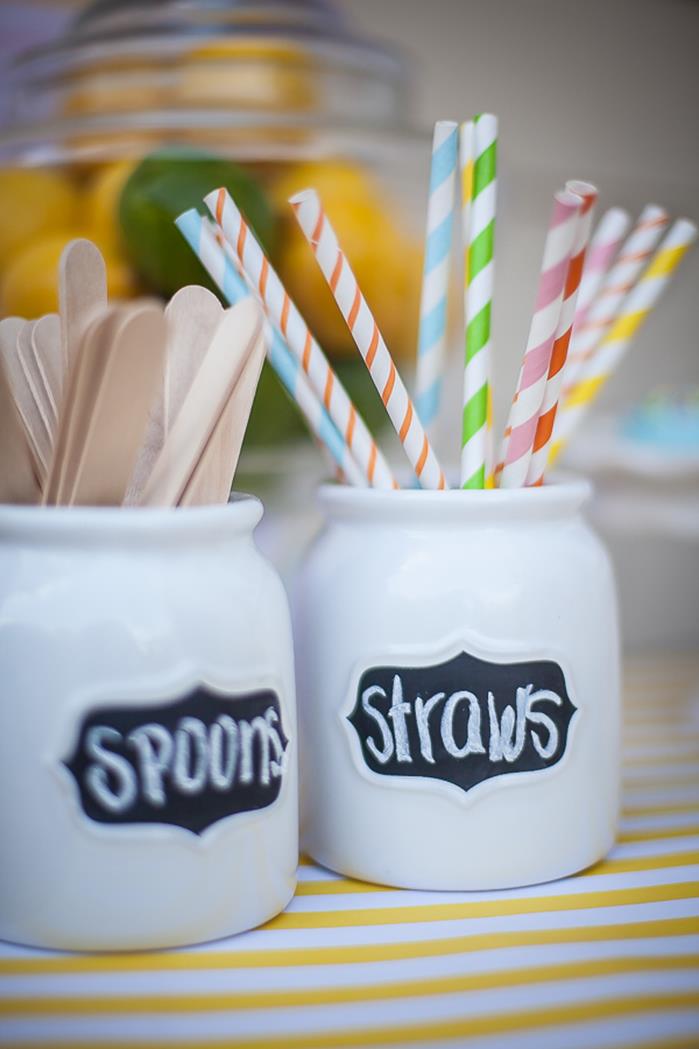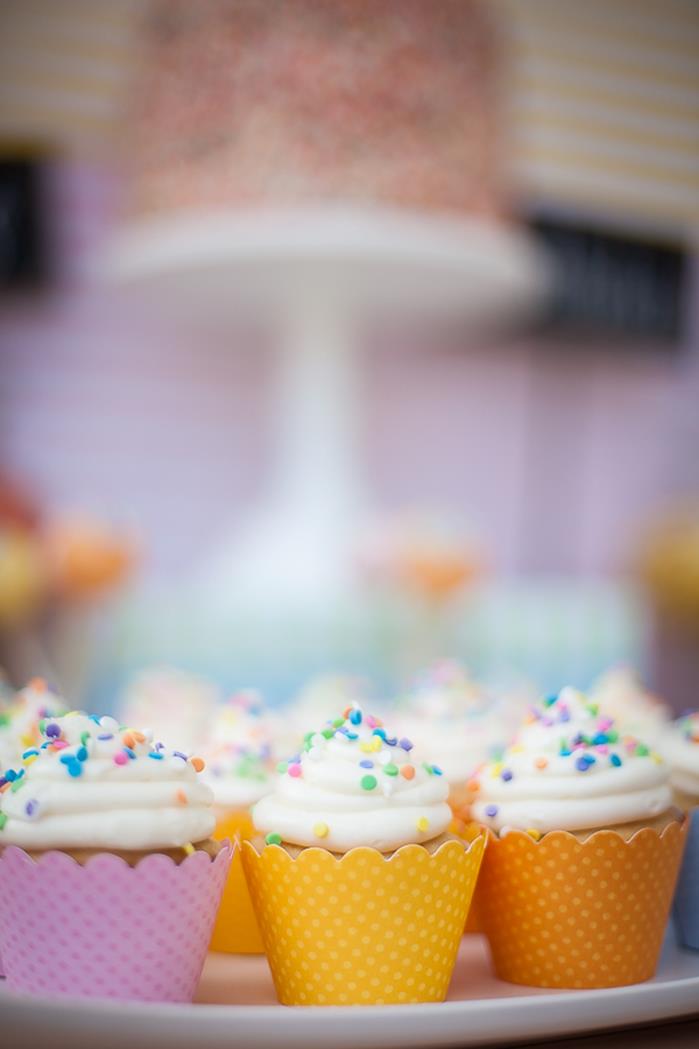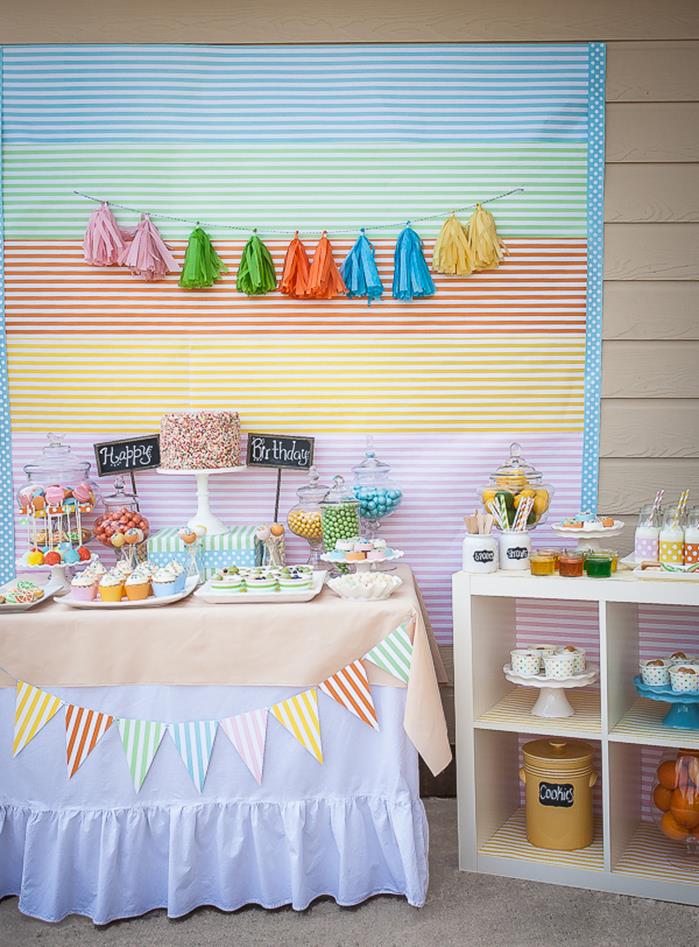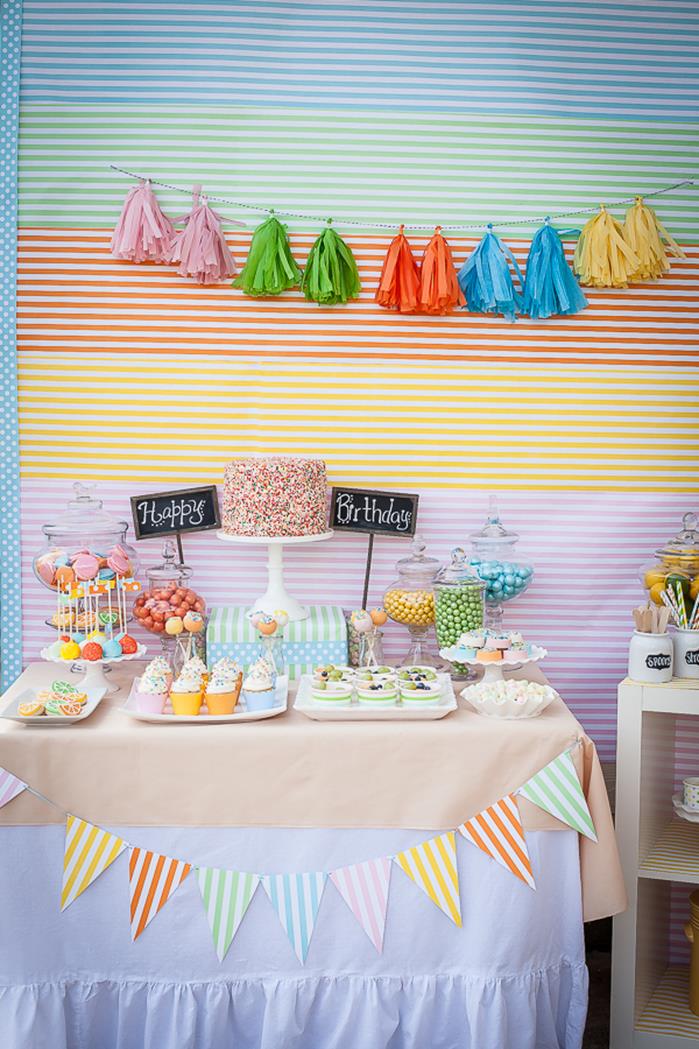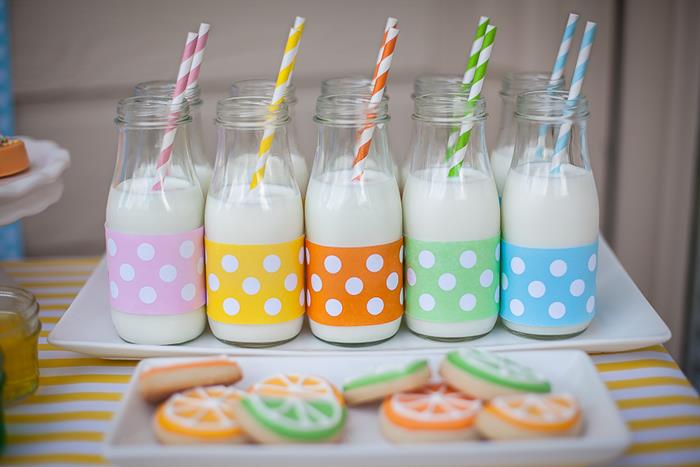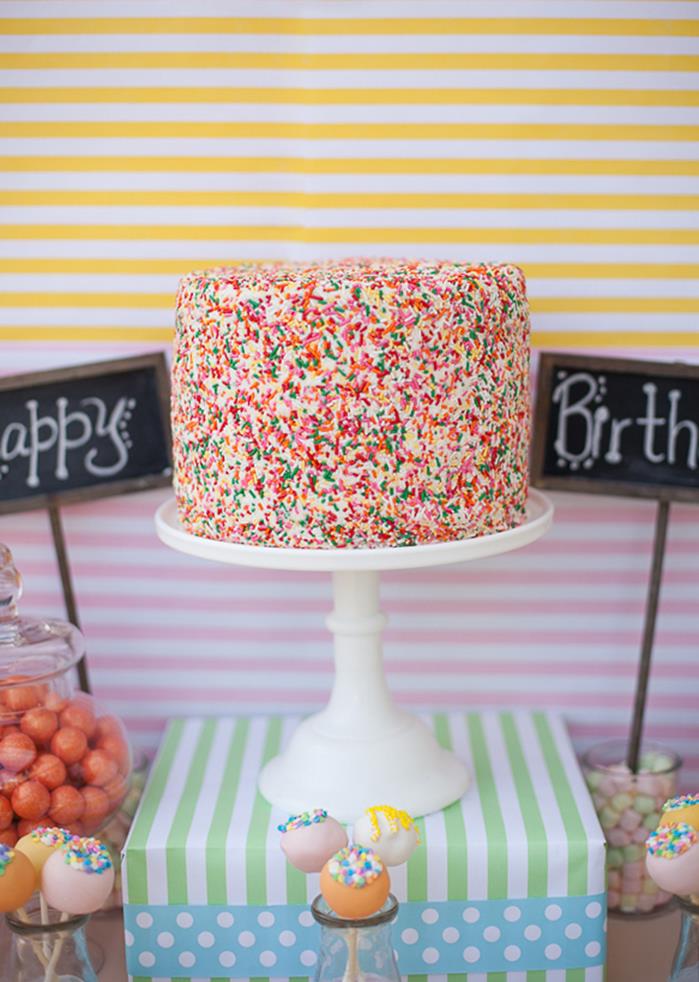 Tutti Fruity Colorful Party Vendors & Credits:
Styling, baking, garland and balloon tassels: Dolce Designs
Photography: FJC Photo www.fjcphoto.com
Wrapping paper, ribbon, cupcake wrappers, milk bottles, ice cream cups, chalkboard signs, milk glass cake stand, gumballs, striped straws, wooden spoons, giant balloons: Smashcake