For a personalized way to celebrate new life, Lauren from Lauren Haddox Design planned a Pink Sprinkle Baby Shower for her dear friend Caroline.  With this adorable theme, a whole miniature world of pink and polka-dots was created, just to spoil mom-to-be the way she deserved!
The dessert buffet was set-up marvelously, using an umbrella as a centerpiece that made a wonderful decoration.  With a neutral, cloth backdrop, each detail on the table really shined in a lovely and elegant manner.  The umbrella was white and had a ribbon draped around a perfectly adorable way.  With rain drops attached and a pink ribbon tied to the handle, this decoration was really one-of-a-kind. The front of the table was decorated as well with a fantastic banner of ribbons draped across beautifully.
Fantastic use of the floral arrangements was made by placing a unique bouquet on each side of the table.  An array of colors was distributed in each, giving it a bright flair that was very effective. One of the bouquets even had adorable little signs showcasing the baby shower in a cutsy manner.
The treats were fabulously done, in sweet shades of pink and white that looked incredible.  There were pink macaroons set on a tall white tray that looked ready to just eat right up.  Cookies shaped like rattles and umbrellas enhanced the theme remarkably. Those were set on pink jelly beans, offering a sweet look that really stood out.  The cupcakes were miniature works of art with gorgeous frosting flowers.
The cake was very yummy looking set on a tall white tray going right along with the umbrella above it perfectly.  Frosted in white, with adorable pink circles all over, it looked delicious and match the theme precisely.  A cute little flag banner was placed on it as well spelling out BABY in soft colors.
Credits –
Event Planning – Lauren Haddox Design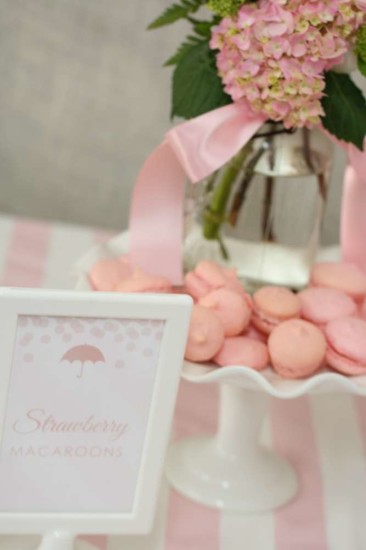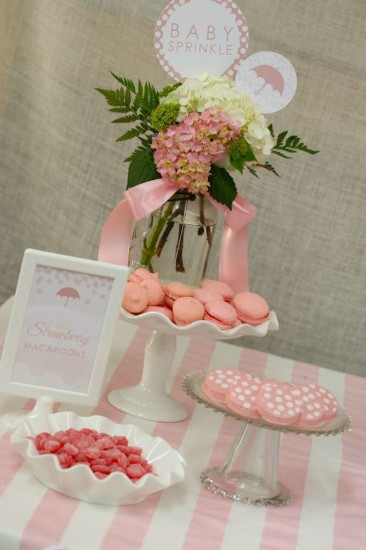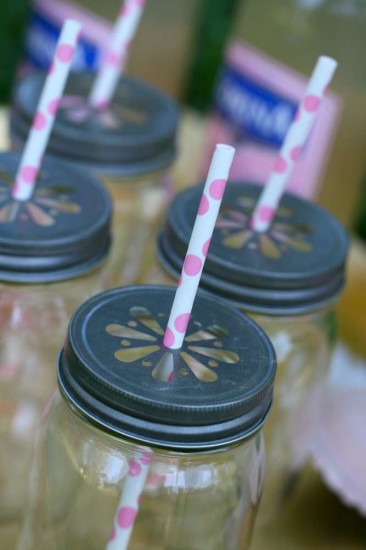 MORE INSPIRATIONS: