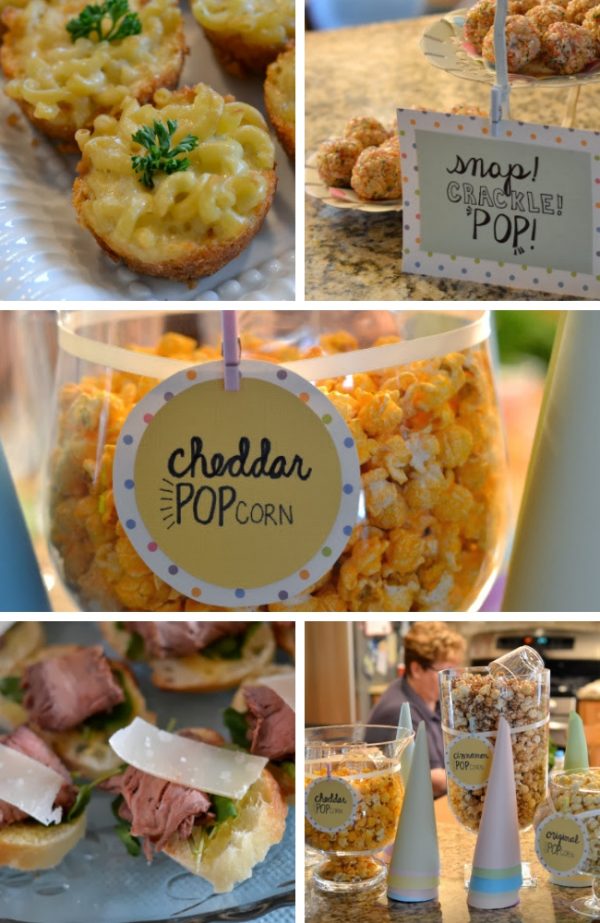 "Ready to Pop!" theme is fun and light hearted and is the perfect theme for a baby girl or boy. Guests will love the unique, modern theme! It's time to start popping some popcorn because there is a baby shower to plan! Below are a few ideas to get you started!
Invite the guests with plenty of adorable confetti designed invitation!. Display the words '(name) is ready to POP!' at the top and include the date, time, and location for the event.
Decoration Ideas
To establish the decoration pick a focal point in the room for the event table and cover it with a crisp white fabric tablecloth. Hang individual balloons of the colors you have chosen for the theme on the wall behind or even a large popcorn box mylar balloon. You could set up a second round table close to the entrance and cover it with a white fabric tablecloth. Have a medium sized picture frame, and put burlap inside. Stencil the silhouette of an expecting mom with white paint. This makes a wonderful keepsake for mommy to be. Include a sign-in book for all the guests to write sweet and loving advice for the new parents. Place a bowl on the gift table filled with popcorn flavored jelly beans. Yum! This with provide a lovely scent as the guests arrive.
You can place fresh flowers on the gift table in a clear vase wrapped with burlap lace or with ribbon that matches the color theme chosen.
Ready to Pop Stickers
These personalized stickers can be ordered in almost any color and measure approximatley two inches across. These stickers are perfect for baby shower favors! To stick with the theme, you could even stick them on bags of popcorn just like the image below. You could also use the stickers to seal the envelopes of your invitations or to cover candy bars. In addition, any leftover stickers could be used for scrapbooking.
Champagne Bottle Labels
Although the mom being celebrated likely will not be indulging in champagne, guests will enjoy a special treat and will love the adorable labels!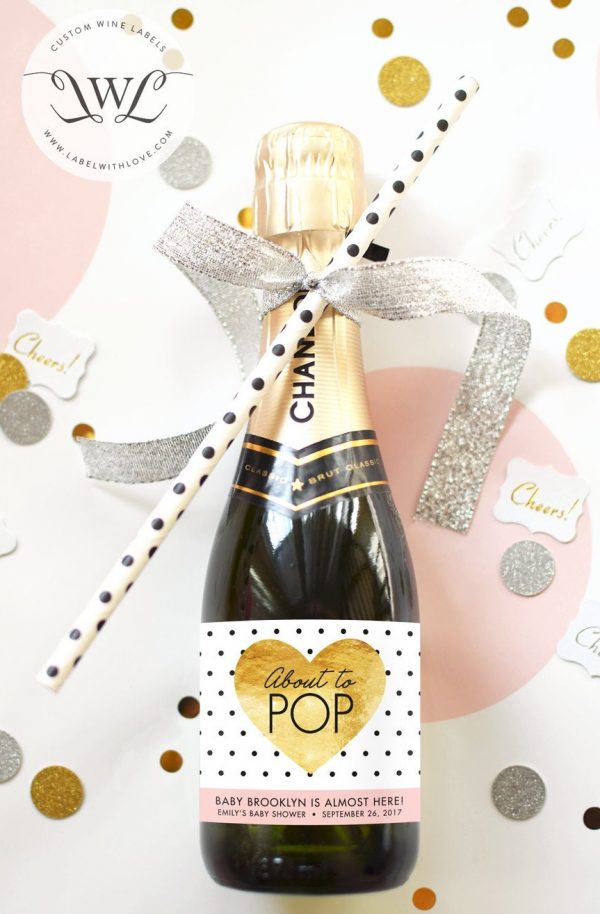 Ready to Pop Cake Topper
This cake topper is the perfect cake topper for your ready to pop baby shower themed party! The topper is made from high quality glitter cardstock. The topper is also embellished with a small pink ribbon. This topper is perfect for a cake, but would also make an elegant centerpiece. If desired, the piece can be ordered with a longer stick to be used as a centerpiece for your table. In addition, the same design can also be ordered for cupcakes. While the topper in the photo is pink, this topper can be custom ordered to match the colors of your party.
"About to Pop" Confetti Balloons
Make the party room even more  dreamy and fun with these 'About to pop' confetti balloons!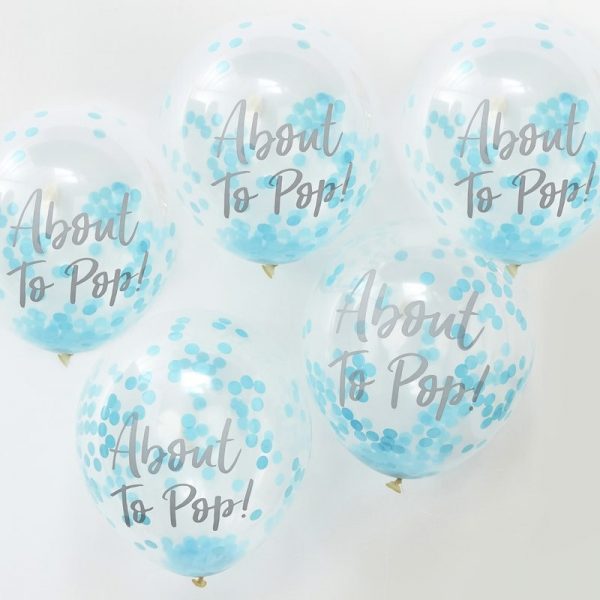 Glitter Cupcake Toppers
These bright colored cupcake toppers feature chevron and polka-dotted patterns with the words "ready to pop" in the middle. The toppers are sold in sets of tweleve in seven different color combinations. The colors and print can also be customized if desired. Each cupcake measure approximately 3.5 inches tall including the wooden skewer and are printed on glossy photo paper.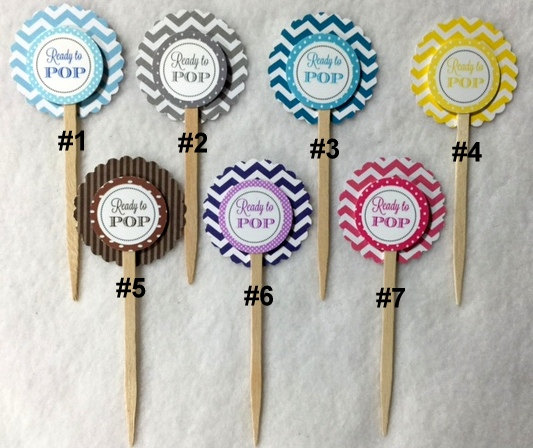 Game & Favor Ideas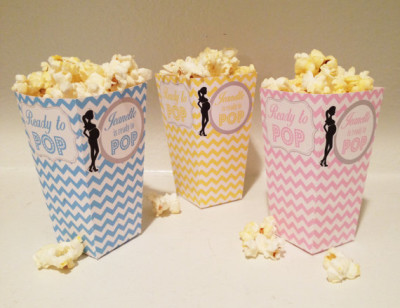 The cake table could have three large glass barrels with caramel corn in one, cheddar cheese popcorn in the second, and chocolate covered popcorn in the third. Ask guests to take a guess at how many kernels are in each one. The person who gets the closest wins a bottle filled with Jellies or an actual alcohol with 'She's about to Pop' tag to take home. The barrels of popcorn make an awesome hostess gift after the party. The guest gifts are a paper movie popcorn bucket, a decorative cone or 'ready to pop' favor box filled with a sampling of all three flavors individually wrapped and spread cellophane around the outside tied with a pretty ribbon. The tableware can be a modern mix and match of the light color patterns. Have fun with it! Wrap a napkin around a fork and knife and tie a bow with string. Display these on the food table in a basket for guests.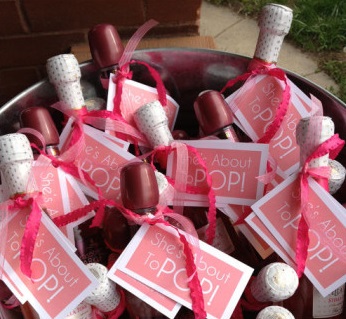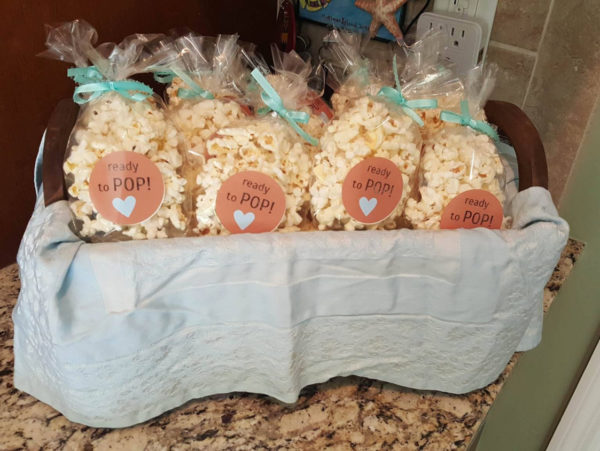 Food Ideas
Carry the theme to the buffet table by serving smoked baby back ribs, baby bakers (round potatoes), brussel sprouts, and offer a baby shower fruit punch that is light orange such as a spritzer with an orange slice inside. Tangerines thinly sliced would be adorable and round like the mom to be.
It would be great to get the guests together with a paper and pencil and write down as many songs that they can think of with the word baby in it. Some examples are: "I want my baby back baby back ribs….Baby's got back (Sir Mix a lot)….Baby balooga…Baby Love (Supremes)…Baby-baby-baby (TLC)…Baby (Amy Grant) I got you baby (Sonny & Cher)". Once the guests are finished, take turns reading them out loud and enjoy the laughs!
The cake is consistently the focal point for any shower. A two tiered cake with white fondant is classic with round bubbles of colorful fondant all over. This combines classical elegance with a modern twist.
Follow My Mess's board Baby Shower Ready to Pop Theme Inspirations on Pinterest.