With the holidays quickly approaching, there is a lot to be thankful for. If you're about to plan a baby shower, you might be thankful for a new baby girl or boy.
What better way to celebrate the blessing of a baby than a Thanksgiving-themed baby shower? Warm oranges, yellows, and reds will make the perfect color combination to celebrate a baby girl or boy. Make sure to say thank you to everyone who helps you create a special celebration! Below are a few ideas to get you started!
Thanksgiving Themed Balloons
If you're planning to have a Thanksgiving themed baby shower, it's likely that you will be trying to capture all of the beautiful colors of fall. These fall-colored balloons make it easy for you to turn your home into a warm and cozy place for a celebration! The colors include burgundy, bronze, goldenrod, and pumpkin. The string is not included, but they could be easily hung with twine to create a rustic look.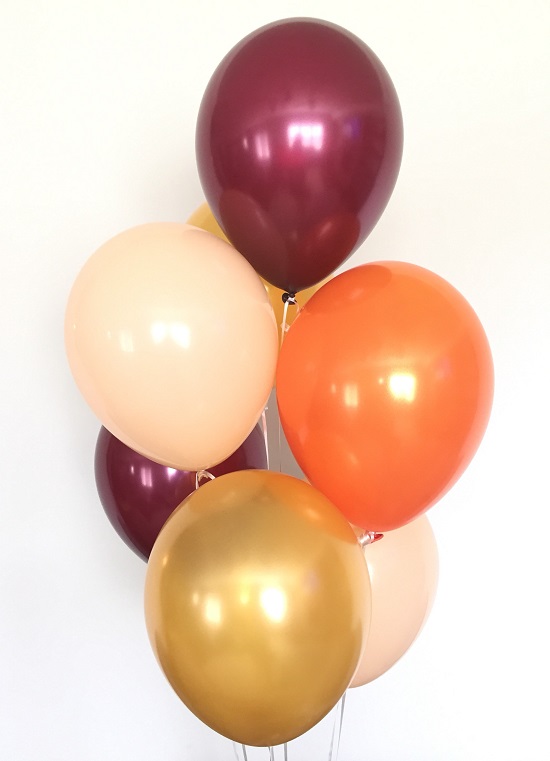 Thanksgiving Diaper Cake
This Thanksgiving diaper cake is super adorable, handmade by @cutediapercake! She has made so many incredible diaper cakes you may want to check her out on IG.
"Thankful" Cake Topper
Almost every party has a cake! This cake topper can help you to indicate the Thanksgiving theme of the baby shower party! The cake topper reads "thankful." Of course, you are thankful for a new baby girl or boy, so why not tell everyone with a decorative topper for your cake?
Not only does this topper fit with the theme of the party, it's also made from high quality card stock, so it will last a long time after the celebration is over. It could be reused as a decoration for Thanksgiving or could be elegantly displayed as a reminder of a very special day. You even have the option to order the topper six or seven inches wide depending on your cake.
Thankful and Blessed Stickers
Show your guests just how thankful you are for their attendance with these adorable Thankful and Blessed stickers! Add these stickers onto mason jars, cello bags, or boxes.
Some items to you can give are soap, candy, popcorn, or other treats that you might want to share with your guests.
Thanksgiving Candy Bar Wrappers
You can turn ordinary candy bars such as Hershey minibars into something more fun with these thanksgiving wrappers printable.
Thanksgiving Soap Favors
Carefully handmade by ButtercupGoods, these mini thanksgiving pumpkin soaps would be a nice touch to your Thanksgiving-themed table. You can place them neatly on a plate to thank the guests for coming. You can also add a tag for a personalized thank you message.
Thanksgiving Hand Sanitizer Labels
"Spread Thanks Not Germs" labels for a hand sanitizer may just be the most useful gift to receive at this time to keep mom-to-be and others safe. You can hand them out with orange masks for the guests to wear throughout the event!
Fall Leaf Banner
Easily add a touch of fall color to your party by incorporating this autumn leaf banner. This banner would look lovely hung on any wall or hung above a fireplace. The banner is printable, so it can be downloaded after purchase.
Once printed on white card stock, you will need to cut out with scissors, hole-punch the holes and hang with a string. The file includes 5 maple leaves, 5 oak leaves, and 4 birch leaves. This banner could even be hung early to be used as a fall decoration.