Deciding on the favor packaging would depend on what you are giving out as favors. There's couple of things you may need to consider: Is the candy or sweet dry or sticky? What is the size? Does it need to be sealed properly? Will it crumble? Will there be children attending? If so, you better stick to paper or plastic containers.
A simple favor could be a collection of mommy-to-be's favorite chocolates in a paper goodie bag. If you are on a budget, you can go for non-personalized paper bags which are quite affordable. The option to personalize is endless. You can add a personalized message to the thank you tags with a personalized ribbon, if your budget allows. Another simple option would be to purchase a large bag of wrapped chocolates and place them in an elegant organza drawstring bags.
Candy Containers
.
These amazing personalized baby shower candy containers can be filled with your choice of treats, nuts or teas. They would look wonderful as a diplay as well so you may want to set up a candy buffet and have these containers sitting on the side of the table to let the guests fill their jars with all their childhood favorites.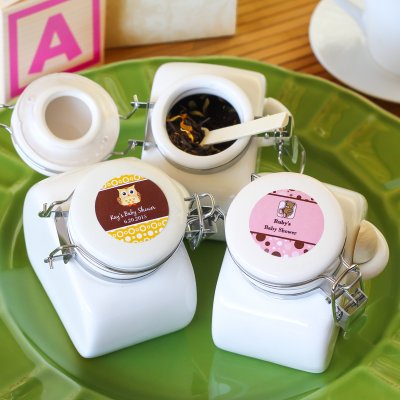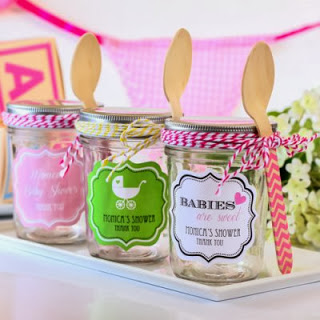 Candy Bags
Click on Image below for direct link to products
Contemporary labels decorated with animal designs or traditional baby shower themes featuring scalloped flap topped with a large satin bow.
Natural Cotton Bag
Click on Image below for direct link to products
Eco-friendly unbleached natural cotton, simple and little favor bag are great if you are having a rustic baby shower theme. They are also perfect for other themes like, outdoor garden, Jungle or Safari, and a little peanut elephant theme.
Sheer Organza Bags
A popular packaging option for favors! These baby shower organza favor bags are simple yet elegant. The bags are made of organza, a sheer silky fabric that gives the bag its see-through quality. They are great for presenting gifts that are too pretty to hide. Colorful candies, almonds and candles are just a few ideas. Simply pull the satin ribbon drawstring to secure contents.
Paper Goodie Bags
Simple yet ever so popular chevron, polka dots bags, and some adorable prints.
Personalized Tags
Turn any baby shower favors into gems when you add personalized baby shower favor gift tags. They come in all sorts of shapes; diamond, square, round or scalloped.
Take your pick of designs and colors to create the perfect match for your baby shower colors and theme. Then personalize tags with the parents' names and the due date or a special message. Tags arrive individually cut and hole-punched. Tie these tags to embossed favor bags or two-piece favor boxes and top with an irresistible personalized gingham ribbon for a cute, complete look.
Explore all Personalized Tag Products
Favor Cakes
Give guests something to really coo about! These baby shower favor cakes are simply irresistible. Each baby shower cake is made up of baby shower favor boxes shaped like cake slices—they're not just great favors, but great baby shower decorations and a centerpiece as well!
 Select the cake size (from one to seven layers), your favorite favor box color, ribbon colors, accent type, and cake topper style. Endless combinations to perfectly match your event! These lovely baby shower favor cakes by beau-coup.
Unique Boxes
These favor boxes are perfect for filling up with traditional Jordan almonds or small meaningful trinket. You can personalize the boxes with many color and pattern options. You could even mix and match tops and bottoms to create your own combinations.
Click on Image below for direct link to products
Favors Tins
These classic and personalized favor tins come in all sorts of shapes with a lid and personalized baby shower themed label. You can fill them up with popular candies such as jelly beans, chocolate M&Ms, Jordan almonds , little mints or go for mommy-to-be's favorite candy! Add a baby shower ribbon for a perfect look.
Names of Favor Package Options:
Here is a list of name of favor packages that has been covered in this post:
Plastic baby block boxes
Clear Boxes
Elegant square
Embossed boxes
Chinese takeout boxes
2 piece square boxes
Rectangular boxes
Gable boxes
Scalloped boxes
Candy tubes
Candy Jars
Mini plastic baby bottles
Glass jars
Honey jars
Bell Jars
Mason jars with flower lids
Acrylic box containers
Paint jars
Vintage milk favor jars
Mason jars with handle
Glass spice jars