Valentine's Day is the celebration of love—and every kind of it. So, whether you're spending time with a romantic partner, a best friend, or a family member, a homemade gift from the heart is a perfect way to show them your love. Darlene of Make Fabulous Cakes created an amazing way to do this with her Valentine's Meringue Pops recipe. This sweet treat is the perfect Valentine's Day surprise as it's delicious, appealing to the eye, and of course, made with love!
These yummy treats come in romantic colors like snow white and pale pink, with a unique swirl design in the meringue. The tart flavor of the meringue is then complemented with colorful heart-shaped accents that add a bit of extra sweetness. These dessert pops literally melt in your mouth and linger on your tongue, allowing you to savor the delectable and rich flavors. With so many cake pop recipes out there, these Valentine's Meringue Pops really stick out above the rest, as they consist of simple yet romantic ingredients that delightfully tangle up the senses.
While the flavor is fabulous, presentation is also everything. The beauty doesn't stop at what's edible—even the sticks of the cake pops look fantastic, with miniature satin white bows topped by miniature roses in romantic hues of pink. A clear vase is filled with candies of Valentine's Day staple colors, and decorated with a lovely bow around the center. The meringue pops are then placed in this jar of goodies and voila! Here you have a gorgeous bouquet of decadent desserts to give your loved one for a truly heart-filled day of the year.
Recipe & Instructions Click HERE – By Make Fabulous Cake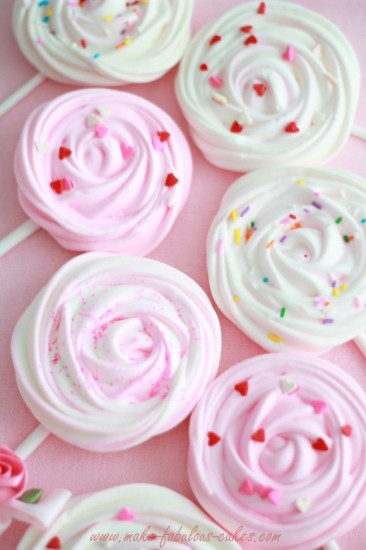 MORE INSPIRATIONS: