From top to bottom, this Vintage Style Baseball Baby Shower by MKR Creations could impress any fan of the classic game.  With red, white and blue mixed with soft neutral tones, this party had a perfect mix of the modern game with a vintage vibe.
The treat table was a wonderfully laid-out blend of treats and decor that was certain to have the guests ready to celebrate.  A lovely backdrop was made from blue and white fabric accented with a sheer tan cloth and had a fantastic photo hung in the center to draw attention.  The table was laid out with a neutral cover and a brown runner, giving that old-age look that allowed the vibrant red, white and blues of the treats and decor to stand out marvelously.  An adorable tassel banner hung across the front of the table adding a touch of fun to the look.
A wonderful arrangement of wooden crates and stands were used to give this table a full look.  Mini-red cake trays held cake pops frosted in white and adorned with cute little bows. There were stands holding tasty looking pretzels as well. An adorable vintage styled cake in two layers was the perfect addition to this dessert table with a baseball detailing for the top layer.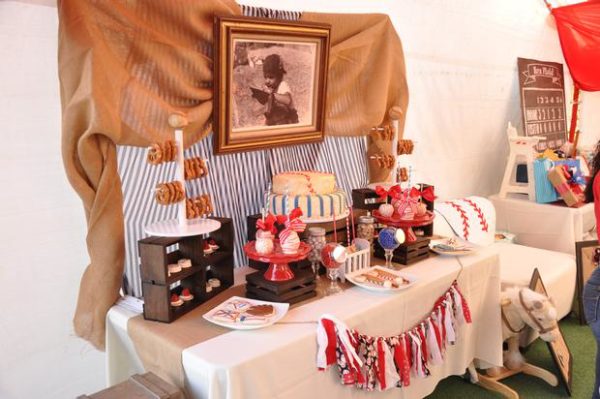 The guest tables were beautifully decorated with red and white striped covers and a burlap runner.  The centerpieces for this perfect vintage baseball baby shower consisted of cute little boxes filled with moss to give a field vibe.  Old baseballs were place on top and cute bats stood tall in the center. Little flags and baby's breath made cute finishing touches to the look. To make guests feel right at home, jars holding classic baseball treats were set on the table as well including tasty twizzlers and peanuts.  Framed antique artwork was also added to the table for the guests to check out.
More Inspirations: