Every mom-to-be deserves to be treated like a movie star. Treat your guest of honor the way she deserves to be treated with a Hollywood Star is Born themed baby shower. A Star is born baby shower is also the perfect theme to welcome a potential super star into the world. It is time to start rolling out the red carpet because there is a baby shower to plan! Below are a few ideas to get you started! 
A Star is Born Invitation
Invitations for a Hollywood event need to make a huge statement so choose a large, flashy font and loud patterns that combine all the colors that you choose for your palette.  Using stars or film art, your guests can easily figure out what the theme is.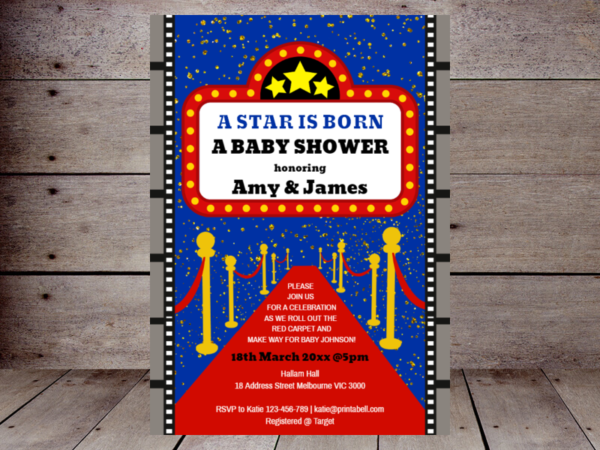 A Star is Born Decorations
A star is born Hollywood theme is such an icon that it makes a wonderful idea for a glam and elegant event to really spoil Mom-to-be.  Using a mix of bold colors like gold, red and black you can easily provide a unique party that can celebrate any baby gender nicely. 

You can make a multitude of decorations that can fill your party space, ensuring that the guests are blown away by the detailing.  With all sorts of DIY options like, creating your own Hollywood walk of fame to lead mom to her master seat, incorporating cutouts of stars and film throughout the venue will really give a complete look for the theme. Balloons are a wonderful way to fill a room up on a budget, and you can use all kinds of colors to enhance your theme nicely.  Gold glitter and confetti will add a glamour to all of the tables that make for perfect photos.

Star Banner
Of course, a Hollywood themed party needs stars! This gold star banner will make the perfect addition to your Hollywood themed party. The stars would look lovely displayed over a buffet table or as a photo back drop. Each star is handcrafted and includes a 24 karat back layer which provides a 3D effect. You have the option to choose from two different sizes, so you will easily be able to find the perfect banner for your party.
Sequin Tablecloth
Having something that sparkles is a must for any Hollywood themed party. This beautiful tablecloth is a sure way to wow your guests! While the picture shows a sparkling gold tablecloth, the tablecloth can be ordered in a variety of different colors to match your party. You also have the option to customize the size of the tablecloth to fit your table. Just imagine how stunning this tablecloth will look when it hits the light just right.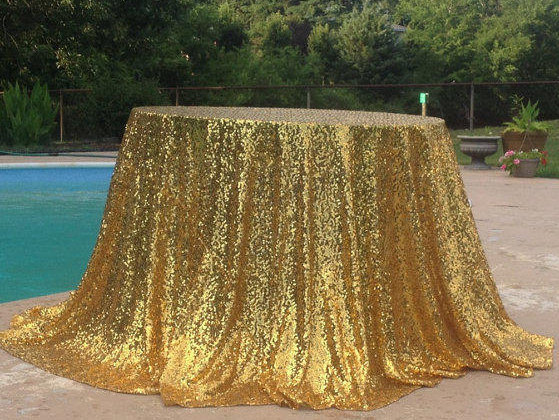 A Star is Born Food Ideas
The food options for a glamorous Hollywood party can look phenomenal and still be easy to make.  Using finger foods like mini-hot dogs, stood upright with bow ties, you can give an Oscar effect with guest favorites.  Little boxes of popcorn topped with film art can create a fun look.  Make sure the the table cover is a bold color like red, it will make the table stand out fantastically. A unique and brilliant way to make your dessert table a showstopper would be to cover a tiered cake in gold frosting, even adding shimmer/glitter to it and topping it with an Oscar replica, or stars on sticks. Beverages should be very sophisticated like sparkling soda, or champagne.

Movie Themed Sugar Cookies
Send your guests home with these delightful Hollywood themed sugar cookies! The cookies are made from hand rolled sugar cookie dough and are topped with delicious royal icing. The cookies are sold in sets of twelve, however, they are individually wrapped to ensure freshness. Because they are individually wrapped, they are also easy to gift! The colors and shapes of the cookies can be customized if desired.
Hollywood Cupcake Toppers
Make sure that your guests feel like super stars with these hollywood themed cupcake toppers. The toppers are sold in sets of twelve and measure approximately four inches tall.  There are four different designs to choose from. Each topper is made using high quality card stock and can be customized if desired. The toppers are accented with a small strip of black ribbon.
A Star is Born Favors
Take home gifts for such a glamorous Hollywood Baby Shower party can be as simple as star-shaped cookies frosted in gold and wrapped individually for each guest, or you can go all out and create your own personalized Red carpet Hollywood chocolate bars using bar wrapper templates!
Hollywood Party Favor Tags
These gift tags are the perfect way to say thank you to your guests! Each tag measures approximately three inches tall and includes a small black and white string. The gift tags can be personalized for your party. The tags are also handmade with high quality card stock. The tags would make the perfect addition to bags of movie theatre style popcorn. You even have the option to order matching decor if desired.
A Star is Born Games
A fun baby shower activity that you can do to entertain and involve the guests would be to make your own Oscar ceremony with little miniatures as prizes for different categories like "Fastest Bottle Drinker" using baby milk bottles, and "Most Accurate Baby Food Guesser." This is a simple DIY option that can give everyone a definite memory for the books!
For a lasting way to remember this event and to pass something on to baby that they can cherish, using a large sign in book for guests to write down their advice and wishes that has been decorated in glitter glue makes a fantastic keepsake.
FREE PRINTABLE ADVICE FOR MOMMY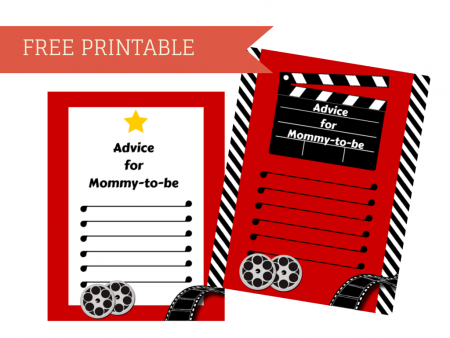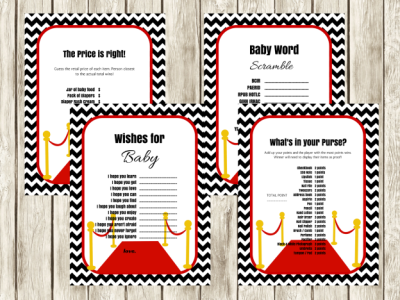 Hollywood Printable Photo Booth