This elegant Air Balloon Themed Party was designed as a celebration for a baptism by The Little Factory. With its soft pastel tones and adorable decorations, it could definitely make a lovely idea for a birthday party or baby shower too!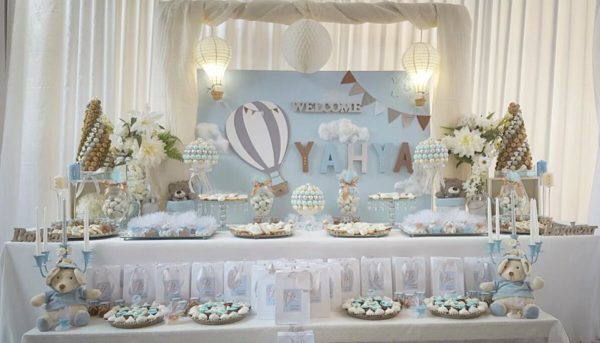 A soft lighting was beautifully added to the decor with fantastic air balloon lanterns that made a wonderfully unique idea that was also functional. Two of them were spaced apart and hung across the backdrop to the dessert table, introducing the theme beautifully.
The backdrop was adorable, with a large hot air balloon and the little one's name spelled out in different colors. There were even clouds and a mini flag banner to add a cute touch.
Using white covers as a base, the soft pastels of the decorations stood out very nicely. White flowers were arranged on each side of the table, adding a sweet natural touch. Gorgeous trees stood on both sides as well, made from all sorts of fantastic tasty trees in mini cupcake liners.
Tasty cookies were frosted with all sorts of fun details from hot air balloons to onesies. They were set on a gorgeous glass cake stand. With a wide variety of other sweets spread out, there was something for everyone to enjoy. Candles made delightful fillers to the decor, adding a pop of blue and white that blended marvelously. Little stuffed bears were used in the decor too, giving the theme a delightful addition.
Gift bags for the guests were put together in personalized, white bags. They were laid out across the front table, making them simple to access.
This party was held outdoors, allowing for the natural lighting to brighten up the decor marvelously. With varying levels of table heights, the food was simple for everyone to reach, so they could easily grab and go.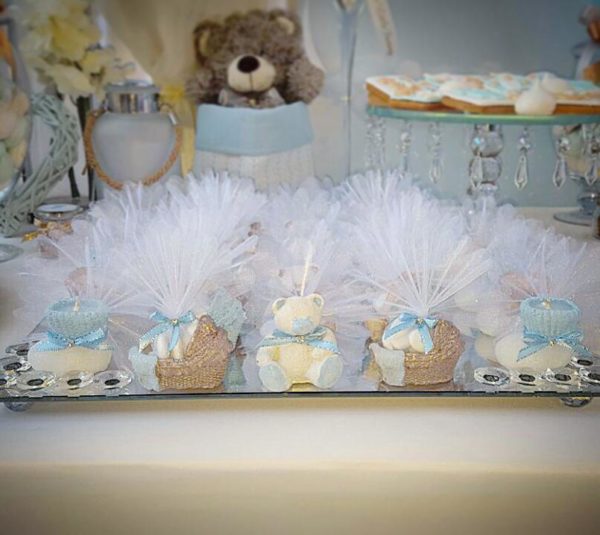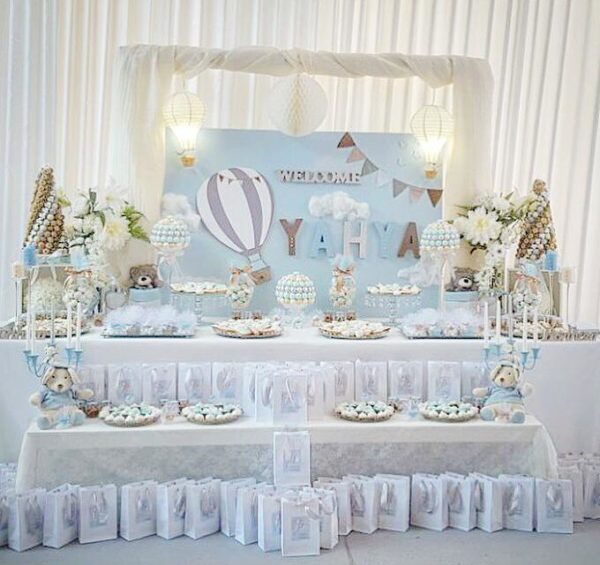 MORE INSPIRATIONS: