A little Angel is on the way!
An angel themed baby shower is such a precious way to welcome a new baby girl or boy into the world. Every mother thinks of their baby as a little angel so why not celebrate as if she actually is an angel. As far as themes go, this is one of the sweetest. I love everything fluffy and feathery so this is definitely the one for me! White and pale pinks or blues for a boy are sure to make an appearance at the party as well as fluffy, soft textures. Below are a few ideas to get you started.
Invitations
You can have invitations printed up with a picture of an angel, a baby with angel wings, a baby on a cloud with wings, or just angel wings printed on it and it could say "An Angel From Heaven Has Come to Greet Us All. Let's Give Her a Big Welcome" or anything you want if you don't like that there are poems and phrases you could add to it to make it more angelic.
Cake Ideas
There is a perfect cake for this theme, a cake so sweet! It is a tiered white fondant cake, with a fondant bow on the top tier, a fondant banner with "Congratulations (moms name)" on it and a little baby with angle wing on its back sleeping. It will look very adorable that you almost can't bear to cut it. The baby can be on a cloud too if you wanted.
Angel Wings Cupcake Topper
These angel wing wing cupcake toppers have just the right amount of sparkle to make them truly angelic. The wings are sold in sets of sixteen, which means you will recieve thirty-two individual angel wings. All you need to do is pair the wings together and plae them on your favorite cupcakes. The wings are sold in gold or white and both colors are tinted with a light sparkle, which makes the wings shimmer. These toppers are also edible, which makes them unique compared to the standard paper cupcake toppers.
Decorations
For decoration you can get white feathers from any party or crafts shop and use them to make wings or leave some here and there to give the room an angelic feel. Like the favors, you could have ivory, white and soft pink fluffy cotton candy in a tall apothecary jars on dessert table. This can be later used to fill up the favor jars for the guests. Not only would they look delicious, they are fabulous to look at. Perfect for the theme. For the table setting, you could have a white angel wing tied to the back of the chairs. Have some little cloud and halo fondant cupcake toppers.
"Heaven Sent" Banner
Make it known that your precious baby is a gift sent from heaven with this elegant banner. The banner reads, "Heaven Sent," and features a pair of white angel wings in the middle. One the top of the angel wings is a small silver heart. The letters are made from heavyweight, one-sided card stock. The card stock is decorated with glitter, which makes the banner seem angelic. The banner is strung together with gold and white twine. The letters can be moved closer together or farther apart depending on your space and preference. This banner would look lovely displayed near the entrance of the party!
Tableware
Perfect tableware can be soft pink or ivory colors for a baby girl and a pastel blue for a sweet boy.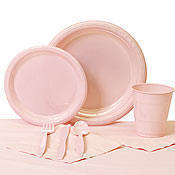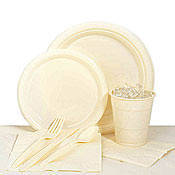 Games
If you want an angel themed baby shower game than you take pin the diaper on the baby and make it pin the wings on the baby. You can either give them 2 or one set stuck together. You could even show the baby sideways and make the wings look sideways on the back, one picture of a set of wings from the side view and they have to try to get it right.
FREE Printable Games
Favors
For favor bags you could use regular brown paper bags with angel wings glued on. Look for feathery wings to give a real looking wings. You can use wing shaped chocolates or cookies or candies to fill the bag with, although with theme bags the gifts don't necessarily need to be themed as well. If you prefer that they are there are some little baby angel statuettes that are very nice. How about all colors of fairy floss in candy jars? Fairy floss would be so perfect for this theme as it gives a soft, angelic feel.
Angel Soap Party Favor
Your guests will adore these unique angel wing soaps as party favors! The soaps are sold in sets of ten and are made from high quality glycerin. These soaps are also packaged in cellophane bags, so they will arrive at your door ready to gift. In addition, you have the option to add personalized tags and ribbon to add an extra special touch. There are over one-hundred scents to choose from, so you will easily be able to find the perfect scent for your baby shower. The soaps can also be ordered in different colors if desired. You can also customize the color of the ribbon and tag if you choose to add these items.
Guardian Angel Key Rings
If you want to gift your guests with something extra special that they can use all year long, these guardian angel key rings will make the perfect addition to your baby shower. Each guardian angel key chain features a faceted glass pearl and sliver spacer beads. The overall length of each angel measure approximately 3.5 inches long. Each angel will be ready to gift in an organza bag. You have the option to choose from a variety of colors to match your baby shower.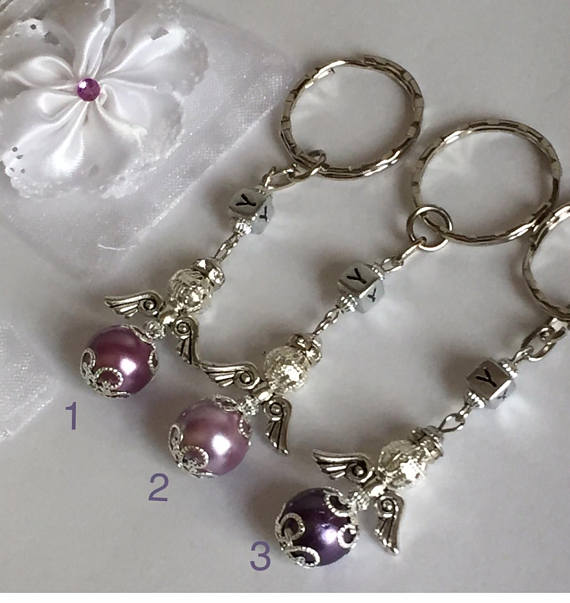 No matter what you do, the angel theme is sure to be a big hit. Angel babies are something that everyone loves. Do as much as you want with it and try to make it as cohesive as possible. The mommy-to-be is sure to love the idea!
Follow My Mess's board Baby Shower Angel Theme Inspirations on Pinterest.