Elephant Baby Shower Decor
There would great pictures to follow if you asked guests to dress only in pink (blue for boy) and white. Setting up the room for the shower can be very easy, just start with a nice large table by the front door. Cover the table with burlap and add a picture frame with a stenciled figure of a pink (blue) elephant or a baby book about elephants displayed. This makes an awesome keepsake for the mother to be and usually is put in the nursery. Place a bowl of pink (blue) and white mints and a book for the guests to leave their loving words of wisdom to be cherished and a remembrance of such a special time.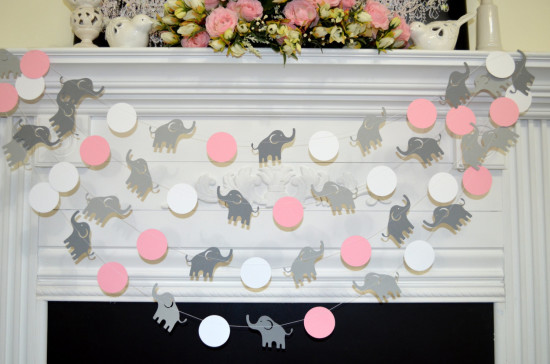 Elephant Baby Shower Food Table
Set up a small table for the cake and cover the table with burlap. Place a clear glass vase / jar at each end filled with pink (blue) and white lollies. Wrap pink (blue) and white ribbon backed by burlap around the vase and tie in front when a large bow. Give guests a pen and paper to guess how many lollies are in each vase and the winner gets to take them home. A two tiered round cake covered with white fondant and a pink (blue) elephant on top, maybe even some small square baby building blocks and a pacifier would be a cute cake. You could have a fondant made puddle of water or rain drops coming out of an elephant's nose showering the cake. That would make a perfect cake. Don't forget, you also have an option of cute little elephant
diaper cake
. They look so delicious but unfortunately not edible.
Add fresh pink (blue) assorted flowers to the vase and attach a
elephant balloon
bundle with lots of ribbon dangling. Spray the balloons with silver glitter spray to add a little elegance. To decorate the floor, have pink (blue) and white round rugs to spread around the table to welcome guests. If you plan ahead, you could organize a vinyl pink (blue) elephant figures and white balloons to apply to the wall behind the cake. These are fantastic because they are an easy application, easy removal, and no mess. It serves as a great take home decoration for the nursery also. Perfect!
Elephant Baby Shower Tableware
On the other side of the room place a long table to serve as the buffet. Keep it simple with key items like ham and cheese filled pastries, a pink grapefruit or strawberry or blueberry salad, and an assortment of cake pops presented on a tiered spindle plate. Go nuts, an elephant's favorite with the color of the cake pops dark pink (blue) and brown. Make sure you have a bowl of peanuts served on your table with a cute label to say 'peanuts for elephants'. Have a label for all the food in elephant theme, swamp lemonade, chocolate blow brownies, aquatic cookies and so on
The tableware could include individually wrapped dinnerware wrapped with a napkin and tied with white, pink (blue), and dark brown ribbon or a burlap. Place the guests parting gifts on the gift table also. A great idea for favors by filling clear square plastic containers with elephant animal crackers or cookies and wrap the box with lovely pink (blue) ribbon with a pink elephant plastic figurine tied into the bow.  Enjoy!
Elephant Baby Shower Favors
.
Elephant favor boxes, mini natural sacs & natural cotton bags