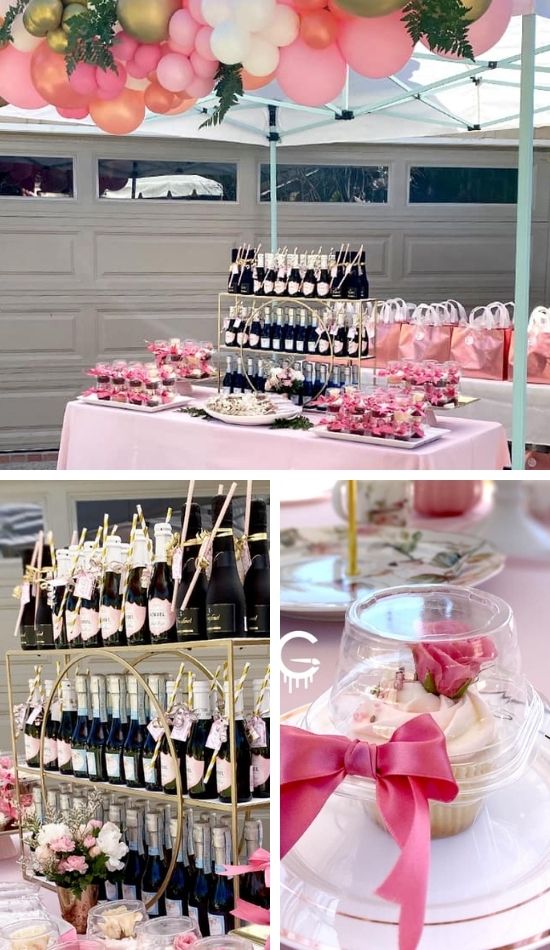 This beautiful pink and gold drive-by baby shower was planned by Great Creations Inc. . While many celebrations have been canceled due to covid-19, this party featured a variety of creative ways to create a stunning drive-by baby shower. Shades of pink and gold against the bright blue sky were used to create this astonishing look. 
Dessert Table
The dessert table was absolutely gorgeous. Prepackaged cupcakes were adorned with pink ribbons, ready to go whenever. Some of the cupcakes even featured gorgeous edible roses as toppers.
Tasty stick pretzels dipped in light lavender chocolate were also individually wrapped and adorned with bows. A gold double-tier stand was used to hold adorable mini champagnes. Each of them came with a custom tag and matching straw pin straws. The set up was impressive and it definitely stood out! I must say, it is one of my favorite features of this pink and gold drive-by tea baby shower.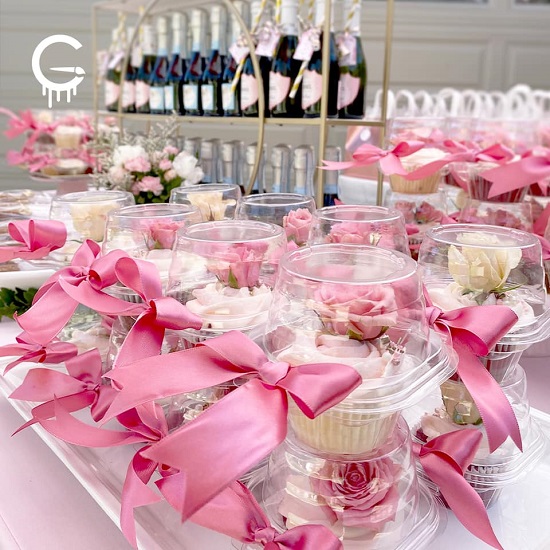 Personalized Champagne Bottles
The guests not only had the personalized champagne, a sweet cupcake, and pretzel sticks to take home, there was also a table located behind the dessert area featuring goodie bags for guests to grab and go. The bags were metallic pink and featured matching thank you tags.
Balloon Arch
As a result of a very sunny day, a pop-up tent was set up to keep Cupcakes and champagnes cool. There was also an arch of balloons in an array of pink, white, and gold which looked fantastic. And the decorative leaves between the balloons matched perfectly with the rest of the baby shower decor.
Floral Centerpiece
There were gorgeous floral arrangements at a table for the guests of honor. It was the centerpiece of the table. There were pink and gold vases and the colors of the flowers ranged from ivory, white and different shades of pink. Each guest received a floral tea plate and a matching teacup. One of the floral arrangements was even placed in a pink teapot to fit with this pink and gold drive-by tea baby shower. Even the silverware and napkins matched the party decor.