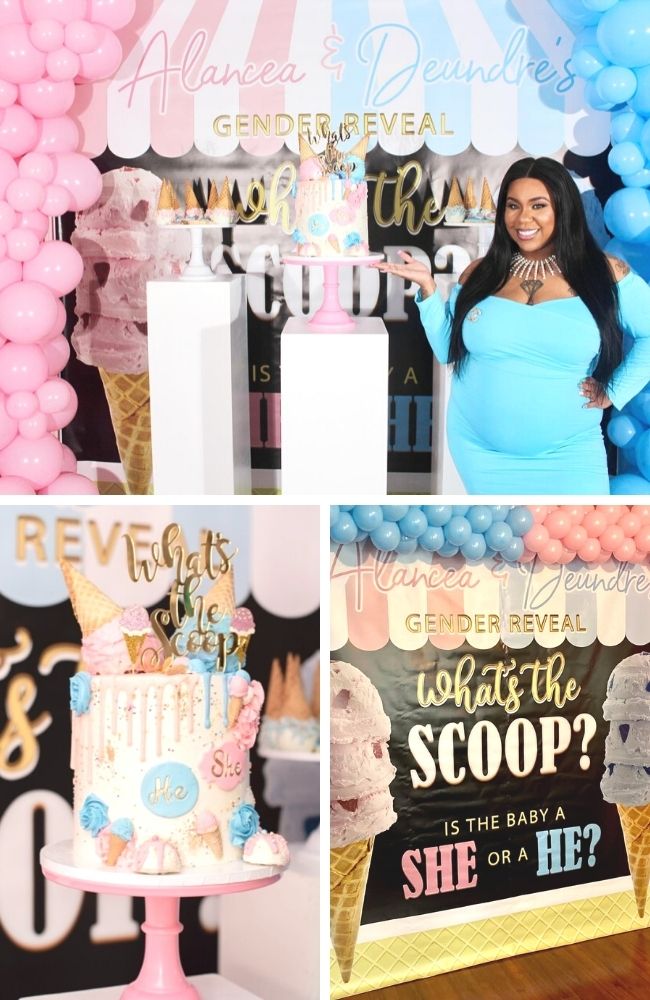 This stunning What's The Scoop themed gender reveal party was planned by Events by CCM | FB | IG | PINTEREST . This party was full of pale pinks and blues. It was the perfect theme to reveal whether the special mom to be was having a boy or girl.
The dessert table featured a variety of delicious treats. Each dessert was placed on top of a bright white pedestal at varying heights. The cake was stunning! The front of the cake was decorated with adorable ice cream cones and featured the words "he or she" in pink and blue. The top of the cake was creatively decorated with two large ice cream cones that appeared to be melting down the side of the cake. A shiny gold topper read "What's the Scoop?" Upside down cake pops were made to look like delicious ice cream cones. Cookies were also decorated with ice cream cones and baby symbols.
The background of the dessert table was stunning! A large backdrop read "What's the Scoop? Is this baby a she or he?" On either side of the writing were pictures of life-size ice cream cones in pink and blue. The top of the backdrop was made to look just like the outside of an ice cream parlor. Balloons in pink and blue lined the entire backdrop. The balloons were creatively placed so that it was a cascade of half blue and half pink.
The background of this dessert table also made the perfect place for photo opportunities for guests and the mom to be.
Credits:
Mommy To Be: @MsPurrdy
Photography: @EventsByCCM
Balloons: @_ChaseTheCreator
Event Planner: @EventsByCCM
Cake: @BlissfulBatters
Pedestals: @EventsByCCM
MUA: @IamLondonDiior
Treats: @StaceysDelectableDelights