The set up for this Classic Baseball Baby Shower was absolutely enthralling.  From the vintage details to the blend of red, white and blue, this was a party any baseball loving mom-to-be could enjoy. Distinctive Party Designs had the pleasure of creating this lovely event, using wonderful personalized art to bring the party to life.
Using an outdoor space, the venue had a baseball field vibe that reflected throughout the decor. A long buffet table was set up that was actually extended by fantastic pieces on each side to make a stunning line-up.
At one end of the table a red little table held a large sign acknowledging in vintage fonts what the definition of a home run was. This sign was right beside boxes of yummy cracker jacks which are a staple item at the big game. To add to the look, cute little hanging lanterns were placed underneath the table.
On the other end of the snack table a matching red table held a massive pail of peanuts.  To make it more like a real game, paper bags were provided so the guests could scoop their own out to enjoy.
The treat table itself was quite wonderful with a layer of green on top and wrapped in a neutrally toned fabric. A large banner with flags and rounded letters was hung across the front saying, "concessions." To give a layered effect, small wooden crates were used to hold the various edibles and decorations, making everything easily accessible. Large letters spelling out, "baby," in baseball style made a cute addition to this table.  A tiered tray that looked like rustic pails held corn nuts and pretzels for the guests to try out, it even had a classic wooden handle on the top. With the addition of other fun details and exciting games like the clothespin game, where you take a person's pin for saying, "baby", this celebration was sure to be a sweet event.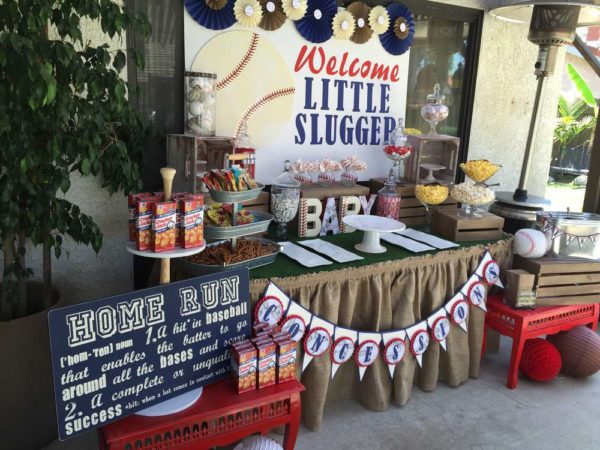 Credits –
Distinctive Party Designs – Event Planning & Design
More Inspirations