This enthralling Shabby and Chic Baby Shower was beautifully styled by Maggies Enchanted Events.  Using unconventional colors for a shower, this party displayed elegance and sophistication in every detail.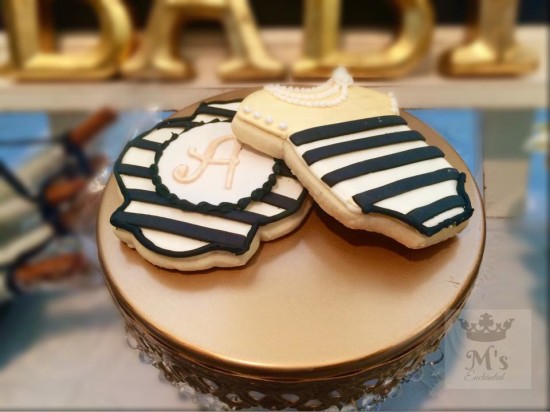 The treat table was placed in front of a large, by window which allowed for natural lighting and a sheer curtain was draped in front to create a soft effect that definitely set the tone for the room.  The soft ivory tones blended smoothly with the black and gold used throughout the decor. A gorgeous textured, ivory cloth was used to cover the table, giving a soft base for all the goodies to sit on. With a neat arrangement of vintage style trays, the table had different levels for a full look that kept every easily accessible for the guests.
The centerpiece for the table was one-of-a-kind with a framed photo of baby-to-be for everyone to see. The word Baby was spelled out in front of the photo in bold, gold lettering for a lovely bit of decor.  With an abundance of flowers for space fillers, the table had a natural touch that stood out beautifully. All of the florals were ivory, matching the theme colors perfectly.  Placed in neat little vases, some vintage style, they made a fantastic addition to the table. One favorite was a tall vase placed on a box to make it stand out even more, overflowing with lovely flowers.  An empty birdcage added to the charm as well standing tall on the side of the table.
The treats were all frosted to match the theme as well, adding to the elegance of the party.  With delicious cake pops, sugar cookies, chocolate apples and more, this table had something that everyone could enjoy.
Credits – Maggies Enchanted Events
MORE INSPIRATIONS:
Shabby Chic Alice in Wonderland