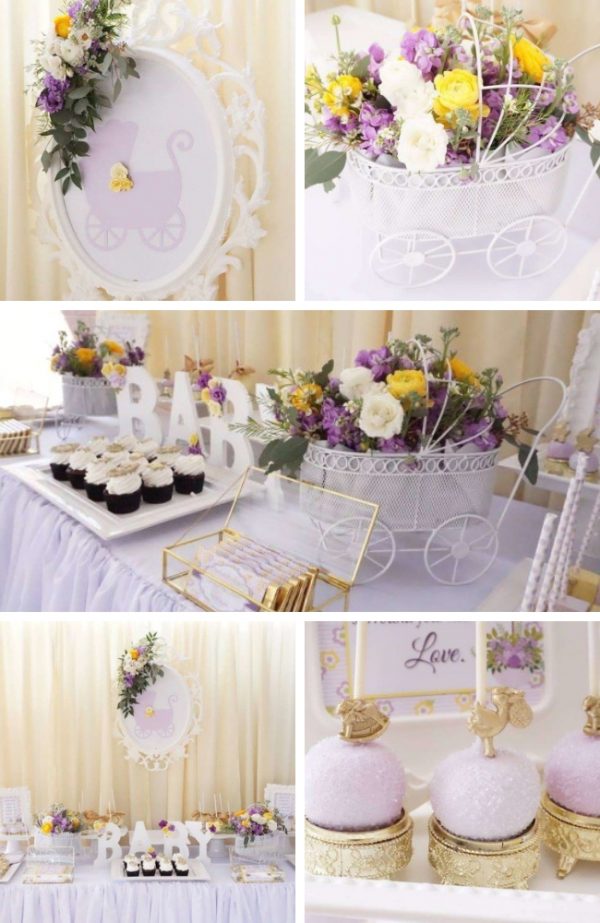 With expert styling and coordinating by M&J Kreations, this Elegant Yellow and Purple Baby Shower was certain to create delightful memories for all the guests, and of course the special mother-to-be.
The dessert table was exquisite, detailed from top to bottom.  A backdrop of sheer yellow cloth drew the eye and was beautifully accented with carriage art in a vintage mirror frame. The frame was surrounded with a gorgeous floral arrangement that really made the whole thing pop.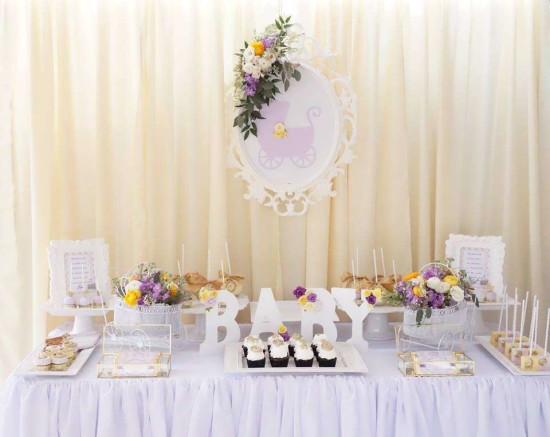 Using a white cloth for a base, the table looked absolutely stunning. The cover went to the floor, creating an elegant and lovely look. With perfectly spaced treats and decorations, everything on the table was easily accessible. To advertise the table effectively, the letters B-A-B-Y were set front and center in white and decorated with adorable little flowers. To each side of this sweet little metal baby carriages acted as a wonderful vase for an overflowing arrangement of colorful flowers.
To give the table a personal look, each corner had a sweet poem framed in a sweet, vintage styled frame.  They were placed on trays with beautiful little carriages in front of them.  Some of the tasty snacks offered included cake pops that were elegantly decorated in gold and tied with ribbons.  Chocolate cupcakes stood in the center on a pretty white tray, frosted in white with adorable little golden toppers.  There were even yummy looking pretzel sticks for everyone to enjoy.
Another sweet treat that was offered was a personalized chocolate bar in a pastel purple wrapper. They were set on each side of the cupcakes in a lavish golden and glass case that added a beautiful touch to the table.  The wrappers had a cute little thank you message on them for the guests, showing appreciation in a delicious way.
Credits –
Stylist and Coordinator – M&J Kreations
Sweets confectioners: Sugar Studio
Florist: MDCflowers
More Inspirations: