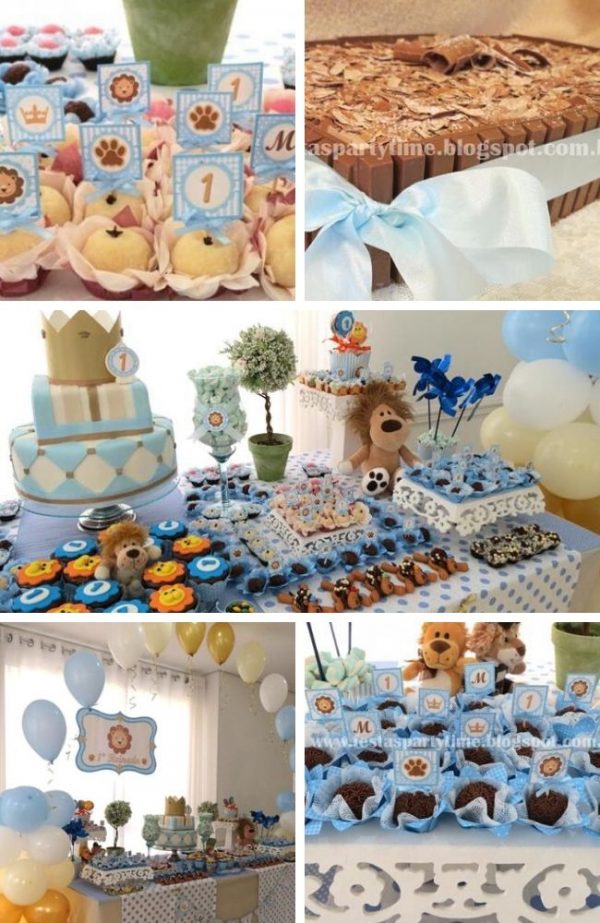 Blue Lion King and Friends Party by Nathy of Festas Party Time:
Festa Party Time used a Little Lion King theme to create a warm and inviting first birthday party for guests to enjoy. With a soft color palette, and fantastic detailing, I think this would be lovely as a baby shower too.
The treat table at this party was excellent, complete perfection from the top to the bottom. The table was laid out with a soft, neutrally-toned cloth, and then a couple of polka-dot runners were placed over the cloth to create a soft and elegant look. A neat flag banner was strung in front of the table that blended with the theme nicely.
The backdrop was a spectacular array of balloons that that were arched around the table in a smooth semi-circle. There was a fun Lion poster hung in back as well, informing guests of the theme in a light and entertaining fashion.
Each of the guest tables was decorated to match the dessert table with a cute center piece of balloons set on top of smooth, white cloths. The black chairs created an interesting contrast without taking away from the elegance of the event.
The desserts at the party were divine; starting off with this wonderfully put together Kitkat cake. Tied with a sweet, light-blue bow, this treat was perfection, down to the tray that it was sitting on top of.
There were adorable cupcakes frosted with lion faces and #1's that looked quite tasty. They went very well with stuffed lion decorations that were set on the table. With a couple of potted trees in at the back this table was a fantastic mixture of nature and deliciousness.
The cake at this wonderful party was nothing short of spectacular. With a two-layers of elegant decadence topped with a pointed, golden crown, this cake really stole the show.
Credits – Party Time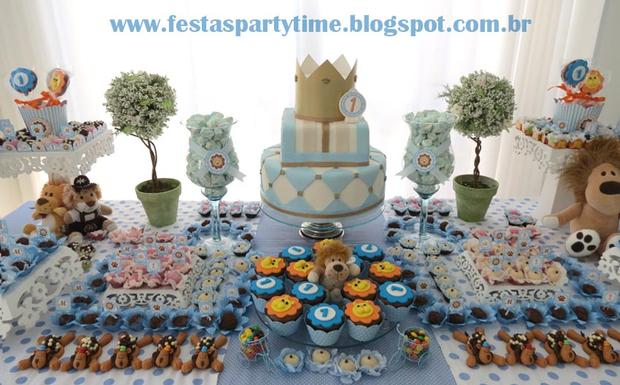 MORE INSPIRATIONS: