The dessert feature for this fantastic Queen of Hearts themed baby shower was absolutely adorable. With an eye for wonder, Monaliz of Bella Sweets brought favorite elements from the fantasy classic and made an imaginary world for mom-to-be to celebrate her little one.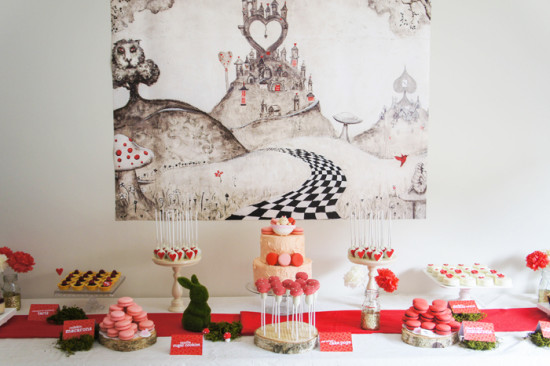 The backdrop for the table was placed against a stark-white wall, bringing out the details immaculately. A wonderful picture was used that portrayed some of the journey Alice would take through Wonderfuland to meet the Queen of Hearts. The details in the picture were perfect, bringing just a touch of mystery that any guest could enjoy. It contained basic black and white colors and a touch of bright red to draw in attention.
The table of snacking was set-up beautifully, with a white tablecloth to create a solid base for every treat to stand out. The center of the table was lined with red, creating a fantastic, bright effect. Each dish was precisely arranged to make it simple for everyone to grab and go. With a cute variety of trays, some even tree stumps, this table had a lifelike quality to it. All of the food was colored to complement the theme appropriately. With pink macarons, raspberry chocolate tarts, chocolate covered oreos, and even mushroom shaped cakepops, there was a little of everything to try.
For additional detailing, lovely tissue flowers were made and placed into perfectly glittered jars, giving that sweet imagery that you would expect in a world of wonder. Labels were created for each dish so the guests would be completely informed and they were set on moss for a fun effect.
The cake was a sweet display of tastiness that anyone could treasure. Two-layers of beautifully frosted deliciousness on a clear tray and decorated with an arrangement of macarons and the cutest little baby.
Credits-
Concept, styling, desserts and photography: Bella Sweets
Printables: Arenar designs
Glitter glass jars: Dunne with Style
Artificial moss and moss bunny: Little Big Company
Wood Slices: Leo & Bella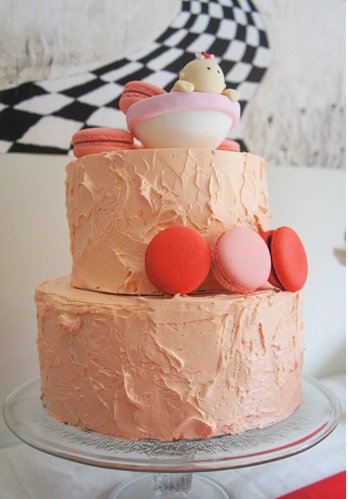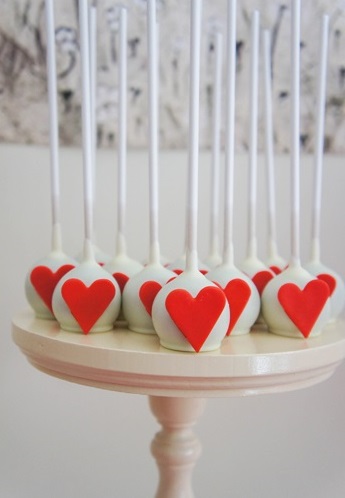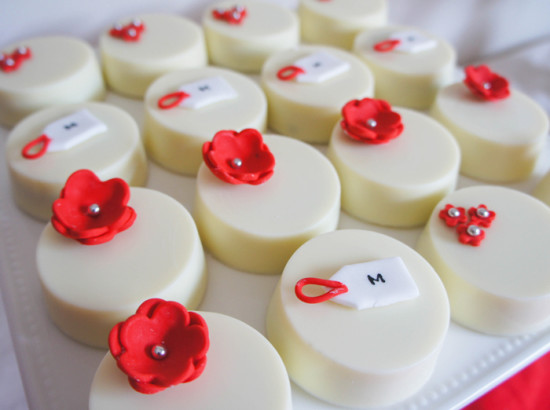 MORE INSPIRATIONS: