A zoo themed baby shower is one of the most adorable events you can put together. Complete with lots of vibrant colors, lush details, and creative food, this party is one that celebrates all the cuteness that a newborn baby brings into the world. Because there are so many options for all you can do with this theme, it makes putting together a baby shower that much easier.
Zoo Baby Shower Decorations
Bright green tablecloths, lots of flush greenery for centerpieces and accents such as ferns and elephant ears, and clusters of balloons in the shape of monkeys are all wonderful places to start with the best of the best kinds of decorations. Zebra flag banners spelling out the new baby's name, grass skirts for the tablecloths, and long garlands in the shapes of all sorts of zoo animals like lions, tigers, and polar bears make the venue into a baby-friendly zoo! Tissue pomp oms that hang from the ceiling in bright yellows, blues, and greens are an extra touch of special vibrancy that truly make this shower sweet.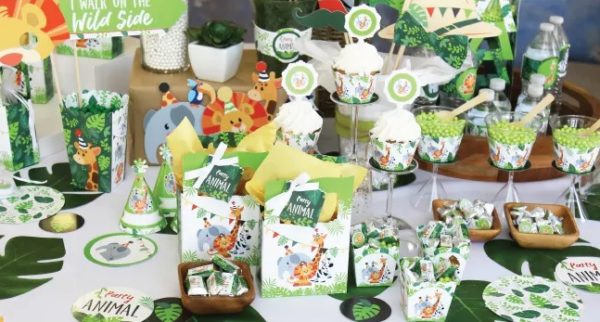 Zoo Baby Shower Food
Food is so much fun to put together for a zoo baby shower, and you'll want to have an assortment of veggie and cheese trays, along with colorful fruit and finger foods, such as pigs in a blanket and pretzel bites. The event cake can be multi-tiered with different colored layers that represent the different parts of the zoo, with sugar fondant figures of lions, lizards, and penguins. Cupcakes with bright, fluorescent icing and zoo animal rings as toppers and sugar cookies in every zoo animal shape you can come up with are yummy treats, while snacks like frosted animal crackers, goldfish crackers, and gummy bears are all fun little additions.

Zoo Baby Shower Favors & Games
Favors that will win your guests over include vouchers or coupons to the local zoo, individual boxes filled with treats, or personalized totes that anyone can take along on a zoo trip. Of course, you can't forget to incorporate some engaging activities for this zoo baby shower, so opt for guessing games geared towards the zoo theme, or more classic baby shower activities like Chocolate Diaper or Baby Mad Libs.