Cathy from Chic to Chic Weddings got to put together this wonderful Lil Man Themed baby shower, creating a memory that was sure to last for a lifetime.
With sophisticated color choices and an attentive eye for detail, Chic to Chic made a unique idea come to life. The invitations had a sleek chevron pattern and a green and blue color blend that worked impeccably.
A flag banner was hung nicely, saying Lil Man with adorable mustaches and bowties, creating a lighthearted effect. With the chevron pattern in the background, this banner matched the invitations perfectly.
The welcome table was absolutely adorable with a chevron patterned note telling the guests to put on a bowtie and take a glass.  The table had a fun blue cloth that was accented by the vibrant bowties and lovely flower arrangements that were placed neatly around. The glasses matched the theme quite nicely with little mustaches on them and swirly straws that looked very fun.
There was a wide array of munchies that ranged from healthy vegetables to sugary desserts that were sure to please every palette with ease. The food table was arranged in a unique fashion, three separate stations placed together in buffet style.
With a spread of bowties, green and blue, these tables were well matched to the parties theme and really created a warm and inviting atmosphere for the guests to enjoy.
One brilliant idea that Chic to Chic utilized was a DIY cigar bar that allowed each guest a chance to created a delicious candied pretzel that looked like a cigar.  This station had a little bit of everything that you could want for a sweet treat. There were even a couple little vases with flowers set out to give that inviting decorative look that went so well with the whole event.
Food – Chic To Chic Weddings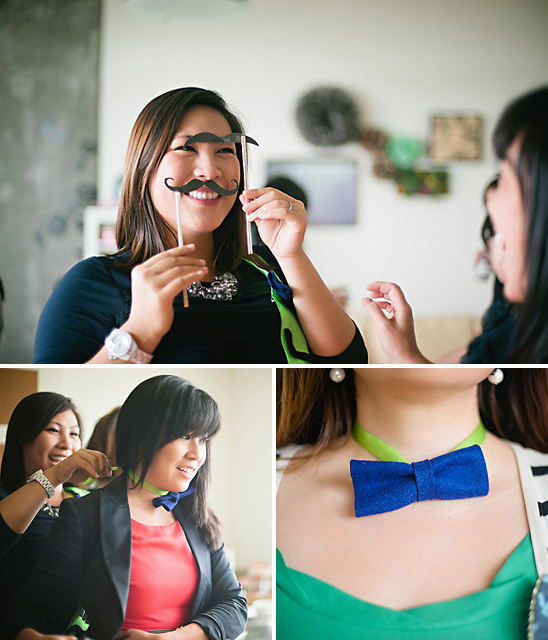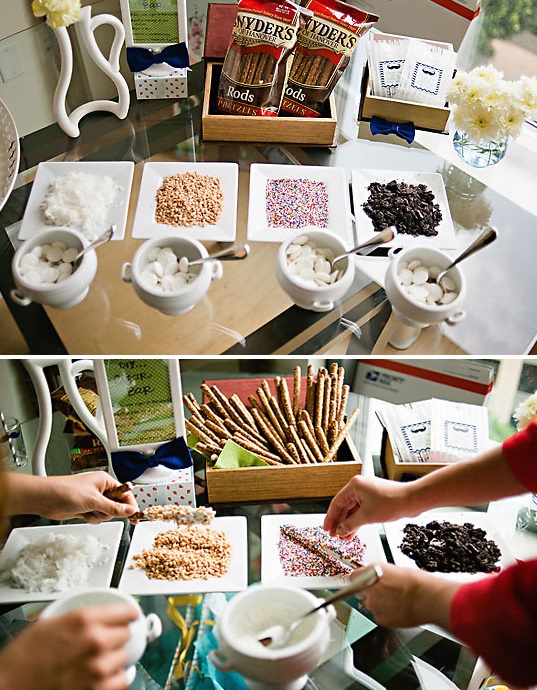 MORE INSPIRATIONS: