This baby shower was definitely a personalized occasion with a unique theme that was sure to be loved by the parents-to-be.  Baby was going to be named Cooper, so as a brilliant idea, they decided on a Mini Cooper shower theme to celebrate the new life that would soon be joining their family. Ricki from la Ricki event design got to bring this event to life!
With such a sweet lead-up to the shower, it was certain to be a hit. The invitations were stunning on textured paper that had a neat green color and artwork that gave a vintage and classic feel.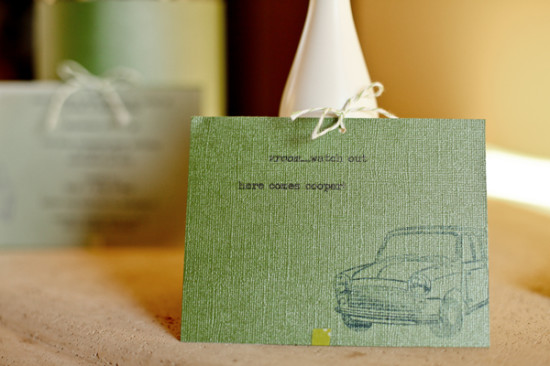 The party was definitely well designed and the venue was great! Heidi from Heidi Boutique was more than happy to host this celebration in her home and Diana Elizabeth Photography handled capturing the whole party on film fantastically.
Mint green and navy blue was blended throughout the party area, creating a sophisticated and warm atmosphere. The decorations were lovely, round pinwheels were place in jars, adding a unique style. Little mini-cooper mobiles were hung, with gorgeous art that was certain to impress the guests. There was even a framed letter C on a pedestal, portraying a regal stance.  Tissue paper poms were placed in a variety of beautiful vases, giving a twist on a floral touch.
The treats blended into the theme perfectly with a large arrangement of yummy green, white and blue treats for everyone to enjoy. Placed in all kinds of different jars and bowls, the treat table was well layered and easily accessible. The desserts looked absolutely yummy, from the peppermint sticks to the green and white sixlets.  There were even cake pops on sticks that looked delicious. Even the beverages at this wonderful party went with the theme.  Each adorable little glass had a green and white swirly straw with a personalized tag with "Cooper" on it.
Credits –
PHOTOGRAPHY: Diana Elizabeth
EVENT PLANNER : La Ricki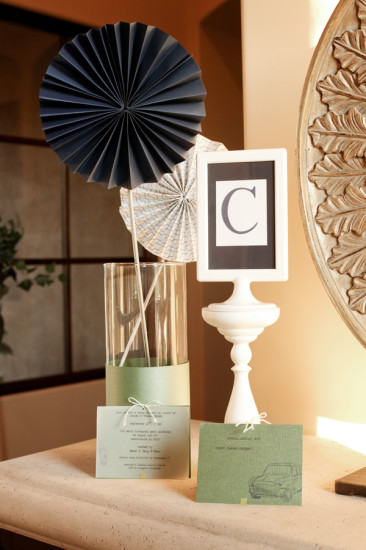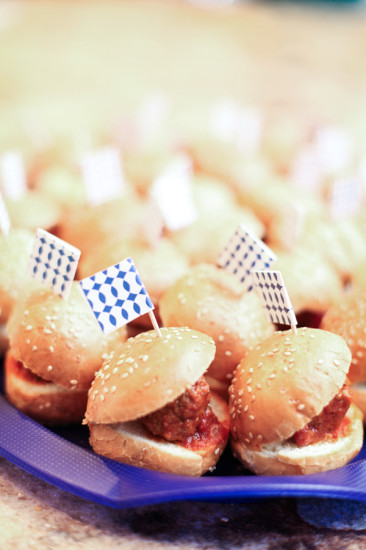 MORE INSPIRATIONS: