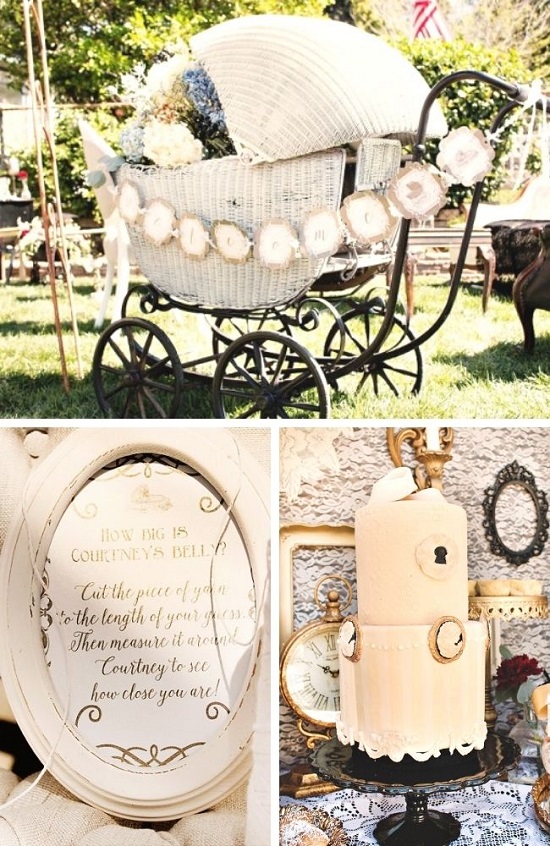 If your house is filled with elegant vintage decor and you just love all things vintage, there is no better theme for your baby shower than a vintage themed baby shower. There are many different ways to throw a vintage themed baby shower. You can focus in on classic cool colors or you can pick your favorite decade and decorate accordingly. A vintage themed baby shower also is a great opportunity to break out the floral patterns. No matter what decade you choose, there are a plethora of decorations available. Below are a few ideas to get you started!
Plastic Vintage Decorations
Make your party one of a kind with actual vintage party decorations! These retro decorations include cake and cupcake toppers. The toppers are both blue and pink, so they could be used for a baby boy or girl. The measurements range of 1.5-3 inches in length. You could also you the toppers as part of a table display. No one else will have decorations quite like these!
Vintage Themed Wire Baby Carriage
This white wire baby carriage will make the perfect edition to a vintage baby shower. The baby carriage measures approximately 11.5 inches tall and 6.5 inches wide, making it the perfect centerpiece to any table. It is painted bright white in high quality paint, so it will last for a long time and could potentially be used as a decoration in the baby's room. In addition, this carriage would look lovely filled with flowers.
Vintage Style Cupcake Toppers
These cake toppers will make your cupcakes the talk of the party! The toppers are sold in sets of twenty-four and feature rompers made from vintage style printed paper. The toppers feature phrases such as "Bundle or Joy" or "Welcome to the World."
Vintage Style Plates
Serve your guests on plates that they will remember! These vintage style plates will make your party look like the real deal. While the plates look realistic, they are paper, so your party will have easy clean-up. The plates feature a fun, vintage floral designs and can be purchased with matching napkins. In addition, you have the opportunity to purchase matching pinwheel wall decorations.
Vintage Jam Jars
These vintage themed jam jars will make your guests fall in love with your party theme. The jars feature vintage fabric on the top and are elegantly wrapped in twine. The possibilties to fill the jars are endless, however, if you wish to get rid of some stress during the party planning process, you can order the jars to be filled when they arrive at your door. You have the option to have the jars filled with all natural honey or a candy of your choice. What a unique party favor that your guests will cherish!