Sock Monkey Party by Renee of Creative Orchard.
Renee wanted a unique and one-of-a-kind way to celebrate her son's 2nd birthday, and the event she put together was fantastic.  We think it would definitely make a wonderful baby shower as well, with all of the bright and colorful detailing.
Right of the bat she had a fun chalkboard laid out and wrote a welcome note for each of the guests to enjoy. With an array of vibrant colors, like the red tray, this board really introduced this party wonderfully.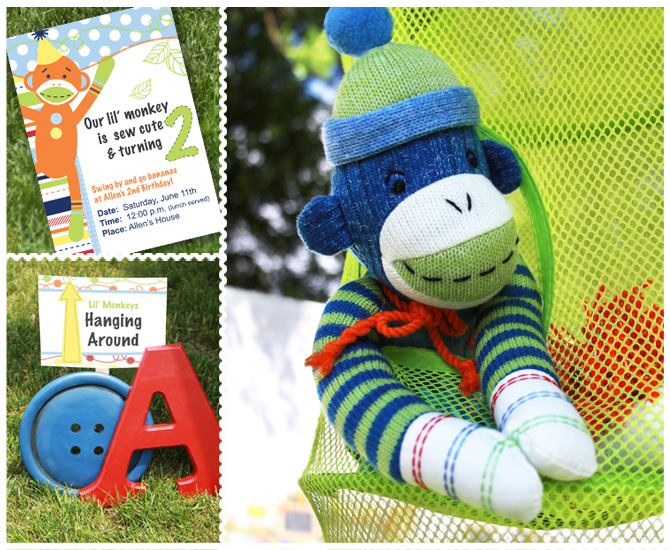 The invitations to the event were quite fun, a personalized note with an orange sock monkey to let people know when and where. This card enveloped all the colors of the theme and really created a warm invite for everyone to read.
The decorations at the party were absolutely incredible, everywhere you looked there were very colorful sock monkeys that really brought a new twist to the sock monkey theme.
One really cool decoration was a number two laid out with buttons and hung with a soft green ribbon that really added to the sock monkey inspiration.
This party was held outdoors and the natural lighting really enhanced all of the color that was incorporated into the decorations. One table was laid out with a fantastic lined cloth and covered with monkeys in wagons and all kinds of little details that brought the whole party together.
Even the cups were monkey-licious with hanging monkeys off the side and brilliant colors that the guests were sure to enjoy.  Each one had a solid colored straw as well!
This event even showcased a puppet show, creating an activity that was unique and sure to encourage the guests to have a blast. With a house like set-up with colorful curtains, and monkeys right in front, this puppet stage was absolutely brilliant.  From the cool monkey cupcakes to the fun sock contest, this party was definitely one for the books.
Credit Details:
the Creative Orchard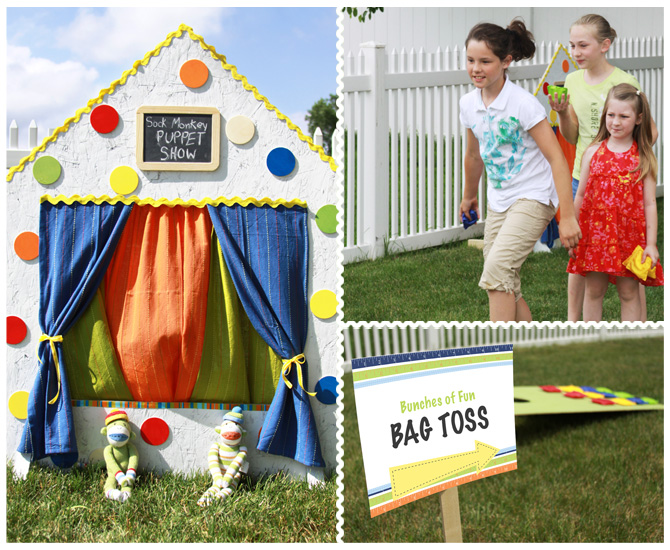 MORE INSPIRATIONS: