If you or your family members are sports enthusiasts, a sports themed baby shower might be the perfect idea for your baby shower! Since there are many sports to choose from, you could choose a particular favorite sport or throw a general sports themed baby shower. Although a sports themed baby shower might seem masculine, it can still be a great theme to celebrate a baby girl because many decorations are available in different color palettes. It's time to huddle up and get your game on! Here are some decoration and party favor ideas to get you started.
Onesie Sports Napkins
Since you will likely have food at your baby shower, napkins will be important. While, solid colored napkins are always a great choice, why not use napkins to fit the theme? These sports themed napkins are adorably shaped like onesies. This set comes with twenty napkins that are all hand-cut and ready to be used. You could hang the napkins to create a banner like shown in the picture or set the napkins right on your table.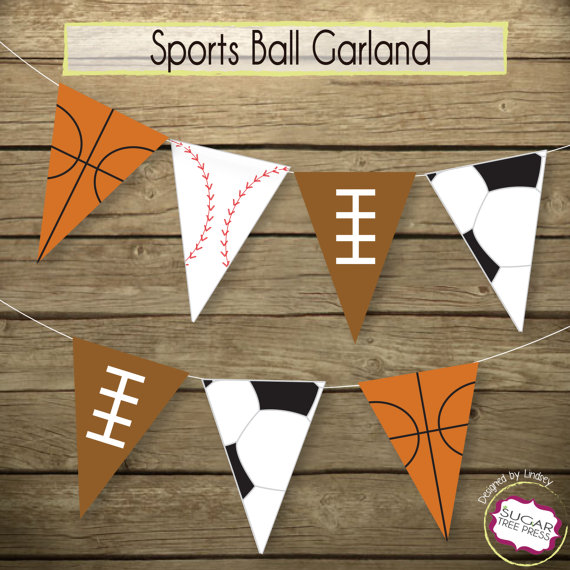 Baseball Diaper Cake Centerpieces
Your tables will likely be great gathering places for your guests, so it's important that they look great too! These baseball themed centerpieces will make for wonderful conversation. Each cake is made from eight hypoallergenic diapers and includes baseball mittens that are cut out of wood. As an added bonus, none of diapers are glued to the decoration, so they can even be used later by the mommy-to-be. If baseball is not one of your favorite sports, the company has a wide variety of other sports to choose from such as basketball or football.
Sports Themed Baby Shower Wreath
Although a majority of your party will likely take place inside, you can welcome your guests to your shower with this beautiful sports themed wreath. The wreath that is pictured shows most of the colors as soft blues, however, if you are expecting a girl, you can order the same wreath in pale pinks. The best part is that this wreath could be used after the party as a decoration for a sports themed nursery.
Marshmallow Party Favors
How adorable are these marshmallow party favors? You guests will love being able to take home this tasty treat that is packaged to perfection! The signs on the favor read "Hope you had a ball." You  have the option to customize your favor with the date of your baby shower. Although it's not included, you can even request for a special stand to be made to display your party favors.
Sports Themed Game
Add some fun to your party by incorporating this simple sports game. These special cards allow guests to make predictions about the baby being celebrated. The set comes with ten cards that are printed with black ink. You can choose between a white, ivory, or kraft brown background. What a great keepsake to remember a special day!