With father-to-be being a pilot in the Air Force, this Yellow & Grey Airplane themed baby shower was a perfect way to celebrate a new comer into the family.  Rebecca from Hales Studio LLC not only designed the party,  but she also photographed the event capturing each moment beautifully.  The yellow and grey colors for this party would work fantastically for both a girl and a boy, making it a versatile theme idea.
The invitations were impeccable, with deep lovely coloring and contrasting fonts that really stood out.  The art on them was adorable, little planes with propellers on the fronts.
This party had an elegant atmosphere with gorgeous florals that were placed perfectly throughout the venue area. The beverage table was adorable with the drinks placed in a tub of ice and little yellow and white swirly straws for guests to use.  There was even a lovely banner draped in front of the table, enveloping the area in the theme nicely.
Overhead giant pom poms were hung adding a fun touch that ensured the area was warm and cozy. The tables were all adorned with the fantastic yellow and white floral arrangements in clear vases that really let the colors stand out.
The food was a huge arrangement of colors that looked absolutely wonderful. There was a veggie tray that had everything imaginable on it. There was a meat and cheese tray that had each slice rolled up perfectly.  Even the cupcakes looked marvelous with vibrant yellow frosting.
There was a special area set up for all of the guests to leave their advice and well wishes for mom-to-be, and with a gorgeous set of branches in a vase, everyone was able to hang their thoughts up in a neat way.  The fantastic blend of yellow and grey, and all the little airplane decorations definitely made this party unique and memorable.
Credits –
EVENT DESIGN & PHOTOGRAPHY: Hales Studio LLC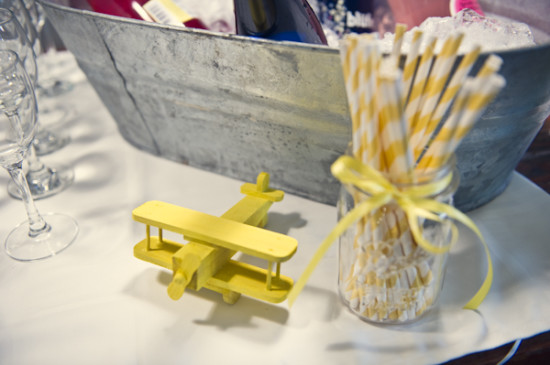 MORE INSPIRATIONS: