With a worldwide fan base numbering in the millions, the chances are high that there are many soon-to-be parents who just so happen to also be one with the force and consider themselves devout Star Wars fans. If you happen to include yourself in this group and are planning a party to welcome a little Jedi into the world, here are some decorations and favors that could help bring a galaxy far, far away just a little bit closer to home. Enjoy these ideas, and may the force be with you!


Star Wars Gender Reveal Banner
If you want to give the Star Wars touch to a gender reveal party, this banner may be perfect for you! Featuring the iconic Luke Skywalker and Princess Leia, this kraft, white, blue, and pink banner is made up of eleven 4" squares. Additionally, alternate colors can be requested when making your order should you want to slightly change up your requested banner.

Star Wars Diaper Cakes
Impress your guests with these diaper cake guests of honor! Modeled after Yoda, Princess Leia, and R2D2, this set of three Star Wars diaper cakes is made up of one hundred forty Size 1 Pampers Swaddlers wrapped in ribbon and fanned to prevent diaper distortion as well as allow for easy use when needed. The Yoda and Princess Leia diaper cakes both stand at approximately 15" tall (also featuring linen cloth and white satin respectfully), whilst R2D2 is slightly shorter at 12" tall, and all three cakes stand upon a 10" base. For some additional fun, three hand crocheted hats (0-1 month size) are included for the newborn, as is a bubble wand for grown up and children alike.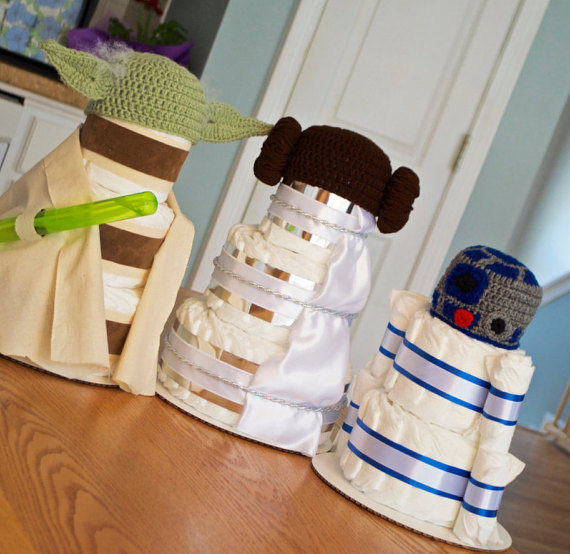 Free Star Wars Printable

Free Baby Yoda Printable

Star Wars Cupcake Toppers
Provide your guests tasty Star Wars treats with these cute little cupcake toppers! This set of twelve hand cut toppers features seven different characters from the Stars Wars universe, all created using quality cardstock and attached to a small foam square to provide that appealing 3D effect. The backgrounds of each toppers is created with embossed white cardstock and pink chevron printed cardstock, the latter being available in different colors upon request. All cupcake toppers come attached to a wooden pick for quick and easy decorating.

Star Wars Gourmet Cookie Mix Mason Jars
As the party comes to a close, ensure your party guests return home happy with these Gourmet Cookie Mix Mason Jars! These party favors are topped with a baby bottle nipple, Star Wars print fabric, and a bow of your personal color choice. Each 16 ounce pint or 32 ounce quart jar is labeled with a baby Princess Leia sharing, "May the force be with you!" under which personalized wording can be added, and includes attached simple instructions on how to turn the cookie mix into approximately two dozen delicious cookies. The cookie mixes available to choose from include Chocolate Chip, Sugar, Strawberry or Lemon Coconut, Cinnamon Roll Cheesecake, Pistachio White Chocolate, and many more as well. Pancake, waffle, scone, muffin, coffee, soup and bread mixes are also available to choose from. A minimum order of five is required if personalized.