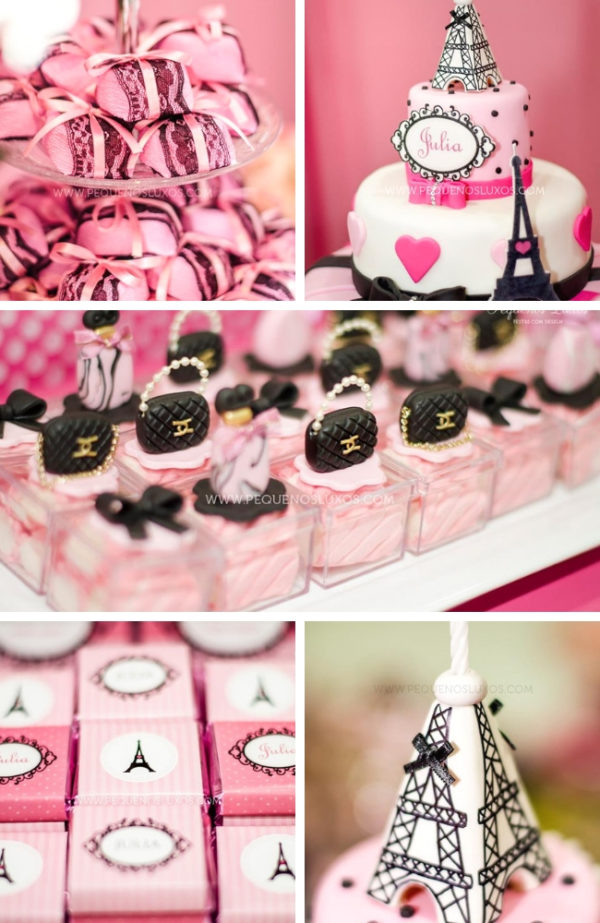 A stylish Paris Themed Party by Pequenos Luxos. So many wonderful ideas for a memorable Paris Baby Shower Party!
The Paris theme party, done for Julia's 7-years anniversary, incorporates several Parisian decorations into the arrangement, such as the dresser and tables, giving it an authentic feel. The black and pink color scheme juxtaposes the elegance of Paris with its softer, more feminine side, and is highlighted in every aspect of the display, from the cake (covered in black and pink bows, hearts and Eiffel Towers, all made of frosting) to the party favors.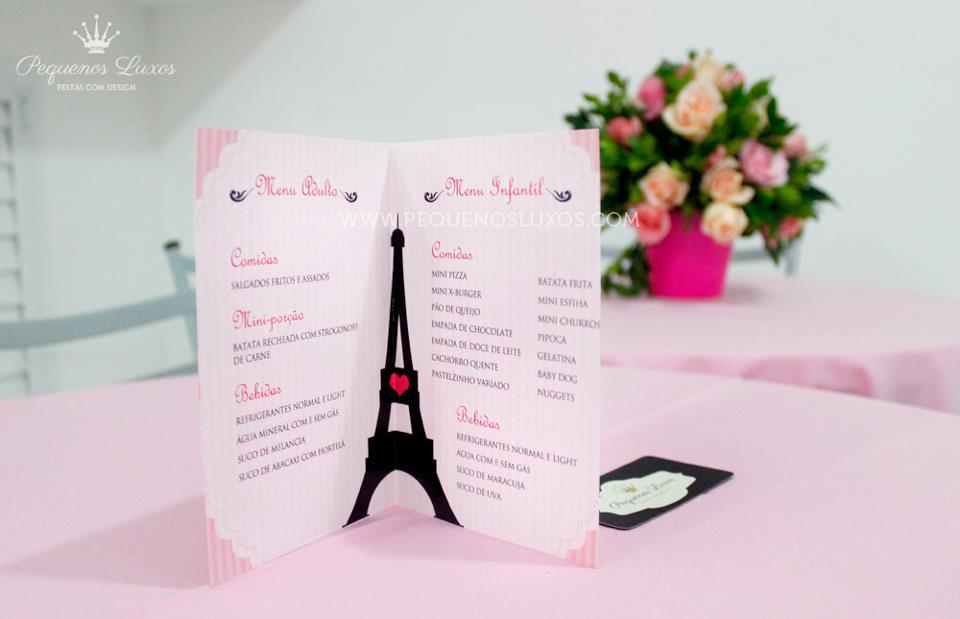 While everything in the main display is exquisite which along with the cake, contains so many different kinds of cupcakes, multiple jars and bowls full of assorted candies and marshmallows, various cookies and biscuits, bonbons, mousse, all with customized cutlery and cute display cards. The setup does not end at the table. In the powder room are toiletries, mints, mouth wash and other essentials following the same motif.
Even though every element emphasizes the basic idea, the most darling feature is definitely the small clear treat boxes. Deceptively simple, they are completely undecorated except for the miniature purses, bows and perfume bottles. So beautiful to look at! The detail on them is extremely fine. You can see the design and the iconic Chanel brand logo on the purses, as well as the puff nozzles on the perfumes. A fantastically executed theme, this is perfect for any Paris lover. The credit for the design, decor goes to Pequenos Luxos, while the pompoms are from Toque que Encanta.
Bebel Michel is responsible for the other props: spoons, clear boxes and tins, while the tissue-lined boxes were provided by Mania Di Maria MDF. Cupcakes and cake are courtesy of Confeitaria La'Cava, while brownies were made by Bem Casados Mônica Moreira. All these amazing photography was only possible because of Carolina Almeida.