This amazing baby shower brought all the fun of Mickey Mouse in a stylish way for the guests to enjoy. Sweet Dreams Events used a sweet mix of blue, white and green to create a soft and elegant table to remember.
Using a white base, all of the pastel colors of the food were able to shine, drawing the eye. A gorgeous backdrop was made with a half solid blue and half blue and white striped effect that was brilliant.  In the center a massive logo announced who the sweet Mickey Baby Shower was in celebration of.
A wonderful arrangement of display dishes were used, giving a bit of vintage charm to the look.  Flat trays with tasty looking pretzel sticks were set in the front of the table, easily accessible and frosted in tones that matched the theme perfectly.  In the front center a flat tray of Mickey shaped sugar cookies sat looking absolutely scrumptious.
Behind the cookies and pretzel sticks, adorable cupcake trays stood with a single cupcake each on display to enhance the appearance of the table remarkably.  Directly behind the Mickey cookies fun Mickey pops were placed in a row in a fantastic dish.
On each side of the table a large tray was filled up with more yummy cupcakes for the visitors to enjoy.  On one side a vintage box was used to display a cute little Mickey as well as a gorgeous baby photo and some sweet roses. Other fantastic elements included miniature bouquets of blue and white flowers and framed artwork celebrating baby-to-be.
The centerpiece to this table was a divine looking layered cake for everyone to enjoy.  Set on an outstanding tall, white cake tray this dessert was well-displayed.  It was frosted in Mickey silhouettes on the bottom and adorable polka-dots on top.
Credits - Sweet Dreams Events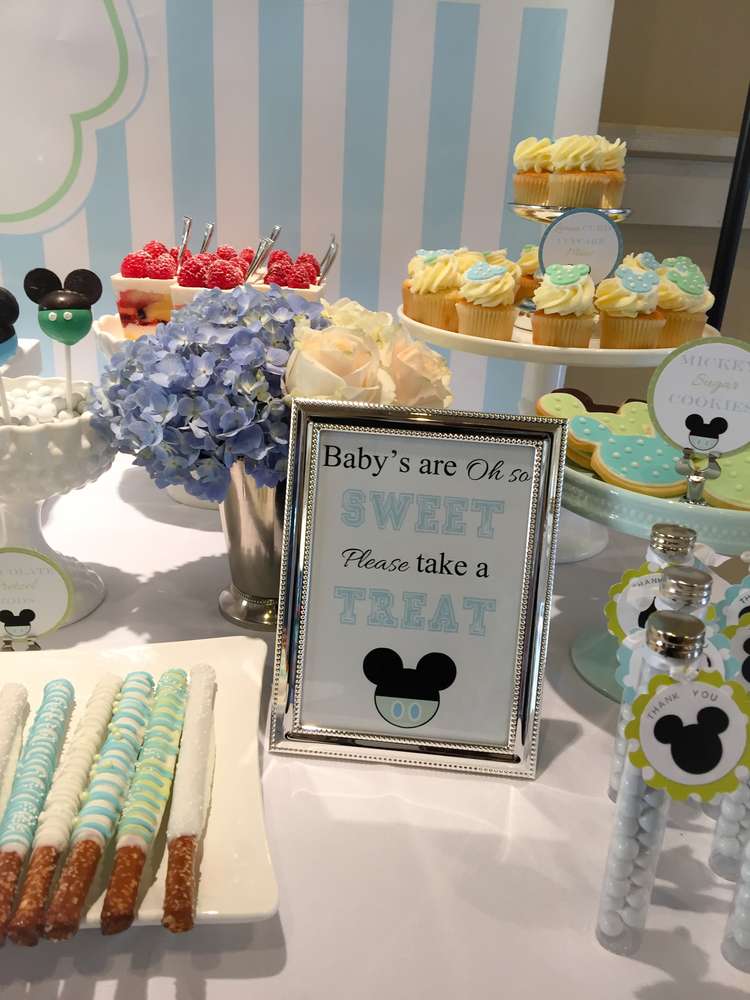 MORE INSPIRATIONS: