Party themes aren't just singularly focused anymore, making for a much more personalized experience for all involved. Recently, party planner Susan Driver put this idea into motion with a "Ballerina in Paris" party full of unforgettable aesthetics. Décor was a marriage of petite pretty and breathtaking exquisiteness all in one, merging pale pinks, delicious aromas of big, fluffy roses, and gorgeous desserts to die for.
Tables were put together to create one long banquet set-up, covered in glittery pink tablecloths. A long bouquet of balloons cascaded down the middle, creating a beautiful centerpiece lined with tiny tea roses, tall crystal chandeliers with twinkling gems, and a bouquet ball of roses tufted with pink tulle. Baby pink tableware and white chairs tied with tulle bows completed the magical set-up.
The entryway to the soiree was fantastical and elegant, with a barrage of balloons, flowers, and two life-sized mannequins—one dressed in a formal gold gown and the other dressed in the perfect ensemble for a world-renowned ballerina.
The dessert table over to the far side of the venue was just as amazing, complete with a white and pink curtained backdrop, topped with a gorgeous floral arrangement. The table itself was decked out with plenty of pink tulle and glitter, and plates of personalized bags and boxes of candies and cookies were laid out for all to enjoy.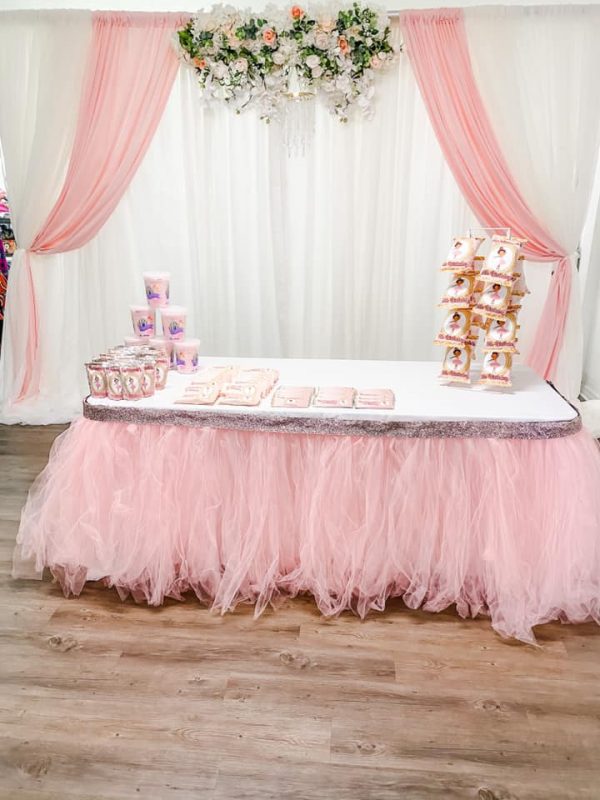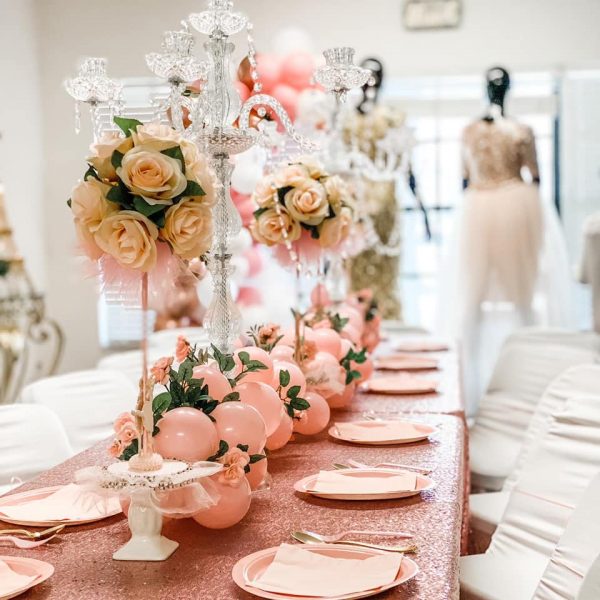 More Inspirations:
Pretty in Pink Ballerina Baby Shower | Pink and Gold Blush Ballerina Baby Shower