A Batman themed baby shower is perfect for any upcoming little bundle of joy, as it showcases colorful décor, scrumptious food, and a fun atmosphere for all guests to celebrate with the mother-to-be. And what's better? It's a super easy event to set up, with tons of options for absolutely everything! So get your newspaper bulletin-esque invitations sent out and get ready to put together a truly memorable party.
Invitations
Decoration Ideas
Start with the color scheme for your Batman baby shower—yellow, black, and white. Of course, if the gender is known for the baby, then incorporating pink or blue into the classic Batman palate of colors is a definite must as well. Post up the iconic Batman logo, well, everywhere! On the walls, in the forms of streamers, garlands, door tassels, table confetti, and even candy piñatas. Utilize the logo as background imagery for food and table labels, or even as a topper for your main event cake. Speaking of cake, if you decide to not opt for a multi-tiered one, how about a sheet cake in the shape of a Batman baby onesie? Or, you could do a tower of cupcakes, complete with bright yellow icing and sugar Batman accents.
Batman Food Ideas
Food and beverage can be just about anything you and your guests desire, though sticking with finger foods fares the best for easy convenience. Set up apothecary jars full of treats and tall trays with sandwiches, all with the Batman logo prominently placed on the front. Cellophane-wrapped oversized lollipops with comic book expressions like "BAM!" and "POW!" are fun treats for during the party or for guests to take home with them, too. Behind all the scrumptious food you put out, create a backdrop of Gotham City, with the shadow of the little baby-to-be flying in to save the day. Yellow and black pompoms hanging from the ceiling complete the fun look, and what's great again about this type of décor is that it is all easily DIY. Tableware sets of matching Batman plates, napkins, and cups are a for sure go-to, and centerpieces of yellow flowers with glittering lights inside glass vases set off the party's look brilliantly.
Batman Baby Shower Games
Batman Baby Shower Favors
A diaper cake tied up with sparkly yellow and black ribbon looks fantastic next to the guest party favors. But what is the perfect favor for a Batman baby shower? Baby bottles filled with gourmet yellow and black candies, fancy bags of personalized Batman cookies, or fun Batman wine charms. You can also fill any of your favor bags with specialized comic books just for your guests, featuring the upcoming bundle of joy as the star superhero.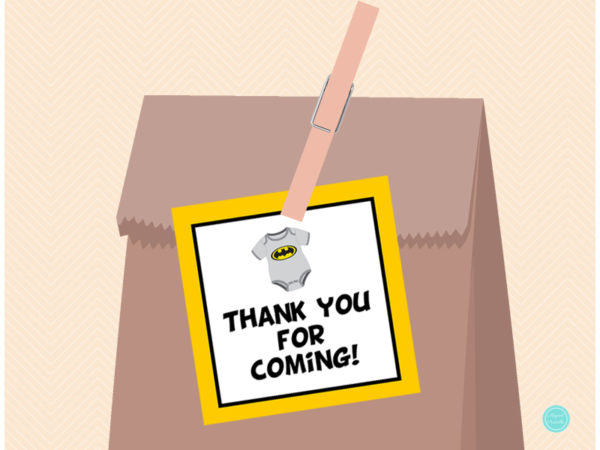 There are so many ways you can put together an epic Batman baby shower that is full of laughs, good eating, and plenty of celebration. From snazzy décor to delectable food menus, this party is sure to be one that is talked about for years to come.
Free Batgirl & Batman Baby Shower Printables: