A baby shower is a time for a happy celebration full of sunshine and smiles, so it makes sense that a beach theme would be perfect for this. Soft sand, fresh fruit, and plenty of different shades of sea blue colors makes for the ultimate atmosphere that brings beach to baby.
Beach Baby Shower Invites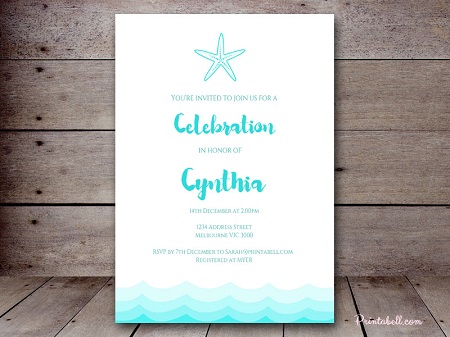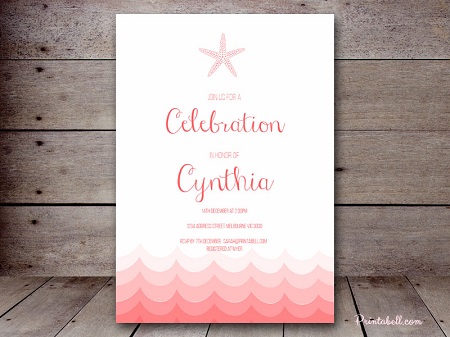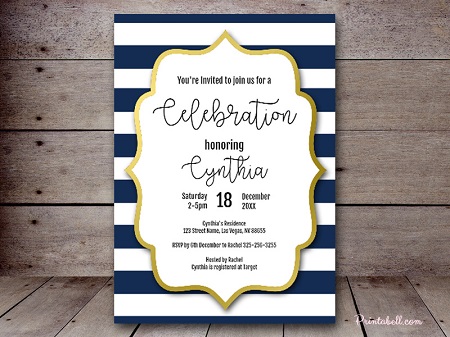 Beach Baby Shower Decors
Decorations for a sweet beach baby shower should include all things that make guests reminisce about the coast. Keeping with the pastel blue and white colors throughout, try to have your celebration outside in the sunshine and set up tables with natural grass skirts that resemble tiki bars that you'd find on the beach.
Hang different shades of blue pom poms from ceilings and string up sunshine yellow paper lanterns around the entire venue.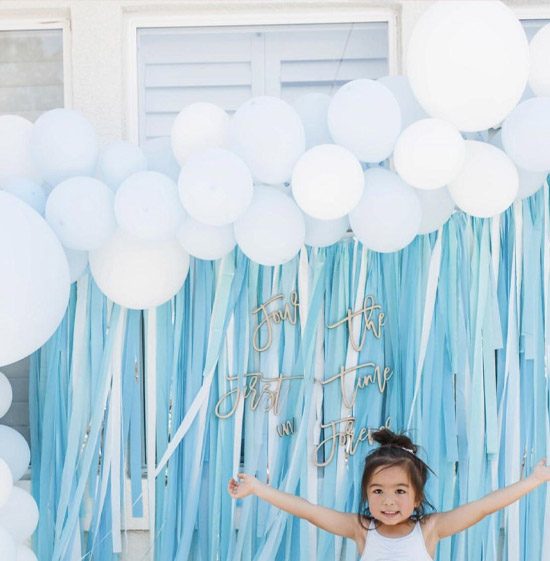 Blue and white streamers and garlands of seashells would look gorgeous, while music of ocean sounds playing in the background makes for the best atmosphere.
Centerpieces for tables are a must as well, so go for a crisp, bright look with wooden vases full of yellow sunflowers or white babies breath. Soft sea blue tablecloths with satin white runners are also a nice touch to the beach décor.
Remember, this is all about the little baby to come, so try to incorporate baby everything into the party scheme. Think adorable baby fishes, seals, mermaids, and seahorses.
Beach Baby Shower Food
Have fun with the food at your baby shower, and start with a cute event cake. A small ombre cake in baby blue is perfect for either gender for the baby. Top it off with a baby and its surfboard topper for an overload of the cuteness factor.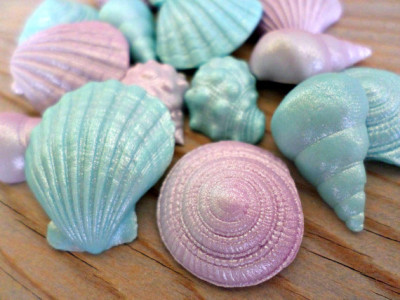 Cupcakes with seashell and seahorse fondant garnishments, cakepops in the character of Finding Nemo's Dory, and sugar cookies neatly placed over edible sand are all really fun themed fares that guests will adore.
Snack items like goldfish crackers, Swedish fish gummies, and finger sandwiches with fresh, light ingredients like cucumbers and ranch dressing are fantastic for the warm weather.
Frozen drinks with pretty umbrella straws should also be on the menu, as they'll definitely be a big hit.

Beach Baby Shower Favors
Baby Shower Favors can be as simple as mini sunscreen, beach towels, starfish soaps, scrunchies, lipbalms.
You can also wrap up an assortment of delectable treats with remarkable detailing such as anchor cookies, raspberry filled chocolates, or fish-shaped rice crispy treats.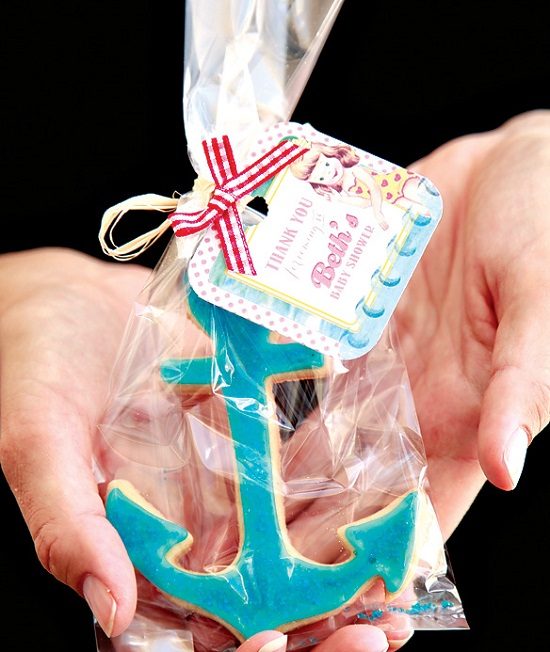 Beach Baby Shower Games
Classic games like the limbo or Baby Mad Libs are great for interaction and for lots of laughter. While games should be fairly tame for a baby shower, you can also have some fun with opening the baby gifts.
Set up a station that resembles a nautical look for the mother to be to open her gifts. Have fishing crates, wooden anchors, thick boat rope, and a huge backdrop of ocean and palm trees that spell out congratulations.
Have a comfy beach chair all decked out in tropical colors and accents like coconuts, boat life savers, and inflatable palm trees for the mother to be to relax in complete beach style.
MORE INSPIRATIONS: