Babies and grown alike, flamingos are the brightest, happiest little birds that are as fun to look at as they are to use in a baby shower theme. Beautifully pink and whimsical, there is no more perfect motif for a baby shower celebration than of flamingos—especially if mom-to-be is expecting a little girl.
Editable Flamingo Baby Shower Invitations
If you have the time for it, sometimes homemade invitations are the best, and with the flamingo theme you can go all out with hot pink cardstock and bejeweled stickers. Sign off those invites with a cute "Let's Flamingle!" phrase, and then get set to put together a most memorable baby shower for the upcoming newborn.
Flamingo Baby Shower Decorations
Speaking of the cutest phrases, make a big balloon backdrop for the event where you can showcase food, or presents, or even a photobooth area with fun props!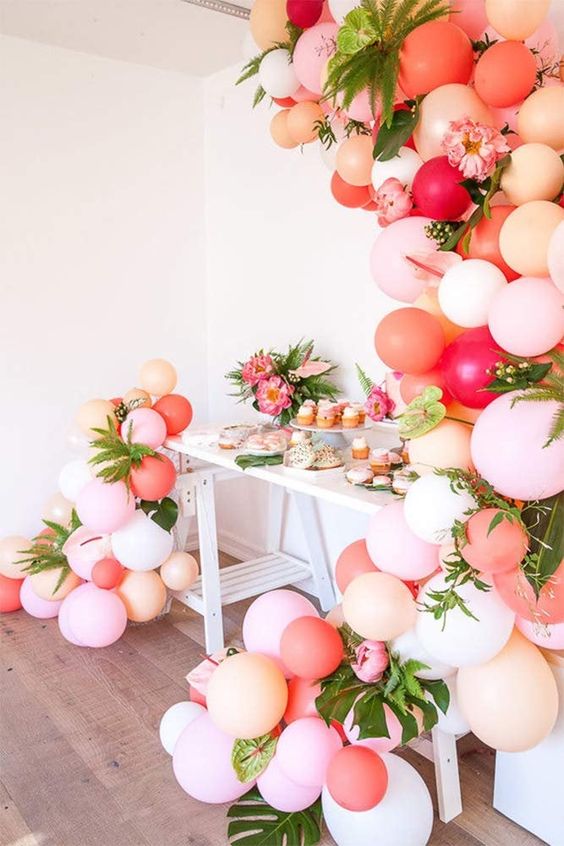 By: GreatGalas
On the wall, post up a quote like "We are Tickled Pink!", followed by the baby's name. Use a pastel pink chevron design, lined with tons of pink balloons in every hue of flamingo you can find.
Give guests hot pink boas at the door to wear during the celebrations, along with flamingo sunglasses if the party is heading outdoors. Post up images of baby flamingos and their mothers up on the walls and doors, and utilize this idea for labels on everything from table assignments to gift bag tags.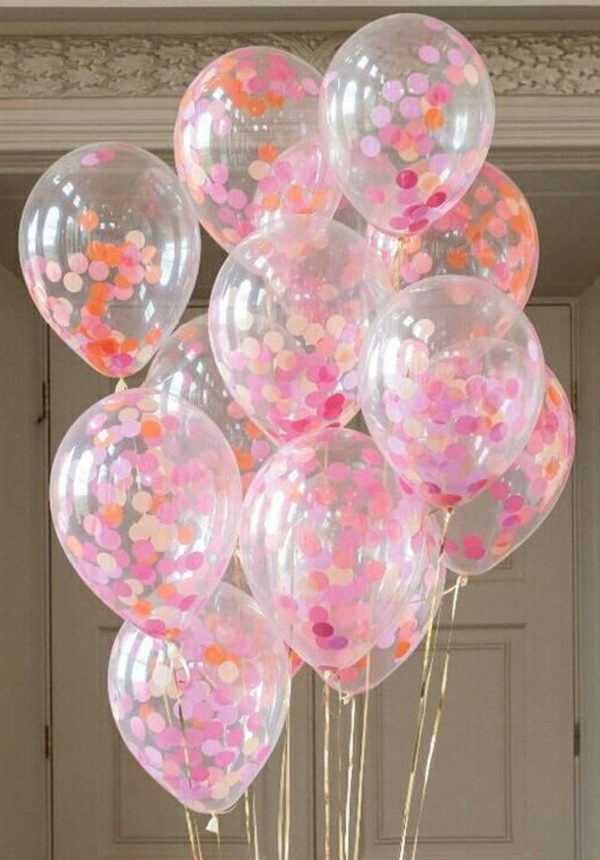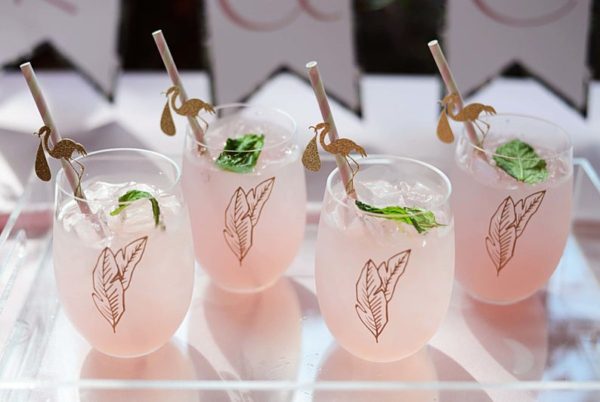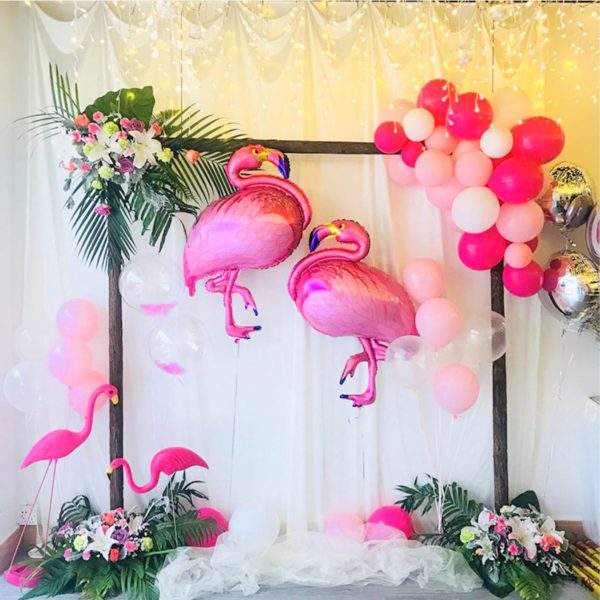 Flamingo Baby Shower Tables
Cover tables in pink tablecloths with flamingo confetti and centerpieces of bright pink and white feathers. Diaper cakes in flamingo theme are fun and creative centerpiece idea!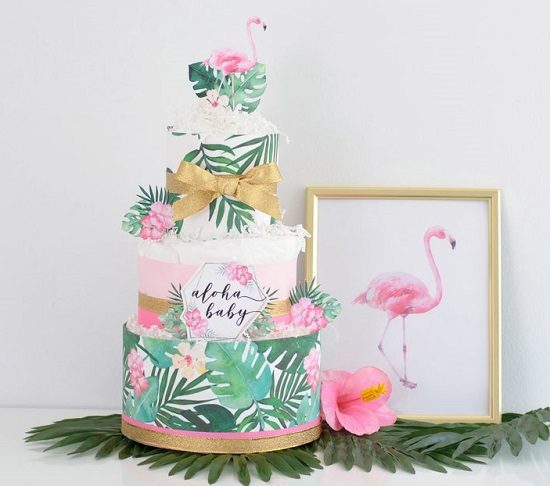 Have flamingo baby bingo cards laid out at each seat for guests to play, and attach giant pink fluffs to the back of chairs where a decorative bow might normally go.
Stock up on lots of string flamingo lights and hang them everywhere you can around the venue space, while maybe also switching out some of the normal lightbulbs for pink bulbs!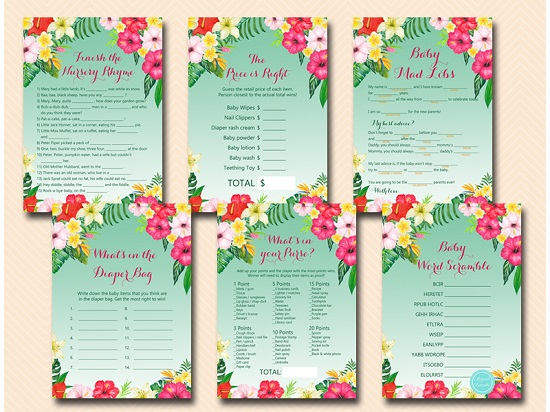 Flamingo Baby Shower Treats
You can't go overboard with pink, so let it cascade over frosted cupcakes with flamingo sprinkles or flamingo toppers, a multi-tiered cake, sugar cookies, cakepops, candies, glazed doughnuts, and pink frosted brownies!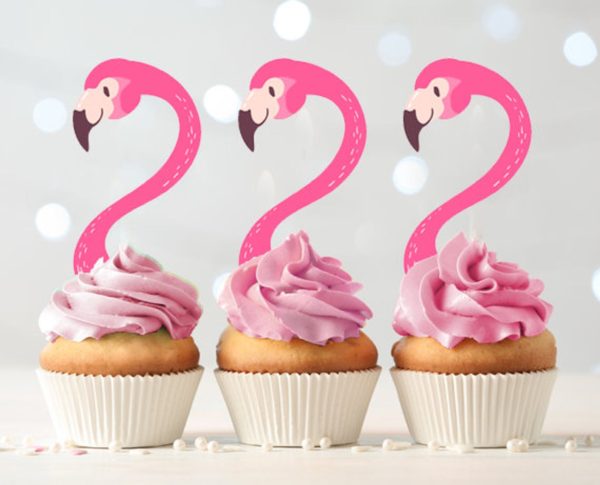 By: DesignMyPartyStudio
Themed cocktails are also extra fun, so take a spin on a tropical spiked lemonade with garnishes of citrus like lime or tangerine.
Of course, you also can't forget about corresponding colors and imagery that pair perfectly with flamingos, too. Giant pineapple balloons, palm tree stand-ups, grass skirt accents for around tables, and colorful hibiscus pinups are all great additions to the flamingo theme.