It's that magical time of year again! The weather is getting cooler, the air is getting crisper, and the trees are getting more vibrantly orange and red with each passing day. It's time for apple picking, hayrides, and pumpkin spice everything! It's official – fall has flung itself into our lives.
The stunning colors of fall don't have to stay outside of your house! Now is the perfect time to look around your living space and see what you can add to create an autumnal atmosphere. Bust out your cozy blankets from the storage closet. Find some throw pillows with warm, earthy tones. And while you're at it, why not make some fall décor of your own?
This spiral fall leaves paper craft is just the thing you need to bring the magic of fall into any space. Anyone can grab a bouquet of faux flowers for their tables and nooks – it's time to crank it up a notch! Grab a glass vase, aluminum wire, heavy paper, fall-colored paints – oh, and a pumpkin spice latte. You know, for inspiration! Don't hesitate to recruit your kids or some friends to help paint the leaves, too. This craft is a fantastic activity for any age.
Spiral fall leaves are versatile; you can use this craft to decorate your home, but you can also use it as a centerpiece for tables at an event! Maybe you have a fall-themed baby shower to decorate or an outdoorsy, woods-themed party that needs a touch of nature. You could also craft a few of these spirals for your dining room table!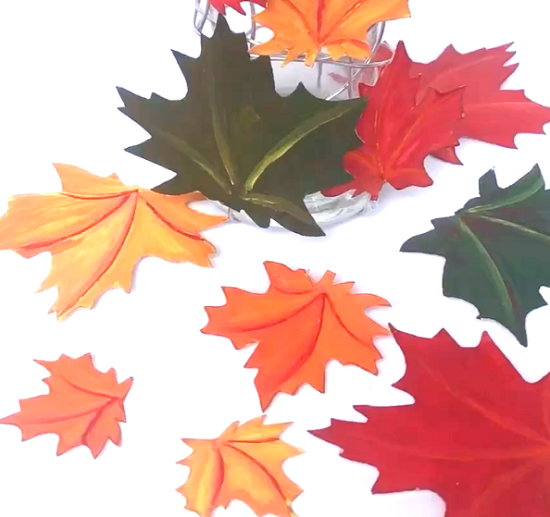 No matter where you use them, these pieces of fall décor will last for the whole season. They're easy to make and cheap enough to replicate every year, just keep the vases on hand. Take that extra money and buy yourself some more pumpkin spice things!