One of the most perfect ways to celebrate a new little boy coming into this world is a football themed baby shower. It's a fun party scheme for all guests and nothing represents the future of grass stains and touch football in the backyard better. So get those jersey shaped invitations sent out to all your guests to get them fired up for a great event to welcome a new baby!

Football Baby Shower Invitations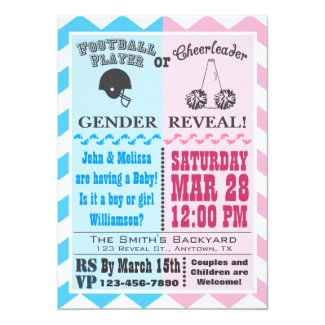 Football Baby Shower Decorations
A game goal shaped diaper cake is a great center to the event and it can even come into literal play during the shower as a little football toss game. Sporty banners with bold white lettering spelling out in the new arrival's name and glittery green twine with miniature football cutouts are easy to hang up all around your shower venue in any place. If you can hold the shower outside, this is an ideal place to really bring the feel of the football theme to the party as well. Get creative with table centerpieces by filling grass-green colored vases with bright yellow daffodils and accent inserts with shiny bouncing footballs.
Use a small piece or pieces of turf for rugs throughout the venue for that football field look and when setting up a main event table for food, create a field goal backdrop with lots of green and white hues and, of course, football images. Set up a clothesline and pin up baby boy onesies in soft blue and football brown.
Foil balloons in the shape of footballs and tablecloths of baby blue doily runners offer a nice balance between the theme and the specialness of the upcoming little bundle of joy. Tape up printouts along the walls of some famous NFL teams and have football helmets, balls, and jerseys set around the venue as perfect theme accents for décor. Last but not least, football confetti sprinkled on the tables is a small accessory that packs a big impact with decoration.
Football Baby Shower Food
Coming up with the right kind of baby shower fare for a football themed event is probably the easiest thing you'll do. This can consist of any and every type of treat and snack that are enjoyed during football games—which means a lot of finger foods! Pigs in a blanket, chips, dips, popcorn, peanuts, pretzels, and veggie and cheese plates are all easy staples for a football themed baby shower and what's really great is that these foods are easy to eat and have minimal mess.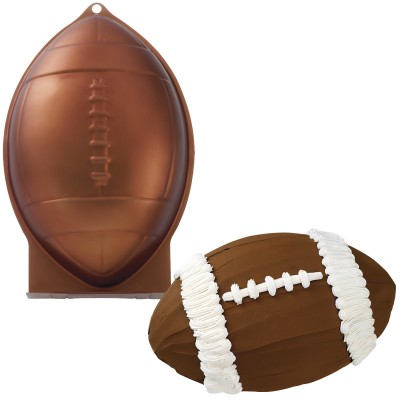 Football platters and bowls mixed with matching football themed plates, cups, and napkins are perfect to serve the food with, and tin buckets filled with Gatorade are also a really cool touch. For sweets, strawberries dipped in chocolate and decorated to look like footballs are fun and healthy, while football shaped sugar cookies, cupcakes with astro turf frosting, and cakepops that look like football helmets are spectacular details. Of course, the cake is the true star of the main food table, so spare no pizzazz with this! A football shaped cake is a great idea, but you can also do something simpler, such as a smaller round cake with green frosting and a football helmet topper, or something a little more extravagant, such as a football helmet replica cake. Either way, use candle sparklers and fit in the message of congratulations to the mommy to be.
Football Baby Shower Favors & Games
Baby Shower favors for a football baby shower can truly be a ride for your creativity, as these are really fun! Baby bottles filled with the fixings to make game day hot chocolate, silver football keychains, football wine charms, or goody bags full of football shaped suckers, candy, and colorful M&M's.
While baby showers normally don't boast super active games, if your guests are up for it, then you can still set up activities like corn hole or football toss, which are not extraneous so that the mother to be could still participate if she wished.
MORE INSPIRATIONS: