A Little Princess Themed Baby Shower Ideas:
For a PrincessThemed baby shower party, if you are having a shower indoor, decorate the room as a princess castle using lots of beautiful fabrics and sparkly decorations. Colour schemes of pink and purple works really well with this theme.
Decorate by using few tons of pearlized pink and purple and silver balloons, or stick to traditional princess colors purple and gold. You can cut up beautiful fabric into tablecloths and serviettes and use sparkly bangles as serviette holders which you can give later as favors.
You can use tiara shaped cookie cutter to make your own tiara cookies. They would look so adorable and would make perfect princess themed baby shower favors. If you are using them as favors, you can pack them nicely in a box or in a drawstring organza bag with a beautiful satin pink, purple or a personalized ribbon.
You can have lots of pink satin and bows, sparkles, glittering confetti such as jewels, little crystal diamond confetti on the dessert table. Don't forget to treat the mom-to-be like a princess with a mom-to-be tiara!
As a centerpiece, you could serve your cupcakes on a 2 or 3 tier
silver beaded cupcake
stand to make it more attractive. You can decorate your cupcakes with  with a pretty fondant tiara or a mini tiara. You can look for mini tiara combs and cut off the comb. Otherwise, instead of cupcakes you can have a princess themed cake such as the castle cake or other way besides making or buying an expensive cake but still have the princess theme is by buying a already iced slab cake from your local shop then buy a princess book with plenty of images and cut out the princess picture, laminate the picture and place it on top of the cake. These would also make a perfect centrepiece for your table. Another great centrepiece idea is a princess diaper cake. You can either buy already assembled diaper cake, or you can start from scratch,
click here for a video
, step by step instructions on how to make your own diaper cake.
Princess Themed Baby Shower Decors
Princess Themed Baby Shower Tableware Ideas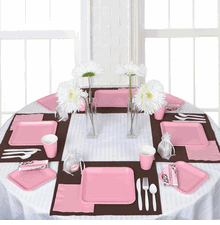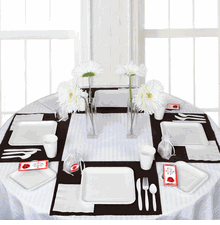 Princess Themed Baby Shower Favors
Follow My Mess's board Baby Shower Princess Theme Inspirations on Pinterest.