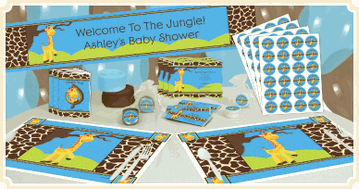 So as a mom-to-be or a event planner you are wondering what you can do to really create a wonderful shower that will be remembered forever.  Using a Giraffe theme, you can make a versatile event that can be used for girls, boys, or gender neutral, providing almost limitless entertainment options.
If you are making your own invitations, for a boy, you can easily use a baby blue giraffe style that can be incorporated into light-hearted invitations, using a happy font like comic sans ms. A girl could use the same type if imaging with either light or bold pinks that would give a bright approach. As a neutral theme, you can always use a real giraffe color that creates a more realistic direction that can be super fun.
With so many choices in your color palette, a Giraffe Theme can be simple to DIY, allowing you to personalize everything from your invitations to the decorations themselves. There are a million different adorable stuffed giraffes out there that can be used as decorative options.  These little toys then could become a part of baby's nursery. You could also incorporate a bit of elegance with pom poms hung from the ceiling that blend with the colors of your choice.  Using crepe paper also gives you the chance to blend with your palette while giving the room a full and cozy atmosphere.

To really emphasize the Giraffe Theme the food creations are important. You can go with a more natural effect like fruits and veggies, with lots of green creating a warm and healthy type of setting. Cutting your fruits into fun animal shapes add to the theme nicely.  You could always go with a neutral effect too, using more quiet tones like muffins and donuts to place the attention on your cake, or cupcakes, or other treat. You can use cupcake toppers to help bring the theme.
FREE GIRAFFE THEMED BABY SHOWER PRINTABLE
As a showcase, your dessert can really bring your Giraffe Theme together.  If you have the option of actually creating a spotted, tiered cake, you could have a brilliant treat that the entire party could center around.  You could also create a cake with the pink/blue colors that is topped with a fun giraffe.  And if you elect to do cupcakes as your center treat, using the tiered tray and topping each cupcake with a mini-giraffe would look outstanding.
Although non-edible, there are also diaper cakes that make a great centerpiece. These cakes is made up of diapers which mommy can use for her baby. Not only do they look great, they are perfect gifts for mommy-t0-be.
When it comes to entertainment at your shower there are million different options available to make your party really come to life.  One favorite is doing an advice card where the guests can give mom-to-be and baby words of wisdom to grow with.  To use this idea with a giraffe theme, you could always create a pegboard with mini-giraffe sheets of paper for everyone to pin up their advice, making not only a fun activity but also a fantastic decoration.
Giraffe Baby Shower Tableware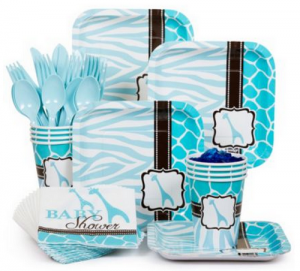 Giraffe Baby Shower Games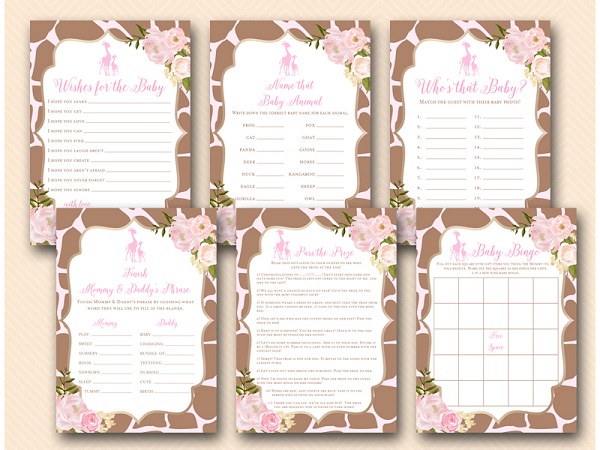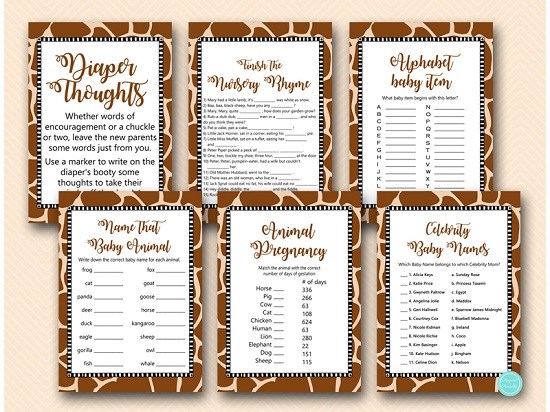 Giraffe Baby Shower Favors
When it comes to putting together a thank-you memento, nothing tells a guest you love them more than personalized chocolate bars or treats filled in a personalized natural cotton bags with a baby giraffe stamped. Not only would these cotton bags look great, they also add a bit of wildness.
MORE INSPIRATIONS: