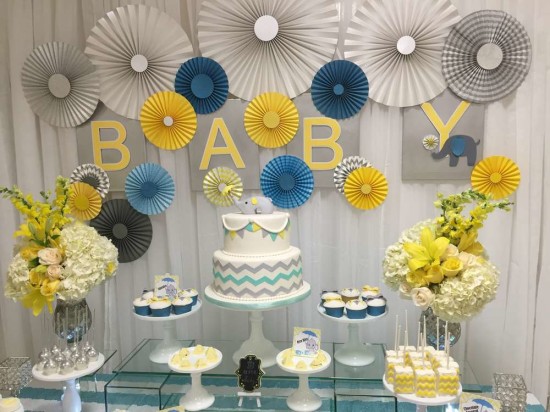 With an awe-inspiring layout of decor, this Glam Elephant Baby Shower was certain to impress. Created by InspirationZ, this shower had all sorts of adorable details that made it stand out.
A lovely dessert table was a showstopper at this event with an abundance of delightful options to try out. A sweet, sheer curtain hung as a backdrop, making a perfect scene setter for all of the brightly colored decorations.  Wonderful pinwheels in grey, blue and yellow were arranged around letters spelling out 'Baby.'
The cover for the table was a fun, shimmery blue and white striped color that added glam to the entire look.  At the back of the table lavish vases were filled to the brim with yellow, green and white florals.  Each of the treats was labelled with an adorable elephant, personalized tag.  Macarons were displayed on a fantastic jewelry box, adding a touch of glamorous innovation.  Each macaron even had a cute silver stripe on top.  Chocolate covered oreos were put on a tall white cake tray, near the front of the table, allowing them to stand out nicely.  Sugar cookies and tres leches were on silver trays with reflective vintage styles.  An enormous cake stood tall in the back with a perfectly frosted chevron pattern and a cute elephant topper.
A special section of the room was set aside for mom-to-be, featuring a comfy couch with adorable throw pillows.  A side table showcased a photo of the coming little one as well as a sweet elephant and bouquet of little flowers.
The guest tables were blended with the theme smoothly with a sophisticated blue runner down the center of each as well as a large bouquet of flowers. The chairs were set to match the tables, all covered in white and wrapped with a lovely blue band.
Credits – InspirationZ
More Inspirations: