A Mickey Mouse Themed Birthday Party by Pequenos Luxos.
This Mickey Mouse theme is very adorable. The colors displayed throughout the room are reminiscent of Mickey's character. Red, black, and yellow are everywhere.
This party was a collaboration between Pequenos Luxos and Atelier Sophie. This party does not actually incorporate use of a mickey doll, but uses fun design elements to represent him. The banner over the dessert table has fun mickey mouse face silhouettes that spell out the birthday boys name. All the placeholders and name plates play host to the same mickey mouse silhouette. The silhouette also appears in some miniature flags playing home in one of the desert dishes.
The cake is one of the most standout pieces at the party. The cake has three tiers. The bottom tier represents mickey mouse's pants. A yellow band around the bottom with the remainder in red. It even has two adorable yellow buttons. The middle tier is decorated in white, with mini mickey mouse face silhouettes in around the tier. The top layer of the cake is a mickey hat displaying the number two, the age of the birthday boy. The cupcakes are so creative. They display pieces of mickey mouse. Some have his yellow shoes, some have his red shorts, and others are home to his hat, and gloves. Its a cute take on the subject matter without incorporating the actual figure into the design elements displayed throughout the venue. 
I love the way the clear plastic containers containing red, orange, yellow jellies are decorated. With a simple black and white polka dot ribbon and a yellow button creates a mickey mouse themed dessert. They go perfectly with the yellow tablecloth and a red polka dot table runner. So simple yet creative. If you have not noticed, there are chocolate balls in a shape of mickey! So cute and delicious looking!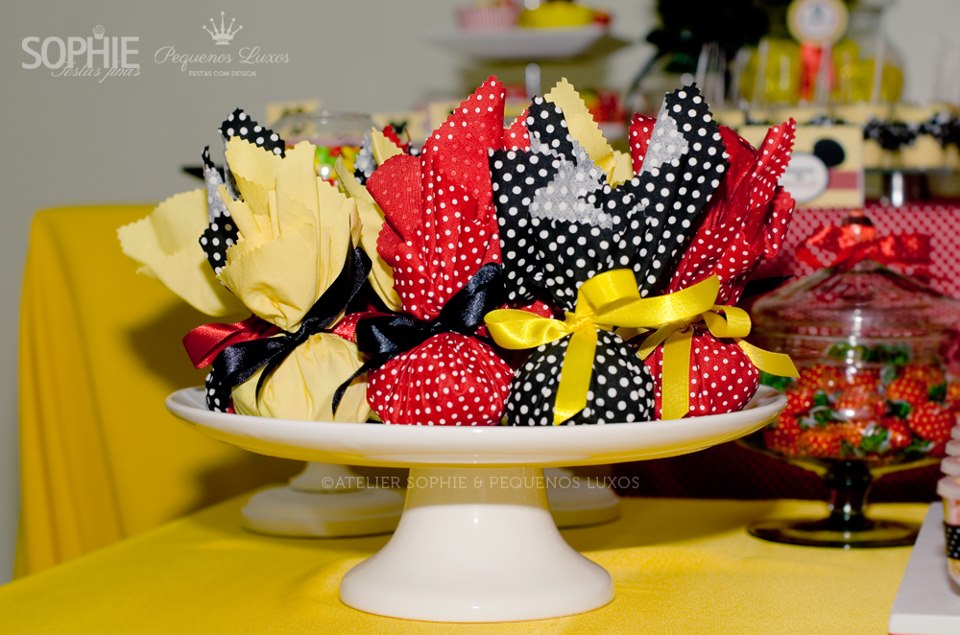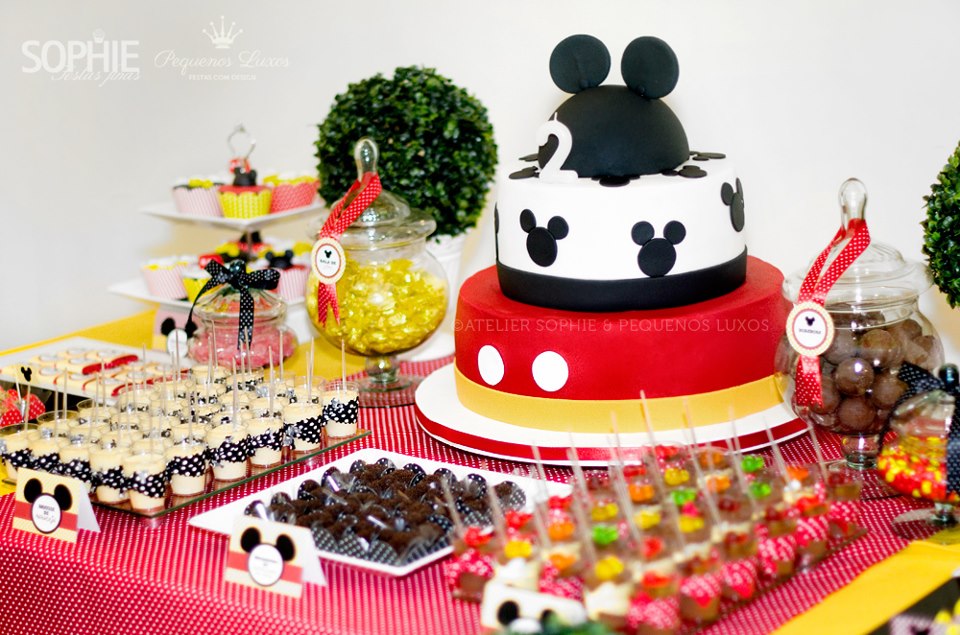 Credits:
Design & Styling: Pequenos Luxos & Atelier Sophie
Candy Cups, Food: Atelier Sophie
Photography: Carolina Almeida Fotografia
Cupcakes: Bolos Decorados Lazoski