The Minnie Mouse Themed Party by Pequenos Luxos.
This Minnie Mouse Themed Party theme is simply fantastic. This party was done in collaboration between Pequenos Luxos and Atelier Sophie. It is a party worth throwing for your little one on their special day. They note the party theme was of the birthday girl taking Mickey and Minnie Mouse on a picnic in the park. There were many contributors to this theme, to include Carolina Almeida Photography.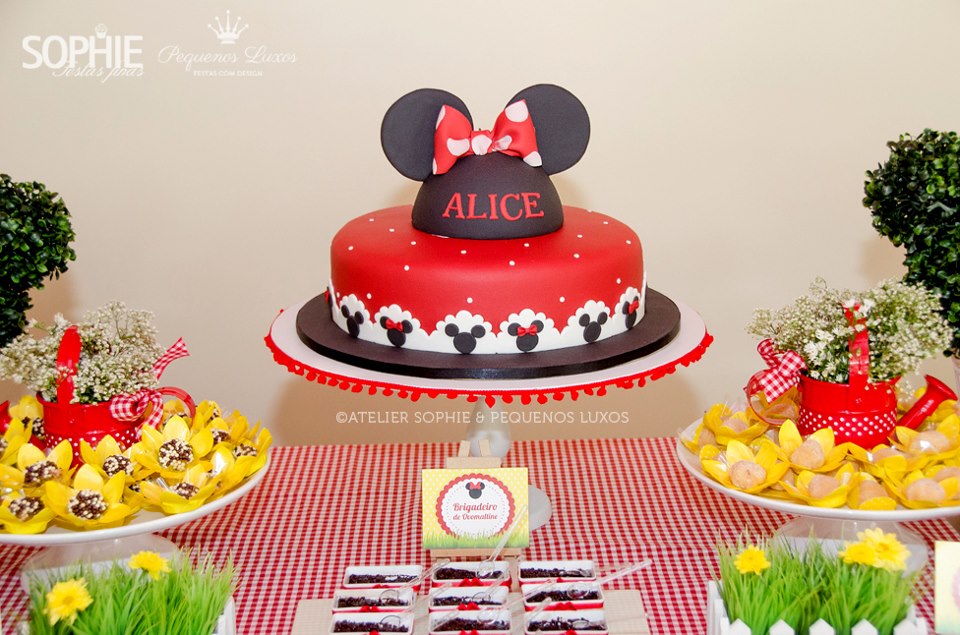 I thought that the greenery, and floral arrangements incorporated in this theme was genius. On the floor of the space is a patch of grass to resemble the outdoors, park area, which is perfect for a picnic. There are yellow and white floral bunches everywhere. They are reminiscent of a beautiful garden in the park. There are also displayed fences in bunches of flowers about the dessert table. On the table there is a platter that has a watering bucket filled with flowers, around it are sweets centered on the table, set with a floral patterned liner.
The colors used throughout the party are red, white, black, and green. Theses colors are used in every element of the party. I think one of the most standout elements was of the Mickey and Minnie dolls placed throughout. Minnie is just so adorable. The cake is darling as well. The cake has two tiers. The bottom tear is mostly covered in red fondant. The tier is decorated in mini white polka dots. On the bottom of the cake is a white ribbon decorated with Mickey and Minnie silhouettes. The top tier of the cake is of a Minnie hat. The hat is decorated with a red and white bow and the name of the birthday girl.
The use of character silhouettes are everywhere to including the printables to cupcake toppers. So adorable!
Credits:
Styling: Pequenos Luxos
Abstract: Pequenos Luxos e Atelier Sophie
Photography: Carolina Almeida Fotografia e Maressa Lacerda
Pompoms: Toque que encanta
Sweets cups: Atelier Sophie
Cupcakes: Bolos Decorados Lazoski
Boxes and biscuit: Bebel Michel
Lined Boxes: Mania Di Maria MDF
Cake: Ana Maria Salinas