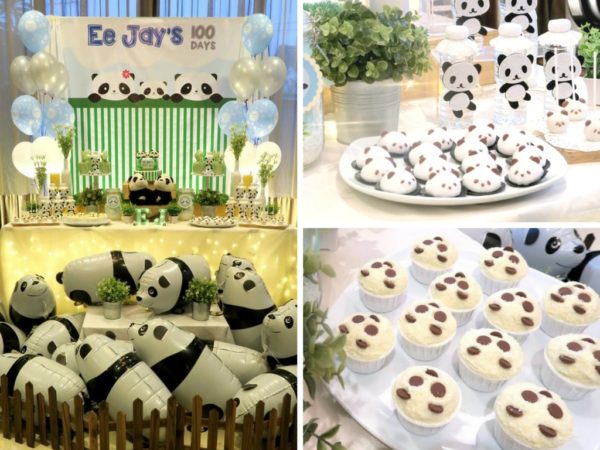 Panda Baby Shower Decors
Can you think of anything cuter than a baby panda? (Probably not much!) This is why a panda baby shower is sure to put a smile on a mama-to-be's face, along with all her baby shower guests. Celebrate in the most adorable way possible with the atmosphere of the oh-so-joyful panda bear motif, and have everyone smiling the instant they enter the party venue space. Panda Baby Shower Decorations have never been easier, whether you opt for something simple or something excitingly over the top. Black and white panda faces, or pile upon pile of little stuffed pandas—you just can't have too many of these cute little bundles of happiness around your party.
Giant panda balloons are a must-have at a panda baby shower, along with baby panda laden streamers and panda bobblehead garland. Request that your guests each bring a panda decorated baby onesie, and then hang up these onesies on a clothesline to serve as another kind of garland. Give the guests that bring a onesie a raffle ticket, to provide a drawing for a fun prize later on during the event.
Panda Baby Shower Centerpiece
Centerpieces that include bonsai plants, and placemats of bamboo add a relative touch to the panda theme, while floral arrangements of black and white flowers are a great compliment to the party décor. Pin-ups on the walls of baby pandas in pink hair bows and blue bow ties are especially adorable, and can also be used as a gender reveal if desired. Black and white polka dot table runners, green twinkling lights around the space to replicate the jungle-like home pandas grow up in, and wall backdrops of greenery and foliage are a perfect addition to the décor scheme, too.
Panda Baby Shower Food
Unsure what to do about food? It's just as easy as the party decorations! Panda cake pops, a cupcake tower with baby panda and mama toppers, macaroon cookies with panda faces, and even a panda pinata filled with lots of scrumptious candy are all terrific go-to's when it comes to sweet treats. For brunch food, think of delicious, nutritious eats, such as mini salad bowls, sushi, rice cakes, Jordan almonds, and dips like hummus, spinach, and artichoke. A main event cake is a must, but also consider a diaper cake, tiered high with little stuffed baby pandas 'climbing' up to the top! Create an activity for guests to decorate little rounded mugs with panda designs, or get them involved with a fast-paced baby shower bingo game.