Farm Animals Baby Shower Decor
Having a baby shower should be an event full of cuteness, and apart from the little baby itself, baby versions of sweet farm animals are simply adorable. You can set up a truly memorable baby shower party that guests will "ooo" and "ahh" at, complete with the most precious décor, favors, and more!
Think distressed wood tables and chairs, mason jar centerpieces with bright yellow daisies, and a color palate that crosses between shabby chic and rustic for your décor vibe. Have bales of hay for guests to lounge around on, cowboy hats for them to wear throughout the party, and rope garland twisted with fairy lights all along the venue space. Bright clustered balloons with polka dot ribbon accents and garland of baby sheep and pigs linking the ceilings and walls are fun added touches. Silver buckets of sunflowers, tiny figurines of baby cows and chicks, and wall pinups of bright red barns are perfect accents that really set the atmosphere. Big chalkboard signs with warm wishes for the mother-to-be are also wonderful for celebrating the new arrival. Of course, you can't forget the matching, farm animal tableware and a barn-shaped diaper cake!
Farm Animals Baby Shower Food
Great food choices for a farm animals baby shower are lots of fresh from the farm fairs. Fresh lemonade and orange juice are delightful, along with miniature club sandwiches and barbeque sliders. Funnels full of caramel popcorn, a cupcake tower with thick frosted cupcakes in bright colors and a big cow topper on top, and sugar cookies in the shapes of ponies, puppies, and ducklings are sweet to the taste and adorable for the eyes. An array of fresh fruit, veggies, and cheeses is also a magnificent addition to the food table, along with a soft serve ice cream station with plenty of yummy toppings.
Farm Baby Shower Games & Favors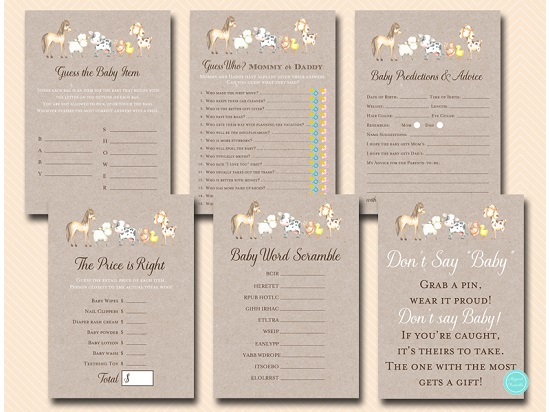 Games for a baby shower with this theme can range from Pin the Tail on the Donkey, Guess that Farm Animal, or even some classic baby shower activities such as Baby Mad Libs. Award your guests for participation with burlap bags full of shower fresh goodies like soaps and sprays, and individually wrapped Skinny Cow chocolates.
MORE INSPIRATIONS: