Pink and Blue Little Bird Party by Maressa of Pequenos Luxos. This party shows an amazingly beautiful pink and blue bird theme. Birds are a very outdoors theme and this theme features a great garden motif. The addition of the birdcages and houses with the topiary shrubs demonstrate this perfectly. It gives a carefree feel and can be done on almost any budget.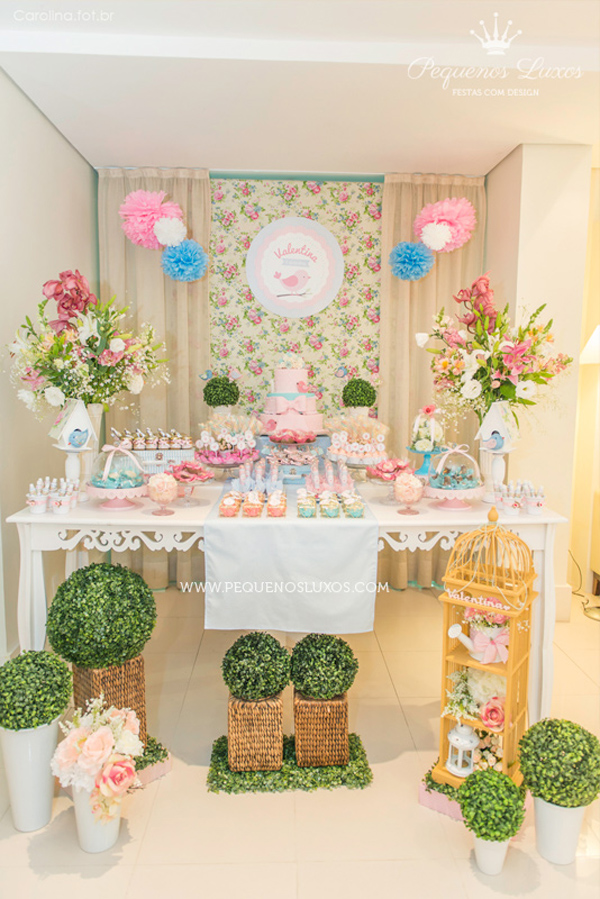 Cupcakes and other sweets are so beautiful with pastel pink and blue wrappings, boxes and little ribbons. These sweets looks like they are decorated to look like beautiful little bird feathers. It is both unique and classy. There are so many types of sweets and treats with different flavors to satisfy even the pickiest of pallets.
I love the floral chic backdrop and the matching little boxes, table runners, and even on a mini bird house roof! They are everywhere! The flowers used goes perfectly as well and gives an overall feminine and soft feel to the theme. The pastel pink floral hanging pom poms in a little bird cage is so beautiful too. I absolutely love the table setting, so stunning!
One item that is often overlooked in a party is continuing the theme into the bathroom. The stylist used a basket full of beautiful flowers, some rose garden scented oil, and theme appropriate silver tray to keep guests in the party mood. It is such a great way to also helps create and maintain a great ambiance for the party.
The three tier pink and blue cake makes a great centerpiece. Adding the bow and the flower arrangement on top really brings it all together nicely. The designer completes everything with a contrasting white table cloth to allow all the soft pinks and blues to pop out and the whole party really comes together.
Credits:
Styling and printables: Pequenos Luxos
Photography: Carolina Almeida
Cake and cupcakes: Casal Garcia
Sweets: Docinhos e Doçuras
Paper Pompoms: Toque que Encanta