Superhero Baby Shower Theme is suitable for baby boy, girl, gender neutral or even for gender reveal baby shower party. It is surely a fun theme to choose not only for the soon-to-be-mom but also the guests and the children if they are any attending. If mom-to-be also has a child already, then he or she will have a blast celebrating for a new sister or a brother! It will be a memorable baby shower for sure. 
Start by choosing mom-to-be's favorite superheroes. For example, she may be a huge fan of Superman, Spiderman, Batman, Wonder-woman, Spider-woman, and Catwoman to name a few. A superheroes' comic theme party is one way to include her favorite characters. Create an invitation featuring superheroes with pictures of her soon to be daughter or son in one of her favorite costumes. For decoration, buy colorful balloons focusing on the superheroes' colors.
Superhero Baby Shower Theme Invitation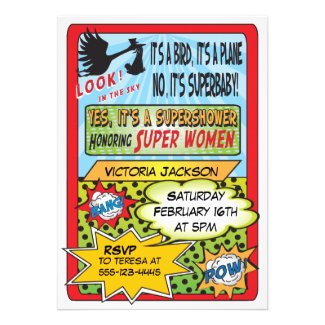 Superhero Baby Shower Decorations
For Superman and Spiderman, choose an assortment of red and yellow balloons. For Batman, choose blue balloons. Choose a festive tablecloth with colors matching the balloons, such as chevron and polka dot patterns. Buy matching plates, utensils, napkins and cups. A table runner will be a nice touch as well. Decorate a mason jar with yellow bakers twine and add your favorite flowers matching the theme colors to adorn the table. From a party store, you can buy or create superhero peg dolls for a festive look. You can also purchase or create a fun banner filled with soon to be mom's favorite superheroes. Add fun superhero sayings like "Pow!" and "Welcome Superheroes!" to the banner. For special treats, you can have cupcakes, cake pops and gumballs displaying different superheroes colors and toppers.
Superhero Baby Boy
Superhero Baby Girl
Superhero Baby Shower Tableware
Superhero Baby Shower Main Table
For a fun centerpiece cake, you can go to your local bakery or find a friend who wants a challenge to make a cake made featuring different superhero characters' colors. For example, add superman, Spiderman and batman logos on the cake. Other food items can include an assortment of sandwiches, desserts and fruits to place on the table. Create menu sheets with fun superhero sayings on them. For the dessert area, you can have a menu with the mommy to be's favorite superhero characters on them with the words, "Dessert Area" and "Pow!" Another menu sheet can have the words "Super Parfait!" with a picture of Gotham City to represent Batman.
Superhero Decors & Toppers
FREE Printable Superhero Baby Shower Games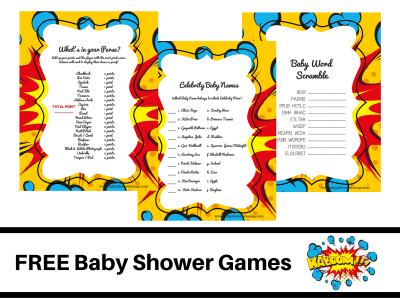 Printable Superhero Baby Shower Games

Superhero Baby Shower Photo Booth Props
Superhero Baby Shower Printables