Bringing a neat touch of glamour to celebrate Parents and Baby-to-be, this Rock Star Baby Shower was certainly impressive.  Coordinated by a group of experts, Melissa Brenkert, Angela Coleman, Ty Colman, and Nilufer Soucek, in conjunction with Michelle's parents, Susan and Stan Johnson, not a single detail was left un-attended to.
With a Beauty Bar as a venue, they utilized the abundant space perfectly.
Many of the details at this event were unique, with such a brilliant theme there was a lot of room for personal touches that made it stand out. There was a gorgeous DJ area set up for fantastic rock music to be played that was actually decorated with BABY letters strung up in a flashy, bold way.
Making the most of elements that were already there, each table was covered with a neat dark cloth that created a warm and cozy atmosphere. The centerpieces were an array of lovely purple florals in brilliant vases. Even the lamps were included in the fun with fantastic flowers in different sized holders.
Wonderful photos were hung about the room with baby features, ensuring that the guests would know what this great celebration was all about. There was even a screen show presentation, letting everyone participate in the excitement of the family's journey.
A fun touch for all of the visitors to enjoy was a photo booth that gave everyone black and white shots to remember this fun party.
The food was served buffet style, letting everyone choose from a variety of tasty snacks that they were certain to enjoy. Set up in different layers, everything was very accessible, making it simple to grab and go.
All of the small touches really brought this party to a new level of glam, letting everyone feel like a rock star as they enjoyed each others company.
Credits –
PHOTOGRAPHY: Lola Elise Photography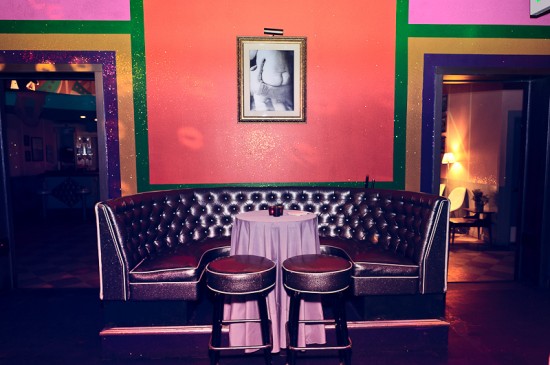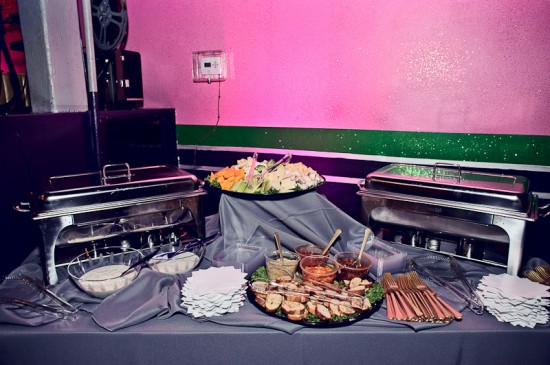 MORE INSPIRATIONS: